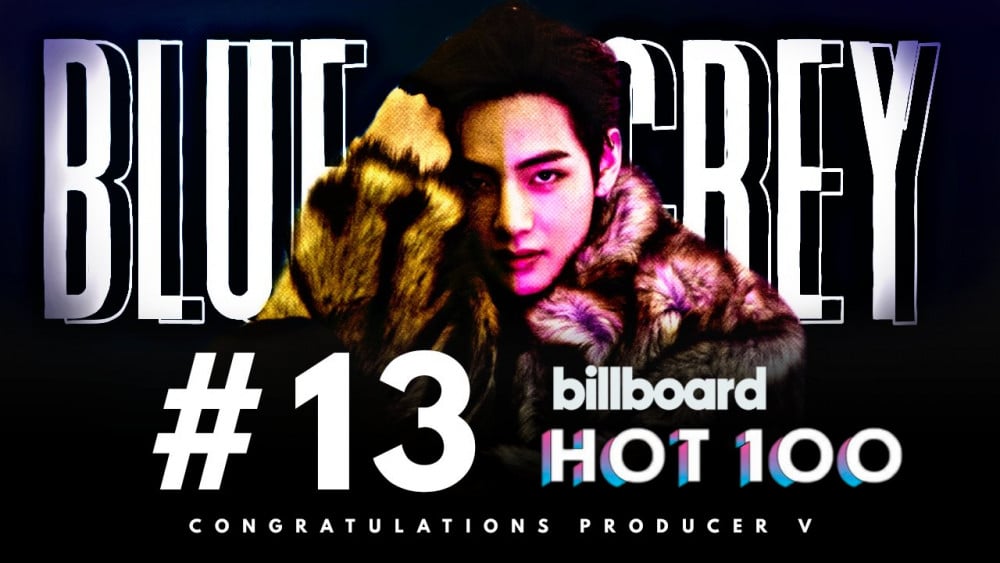 BTS V's self-produced song "Blue & Grey" created history, debuting #13 on this week's Billboard Hot 100. It is the highest charting BTS B-side track of all time.
The track also debuted #9 on Billboard Global 200 Singles Chart, becoming the best-selling download globally this week (sold 87,000) surpassing even the title track "Life Goes On" (sold 84,000).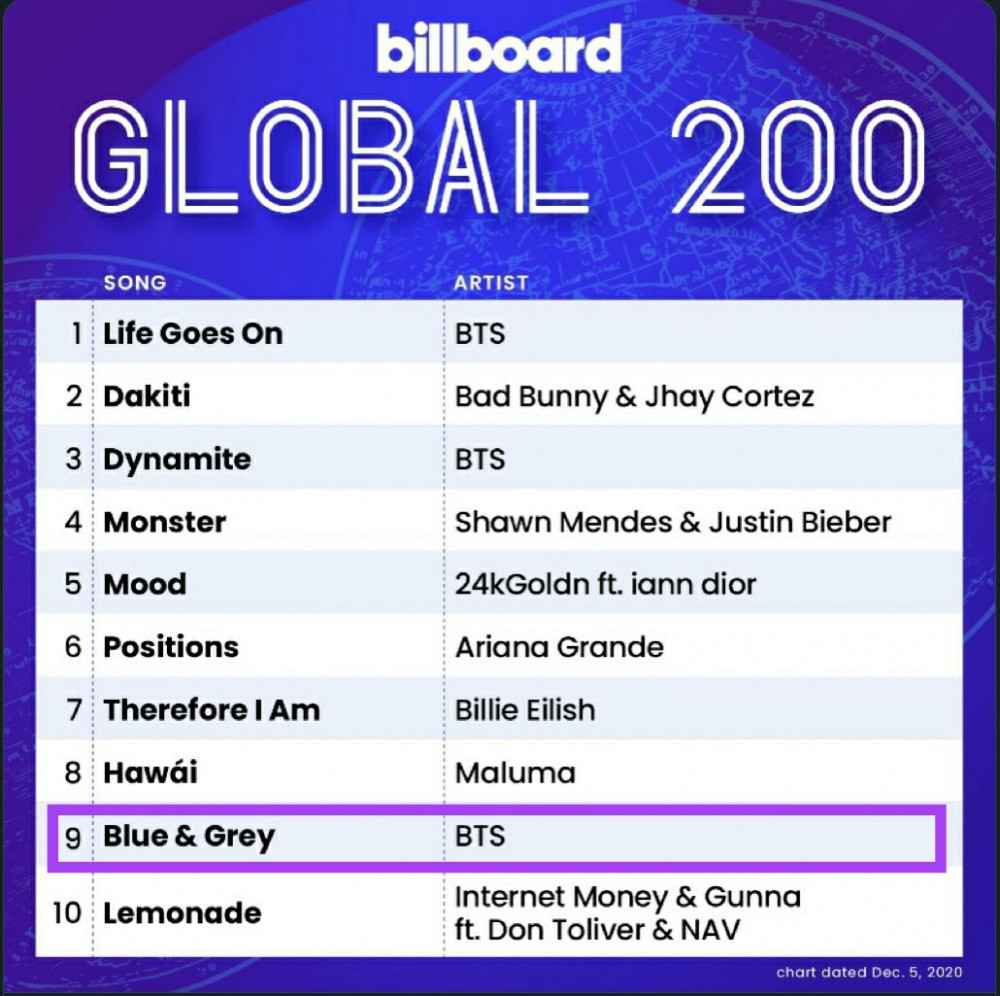 In addition, "Blue & Grey" became BTS's best-selling B-side track in the United States, debuting#2 in Billboard digital song sales chart with 69,000 copies.
V received massive appreciation globally for his beautiful song "Blue and Grey", where he conveyed his raw emotions through a soft tender ballad, which reflects melancholic colors.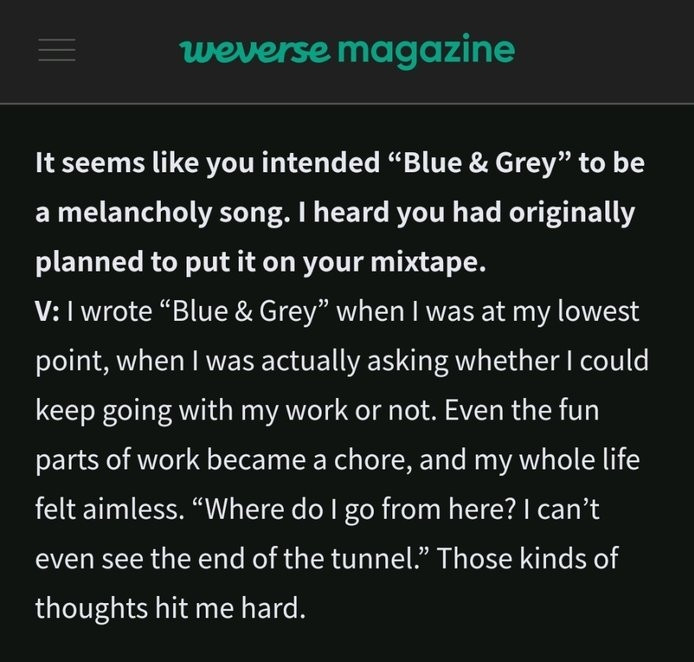 The song was originally intended for V's upcoming mixtape, but was encouraged to be added in the "BE" album.
The song not only received worldwide love and appreciation from the critics and viewers, it also broke multiple records worldwide debuting high on several charts in multiple countries.
- #12 on Rolling Stone's Top Songs Chart (highest charting B-side track from BE)
- #2 Best Seller of 2020 on Amazon
-#66 on UK Official Singles Chart
-#9 UK singles Sales Chart
- #98 on Billboard Japan Hot 100 with only 3 days of tracking
- #60 on Billboard Japan Top Download Charts
- #82 on Billboard Japan Top Streaming Charts
- #64 on Canadian Hot 100
- #5 on Canadian Digital Sales Chart
- #2 on Cambodia, Indonesia, Malaysia, Vietnam and Singapore Top 30 Digital Tracks
- #3 on Philippines Top 30 Digital Tracks
- 13 on Thailand Top 30 Digital Tracks
- #12 on Hong Kong Top 30 Digital Tracks
- #7 on New Zealand Top 40
- #76 on Official Irish Singles Chart
- #46 on Lithuania AGATA
- #11 on Line Music Japan Weekly Chart
- #71 on Greece Digital Singles Chart
- 42 #1s on iTunes Chart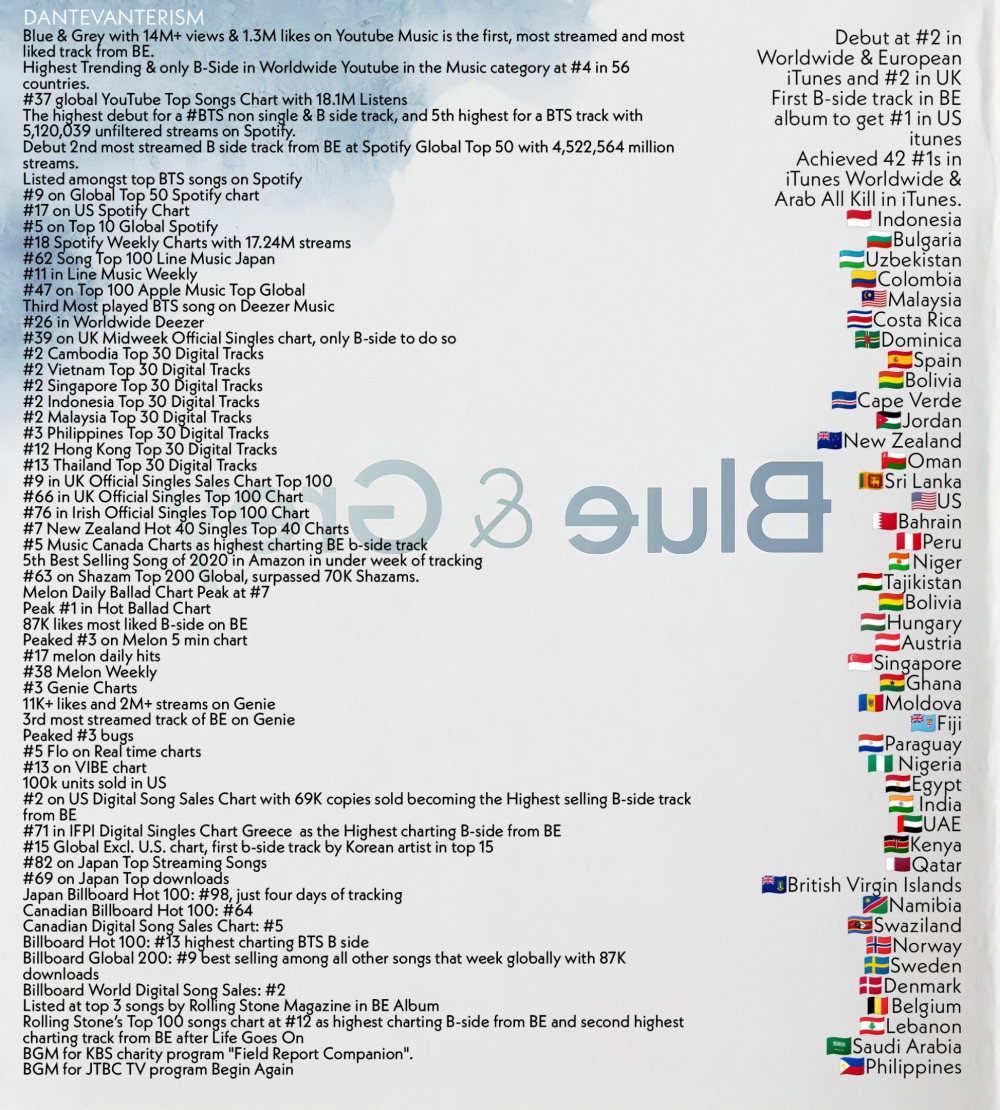 Congratulations V!!