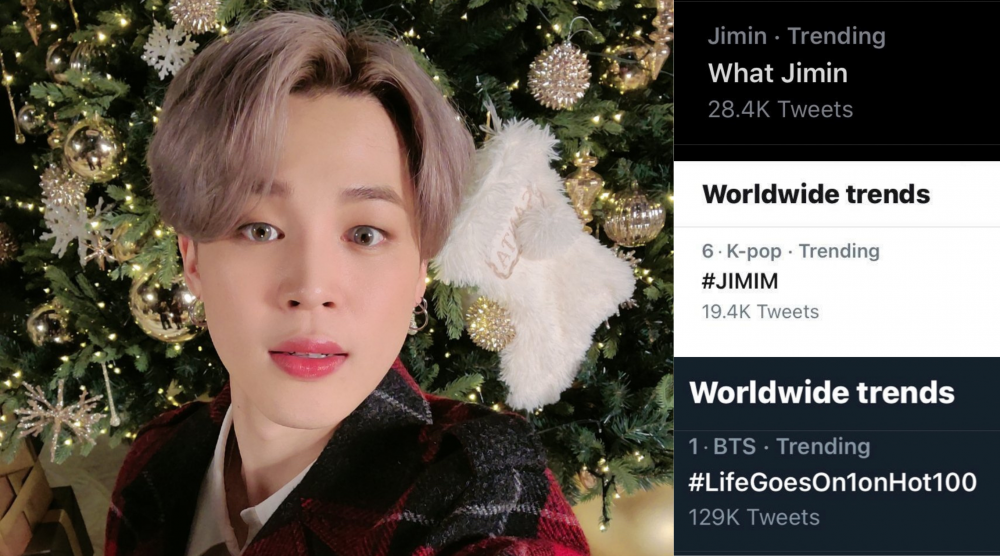 What Jimin wants Jimin gets.
On December 1, BTS made history to become the first and only artist to be able to top the Billboard Hot 100, main singles chart, with a Korean song. Billboard has announced that BTS had two songs charting high on the Hot 100 with BE's title track, "Life Goes On" at No. 1 and "Dynamite" at No. 3.
Not only that, but all seven tracks from the 'BE' album ranked in the Hot 100.
#1, Life Goes On"
#3, "Dynamite"
#13, "Blue & Grey"
#22, "Stay"
#69, "Fly to My Room"
#70, "Telepathy"
#72, "Dis-ease"
Soon after its announcement, BTS's Music Project Manager Jimin quickly posted his sweet message on BTS's official Twitter for the loyal and hardworking fans. Jimin said, "Thank you so much. I'm so grateful not just for the No. 1 but to have 2 songs in the Top 3. Thank you so much to all the ARMYs who love us. I'll do my best to show you a better album from now on." #JIMIN, #LifeGoesOn1onHot100, #우리아미상받았네.
#JIMIM, a tag widely-associated with Jimin because of an instance when he misspelled his name tweeting while crying upon learning that they had topped the Billboard Hot 100 for the first time with "Dynamite", immediately trended worldwide.
Further, it was announced that BTS also claimed its fifth No. 1 album on the Billboard 200 album chart with "BE". Likewise, BTS made a phenomenal achievement as it landed seven total songs from the album "BE" on the Hot 100 this week of December 5.
PM Jimin continued trending with several keywords in several countries like the US, UK, Malaysia, and the Philippines. "What Jimin" trended under "Jimin" category on Twitter. "What Jimin" trended because of several tweets from the netizens saying, "What Jimin wants, Jimin gets."
It can be remembered that even before the release of their album "BE" and during several interviews, particularly the one with KBS News9, Jimin said that he would love to see that the whole album enters Billboard Hot 100. Jimin was not disappointed by the fans. The fans celebrated it with tweets congratulating the most hardworking and ever-reliable Music Project Manager.
Jimin trended worldwide and in 19 countries with hashtag #JIMIM and keywords Jiminie, Congratulations Jimin, Jiminie, 우리지민 (our Jimin), 지민아아 (Jiminaa) and #우리아미상받았네
Jimin also trended on Japan's Twipple.
The 7 members could not hide their overwhelming reaction and posted a short video to celebrate this amazing achievement on Twitter. Jimin can be seen jumping back and forth out of joy.
It was earlier reported that Jimin, aside from being publicly known as the Music Project Manager, has been credited as the A&R (Artist & Repertoire), someone who mediates between the members and the company during the making of the album. As such, Jimin held a very important role in the making of the album and is truly deserving of recognition for its success.
Jimin has also been credited as Lyricist and Composer to tracks such as Dis-ease and Skit.
Congratulations Jimin!