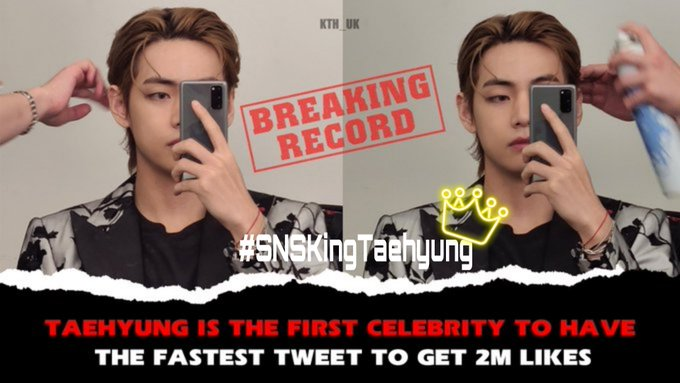 BTS V is an artist known for making and breaking records every second day. Whether its with his artistry or his social media presence, the king of SNS once again took twitter by storm by posting a selca and set a milestone for others to break by becoming "the fastest Artist to reach 2M likes on Twitter and the 2nd fastest to reach the milestone (overall) of all time" making it his 9th tweet to do so.

Not only this, his tweet is now the 3rd fastest tweet to reach 1M and Kim Taehyung is the fastest Korean Idol to reach this milestone for solo picture.
V's real name KIM TAEHYUNG trended Worldwide 1 and in 40 countries on twitter as well as Twipple Japan and trended for hours in top trends.
Recently his individual picturecrossed 5M likes on IG making him First Korean Male Artist to achieve this milestone!
Fans are now celebrating the National Treasure with the hashtag #SNSKingTaehyung
And the stan attractor effortlessly collected more fans for BTS and promotion for Samsung.
Its V's playground, it seems like the only person who can defeat Kim Taehyung today is Kim Taehyung himself tomorrow!