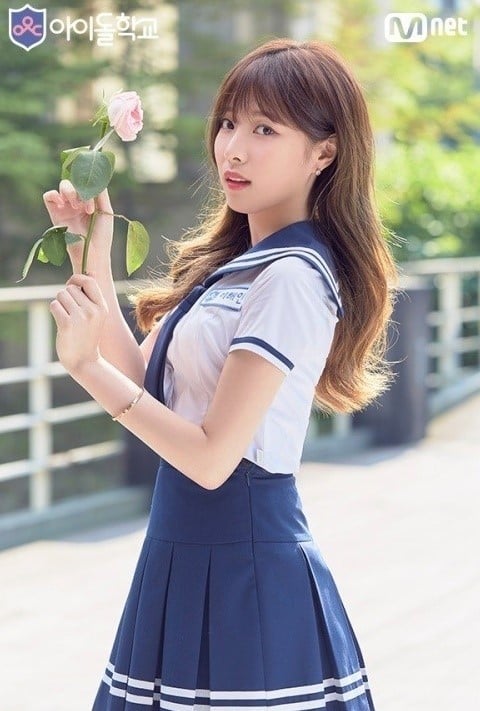 Amidst the growing controversy regarding vote rigging allegations against Mnet programs 'Idol School'and the 'Produce' series, the father of an eliminated trainee, Lee Haein, has come forward to speak up about his daughter's experience.
Lee Haein appeared on 'Produce 101' in 2016 as a trainee under SS Entertainment. After being eliminated at 17th place, Haein left SS and later appeared on'Idol School' in 2017 and narrowly missed being able to debut in the final group fromis_9, finishing at 11th place.
Her father recently stated through an interview that he had suspicions of vote manipulation after Haein was eliminated from 'Idol School', but hesitated to speak up for fear of it hindering her chances of debuting later. Once the allegations of vote manipulation against 'Produce X 101' arose, he was encourage to come forward.
He stated that when Haein appeared on 'Idol School', CJ ENM suggested that she sign a contract with their subsidiary company A (company name not disclosed). She signed due to the possibility of being dropped or disadvantaged during her audition. She was promised that this would ensure that eliminated trainees would still be able to debut. However, company A did not fulfill this promise and Haein was not able to debut. Further, due to being under this contract, she was unable to seek out debut opportunities through other companies.
CJ ENM apologized in response to her father's complaints, saying it was regretful that they were not able to do enough to debut the eliminated trainees.
Through a post on Lee Haein's online gallery, her father expressed the emotional turmoil his family is currently going through. "My heart hurts because of my daughter['s situation]. If evidence [of vote rigging] comes to light, then that means my daughter has been taunted twice. It's not something humans would do; it's inhumane, it's really unfair."