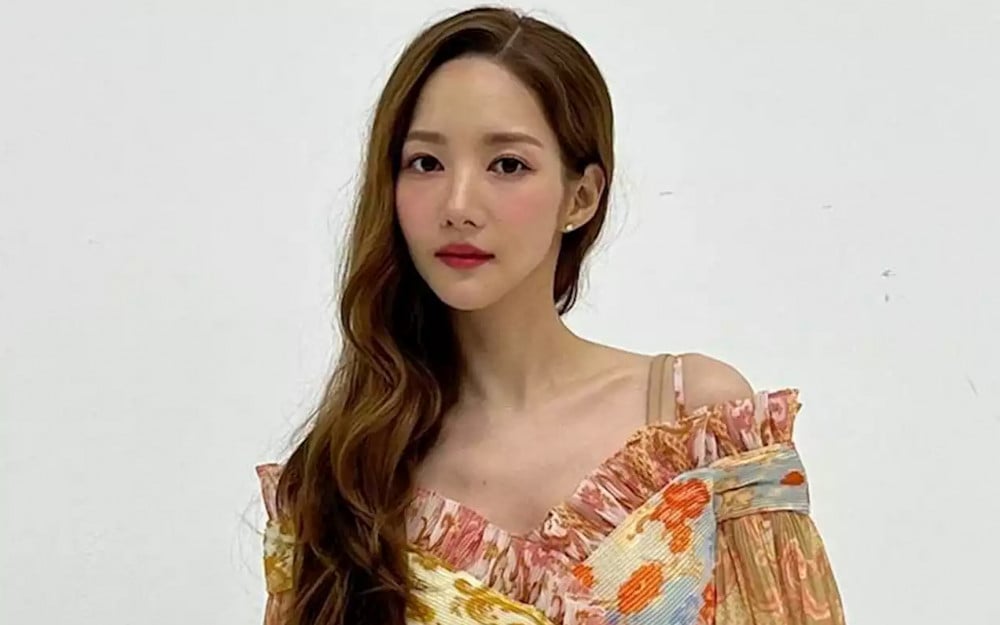 Last month, fans and K-netizens became concerned when Dispatch alleged that actress Park Min Young was in a relationship with Kang Jong Hyun, the chairman of Bithumb, one of South Korea's largest cryptocurrency exchanges.

The media outlet additionally claimed that Kang is currently being suspected of acquiring significant amounts of illegal private loans, which he used to purchase businesses like 'Bithumb,' 'Vidente Co,' 'Bucket Studio,' etc. The media outlet further accused Kang of accumulating great wealth through such illegal dealings.

With the controversy heightening and more netizens becoming concerned for the actress, her label Hook Entertainment stated she was no longer dating Kang Jong Hyun and that they had already broken up.
Nevertheless, netizens continued to discuss this topic and even ridiculed how quickly Park Min Young "broke up" with Kang.
In response, Kang Jong Hyun personally spoke up about the rumors and explained that he had indeed broken up with the actress. He spoke with Dispatch on October 12 and began by saying, "I did meet with Min Young on the 29th of last month (when the reports were made)." He added, "I didn't want to ruin her (Park Min Young's) acting career because of me. She really loves acting so we decided to break up."
Kang Jong Hyun continued, "I don't care how the reports are written about me, but I don't want her to be mentioned anymore."
He also denied that he had sponsored her financially and explained, "The only thing I gave Park Min Young was a Chanel bag on her birthday. I received more (gifts from Park Min Young)."

Kang Jong Hyun also talked about the rumors surrounding his businesses at the center of controversy, such as 'Bithumb,' 'Vidente Co,' 'Bucket Studio,' etc. Although he holds the title of chairman of four companies, the actual representative listed on three of the companies is his sister.
Earlier, Dispatch reported that Kang sold cell phones in the past and had a criminal history of being sentenced to jail for fraudulence in 2016. The news media outlet questioned how Kang could raise 23 billion KRW (~16 million USD) in an instant, becoming the owner of four companies, including Bithumb. Currently, Prosecutors are conducting a search and seizure of the largest shareholder of Bithumb and related companies, such as INBIOGEN and Vidente, on allegations of embezzlement.
Kang Jong Hyun denied the allegations and explained that the reports were false. He elaborated, "The reports are not true, there are a lot of parts that are wrong. I feel unjust. I really don't have money. If I had money why would I be living with bad credit?"
He also clarified the rumors of spending lots of money at nightclubs and golf clubs. He explained, "My friend paid for the 100 million KRW (~69,850 USD) package at the Arena Club. I just made the reservation and went with him. I borrowed the golf club membership from a hospital director I know. I'm not a member of that golf club."
Kang Jong Hyun further explained, "I just helped my sister acquire a listed company. No management was involved. I'm not even the one who made my chairman's business card," He added, "Even now, I'm making a living by selling cell phones in the online community. It paid off a lot of debt. I hired drivers because it is difficult for me to drive, and I pay their wages by selling cell phones."
He also said that the Richard Mille watch he was seen wearing is an imitation and that the luxury apartment he is known to be living in actually belongs to his friend.
Nevertheless, it is known that there is a team within the Bithumb-related listed companies that is under his direct supervision, and Kang has not given a clear explanation for this. Therefore, netizens are constantly questioning the allegations.