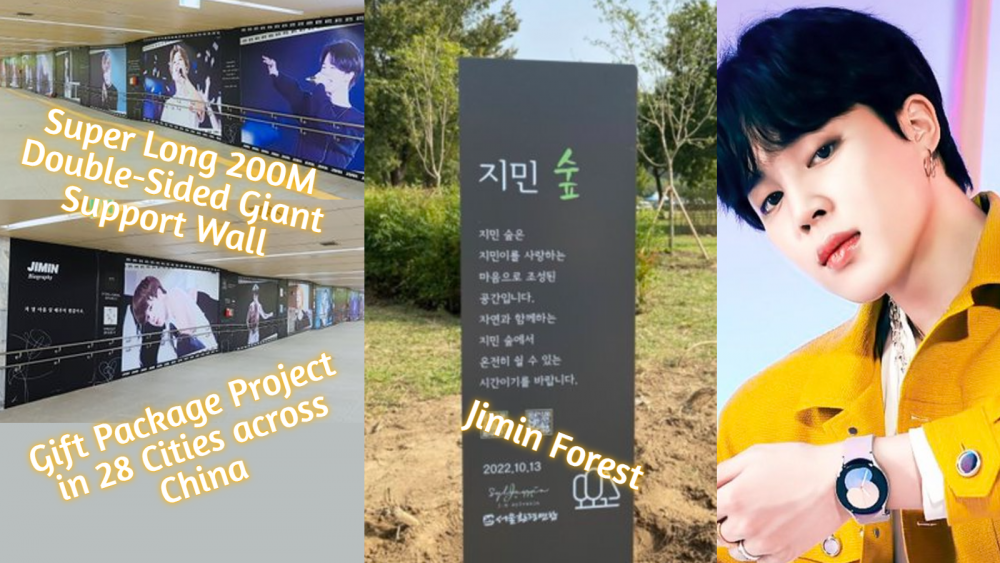 Jimin's fans have organized several magnificent birthday projects to celebrate what is arguably the most important day of the year for his fandom. So far, there are "first in the world," luxurious, and high-profile projects such as the two versions of 'Jiminland' lovingly presented by his Chinese and Korean fans, as well as some heartwarming and highly significant projects put together by the international fans to contribute to the enhancement of social and animal welfare in various ways.

More and more impressive projects to celebrate this big day on October 13 are consistently pouring in for the occasion. On September 29, Jimin's Chinese fanbase 'PARKJIMINBAR' revealed yet another splendid project, announcing that they will launch an Offline gift package project for cafes in a whooping 28 cities across China, making it an extremely large-scale activity. The fanbase stated that birthday gift packages have been prepared for fans in China to support Jimin offline. Notably, the choice of the number of cities to hold the project is representative of the age that Jimin will be attaining in Korean age!
In addition, the same fanbase, in collaboration with Jimin's Korean fanbases ALLFORJIMIN and DC JIMIN GALLERY, came together to facilitate another jaw-dropping birthday support project. For this project, Jimin would have a super long 200-meter double-sided giant support wall embellished with his images consisting of giant custom stickers covering the entire wall. The wall is located on the only way that leads to the venue of BTS' Busan concert, and it is expected to run for a whole month. This is a very strategic location as it will ensure that Jimin definitely sees and feels all the love and support from his fans, which is the entire purpose of these projects.
The project has previously been carried out by Jimin's fans back in 2019, and its epic scale saw it make it onto the mainstream news outlets in South Korea like MBC News. Therefore, the same prestige that it carried back then is expected to be seen this time as well. Below are some images and video clips taken by fans who visited the venue back then.
Korean fans also have another separate project by a separate team, JM Sylvania. It had been announced previously that the team would build a 'Jimin Forest' on the Han River in the Jamwon area. This activity included the planting of 500 trees and the installation of 2 benches. It was created with the aim of providing a space for resting comfortably while also connecting with nature. As of September 29, news came up that the project have finally reached its completion.
Jimin has stated several times that he enjoys running, and fans hope that it will be a comfortable place for him to rest during his running sessions.
Given that the world is in an era where environmental conservation is a crucial matter and is highly advocated for in an attempt to curb the increasingly adverse effects of climate change, this project attracted lots of interest and attention. For example, multiple media outlets in South Korea have so far reported about it, detailing the important points about the project like the involved parties, the factors that influenced the selection of the site for the forest, and the factors that influenced the selection of types of trees to be put in the forest.
Below is a recount of the reports published on the project, giving more details about it.
Jimin's fans have always come up with the most ingenious ways to portray their undoubted love and support for their idol during such significant events, and seeing all the magnificent projects that he is receiving makes fans look forward even more to the big day and hope he sees everything prepared for him and fully feel his fans love and support for him.