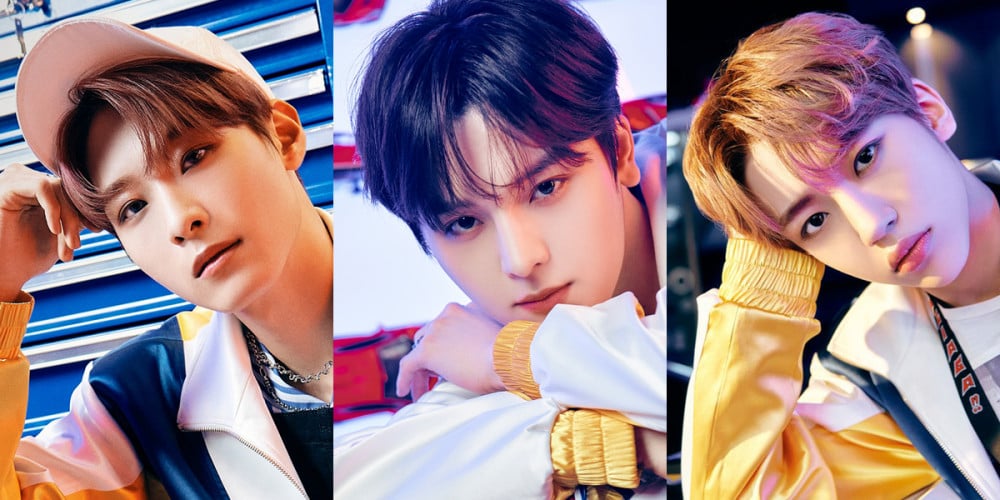 Approximately a day after Wake One Entertainment announced their departures from TO1, members Minsu, Jerome, and Woonggi have dedicated handwritten letters to their fans, filled with words of gratitude.
Earlier on June 17, Wake One Entertainment revealed that Minsu, Jerome, and Woonggi will be leaving TO1. The agency also revealed that three new members - Daigo, Renta, and Yeojeong - will be joining the remaining TO1 members as the group undergoes a "reestablishment of identity".
According to Wake One Entertainment, Minsu, Jerome, and Woonggi will remain artists under the label, and plan to greet fans with a "new image" soon.
You can fine Minsu, Jerome, and Woonggi's handwritten letters dedicated to TOOgether, below.
Minsu wrote:
"Hello, this is Minsu.
I am carefully writing to you today because I have some words to deliver to TOOgether, who must have been surprised by the sudden news.
I wanted to express my gratitude toward TOOgether who stayed by my side for the past 2 years, no matter what.
Because of TOOgether who stayed by my side and cheered me on whether I felt happy or sad, each of my days were filled with happiness.
I felt I could rely on you more than anyone, and being with you all was more precious than anything.
The time that I spent with TOOgether will remain precious memories for me forever.
I also want to thank the members, who spent such a long time practicing with me and who stood on stage with me. Having spent so much time together, I know that we will always cheer one another on.
I will do my best to repay you all for the love that you showed me. Until the time comes when I can give you back all of your love, please wait and be healthy.
Thank you, TOOgether."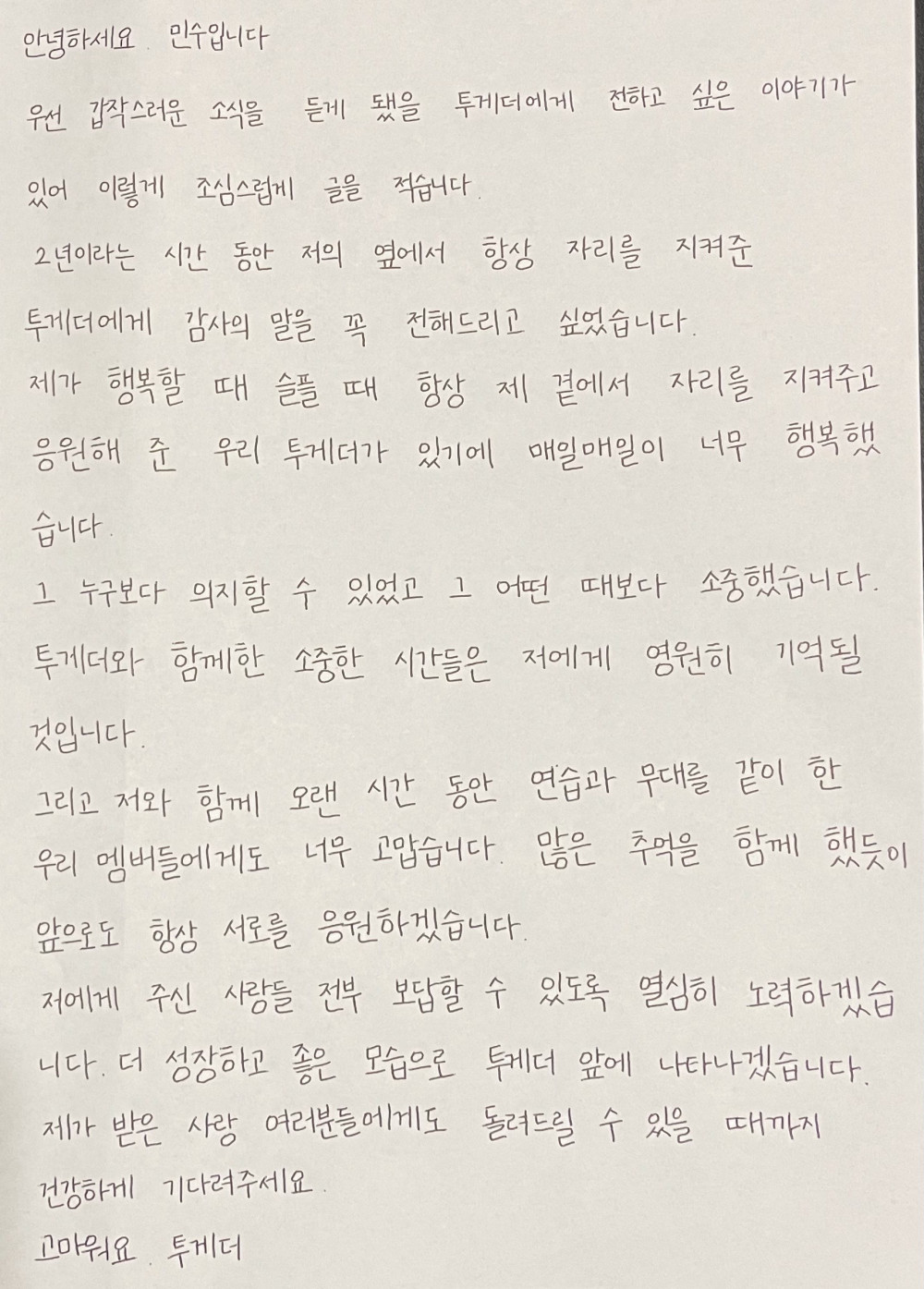 Jerome wrote:
"Hello TOOgether! It's Sung Min, whom you knew as Jerome.
I am sure that there are many of you who were shocked by the sudden news. Up until recently, I had many discussions about the direction of TO1 with the agency. After the discussions, it was decided that I would bid farewell to TO1.
Ever since my debut, there has not been a single moment I spent promoting as a member of TO1 where I was unhappy. I was able to achieve my dream of becoming an idol, I worked hard with my members while aiming toward a single, unified goal, I received love from TOOgether and made many memories with you while preparing for the stage - every single one of those moments are precious memories and gifts that I cannot forget.
I don't think I can ever forget TOOgether, who always cheered me on and told me that I made you happy.
I want to become a great person who knows how to give back the love I received!
This does not mean that I am saying goodbye to you, so please don't be sad. Please also cheer on TO1 as they face a new beginning.
So that I can stand on stage again as Oh Sung Min rather than as TO1's Jerome, please send me your support!
I promise to do my best moving forward. Thank you and I love you!"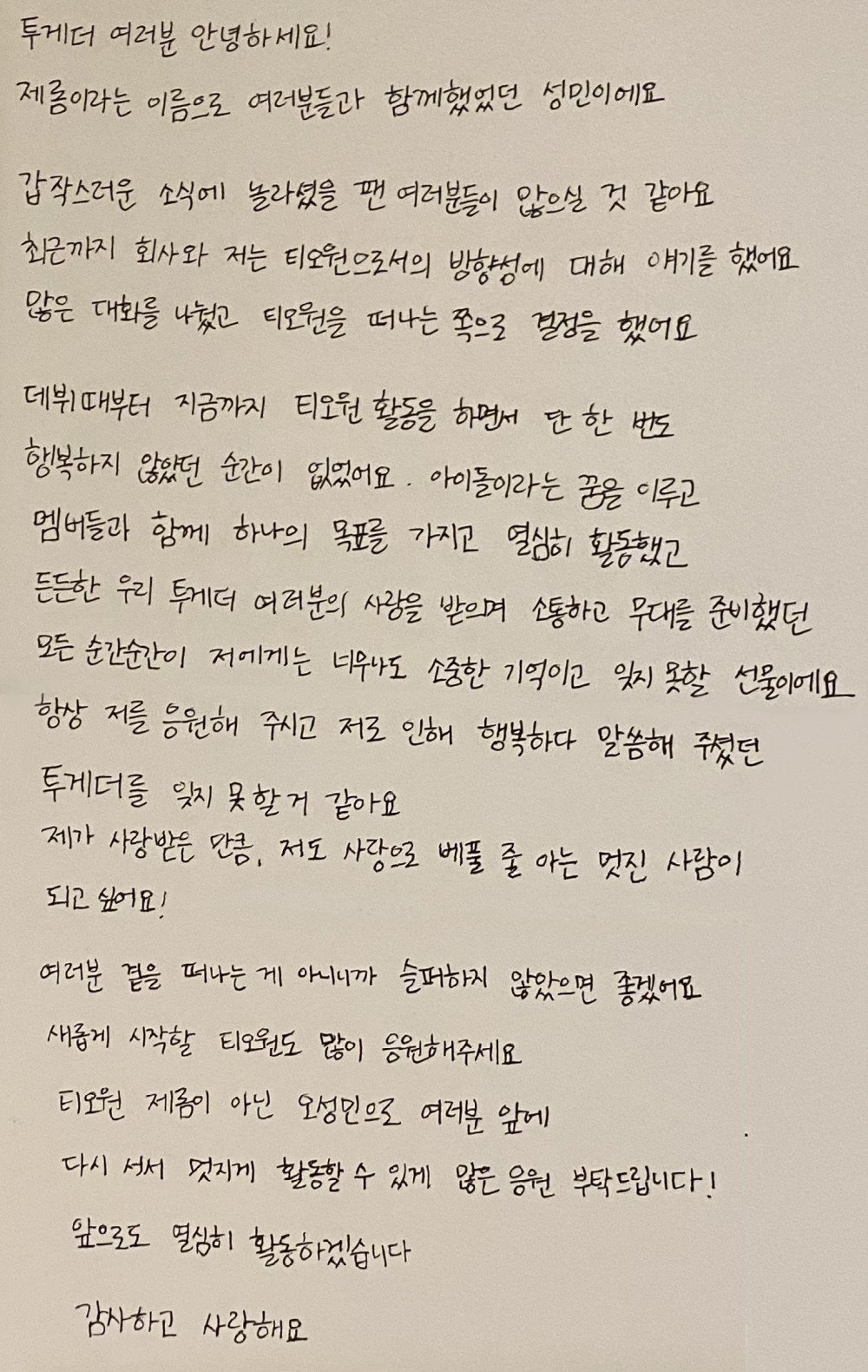 Woonggi wrote:
"Hey TOOgether! It's Woonggi.
I think it's been too long.
I've picked up my pen because I have something I want to tell you.
After a lengthy discussion, it has been decided that I will wrap up my activities as a member of TO1.
While promoting with TO1, I learned so much, experienced so much, and made so many precious memories which I cannot exchange for the world.
My TO1 members whom I love and cherish, and TOOgether (heart).
The time that we spent together will not change.
I am so thankful and grateful for the time that I was able to spent as TO1's Woonggi, from spring of my 19 until now.
Please cheer on my new beginning and TO1's new beginning.
It is not an end, but a new beginning, so don't be sad.
I will do my best too! I adore you and love you so much."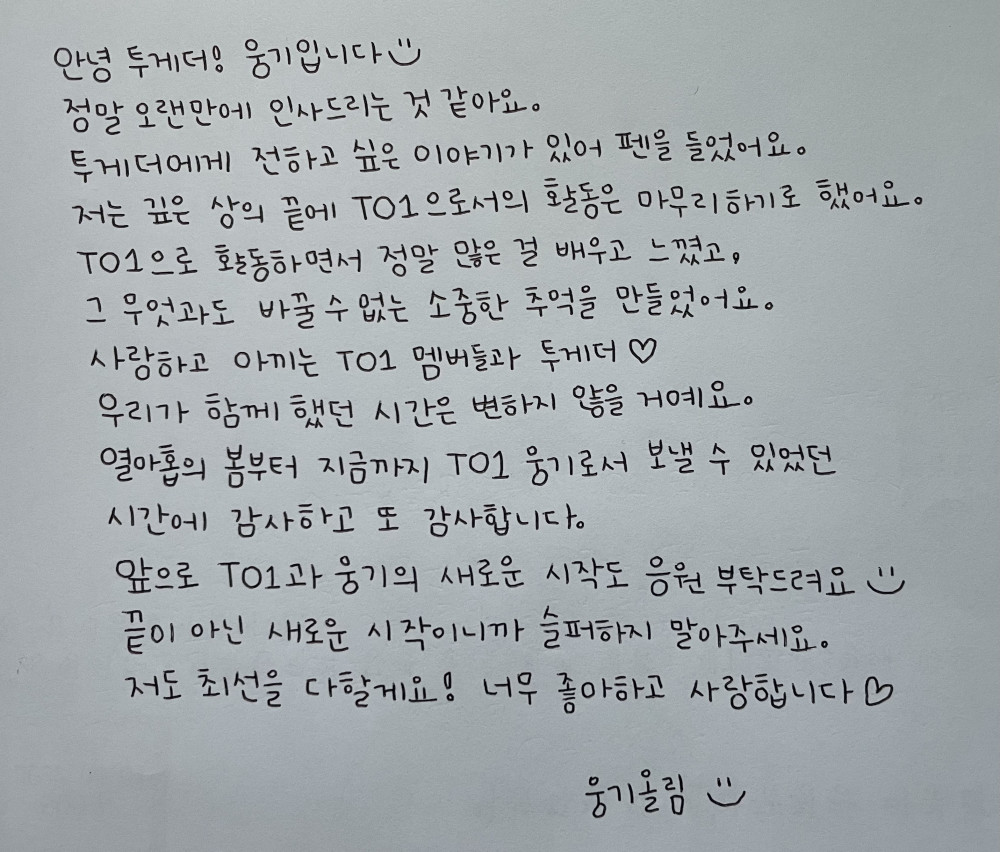 Best of luck to Minsu, Jerome, and Woonggi in their new endeavors!