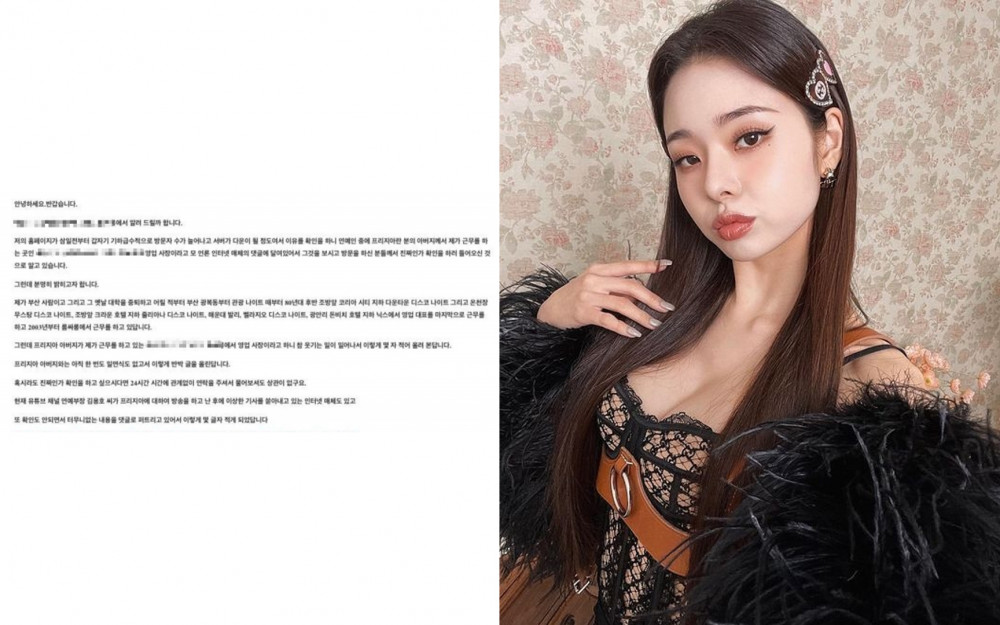 "I want to stress that Free Zia's father has nothing to do with Haeundae ○ ○○○ Room Salon." - Owner of Haeundae ○ ○○○ Room Salon.

The adult entertainment establishment alleged to be owned by Free Zia's father spoke up directly and denied the recent rumors. After Free Zia's controversy of wearing fake luxury items, there were new rumors that surfaced claiming that Free Zia's father is not a dentist but actually runs an adult entertainment business in Haeundae, Busan.
Then on January 28, the owner of the Haeundae adult entertainment business in question posted a statement on the establishment's official homepage denying all rumors.
The owner of the business explained, "I want to clearly reveal that Free Zia's father and ○ ○○○ Room Salon have no relation. We don't even know Free Zia's father."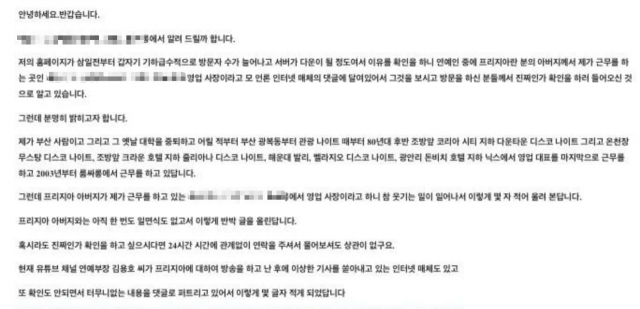 The owner continued to say, "After YouTuber Kim Yong Ho released a broadcast about Free Zia, there were absurd articles being published through online media sites, and there were ridiculous comments spreading based on information that wasn't confirmed. Therefore, I am writing this statement."

According to the room salon owner, there were many netizens that visited their official website during the recent three days and even caused the server to go down.

Song Ji Ah stopped all of her activities after facing criticism after the luxury brand products she wore in public and public media such as broadcasting, YouTube, and Instagram were found to be fakes. In an apology video uploaded to YouTube on the 25th, she explained she would be taking down all videos and photos to take time to self-reflect on her actions.