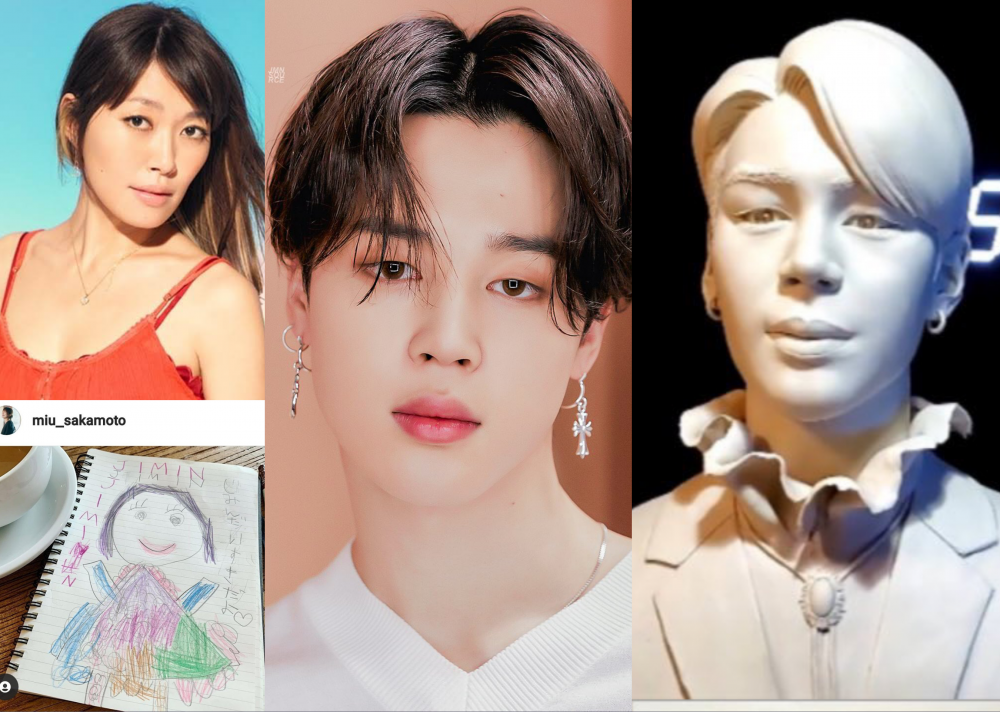 BTS' Jimin's breathtaking visuals are a perfect mix of Western and Eastern beauty standards.
On the 27th of September, Japanese pop singer & Yamaha Vocaloid voice provider Miu Sakamoto shared a colorful drawing of her daughter on her Instagram account. The photo, which was revealed to be a drawing of BTS Jimin, was captioned with "Our star ✨" and had an 'I love You Jimin!' as the message written for him next to the drawing.
Miu Sakamoto is the daughter of award-winning film-score composer Ryuichi Sakamoto and Akiko Yano, a Japanese pop and jazz musician hailed as "one of the greatest musical talents of Japanese popular music." Fans were thus delighted to see the talented Miu and her daughter share their love for Jimin.
Jimin, who loves children and has made significant contributions to support their education and health, is in turn greatly adored by them. He makes his way into their hearts by making such beautiful drawings and loving his voice, which they find as calming as a lullaby. As a result, songs like Serendipity, Christmas Love, and Promise are absolute favorites for most children.
On the same day, another talented artist shared an impressive sculpture of Jimin. The artist showed the process of making it through a time-lapse on his YouTube channel OneTouch. The sculptor who shared a fitting and beautiful description of his work called Jimin, a "world class idol" who "stands out on the stage with his charisma and aura while being cute and charming off stage."He added that Jimin is captivating, powerful at the center of BTS choreographies and that his style usually appeals to both men and women.
Indeed, Jimin is the perfect muse for various artists worldwide who have been inspired not only by his incredible visuals but also his overwhelming charisma as a performer as well as his dual personality. They have interpreted his essence in various ways. Such notable artists include Jin Young-Sun, Honorary Professor of Seoul National University, whose fresco painting inspired by Jimin's 2019 Melon Music Award's "I Need You" performance was exhibited at the Alumni exhibition of SNU Villa D'Art this September; Goheon Kim Ho-Sung's beautiful art piece inspired by Jimin's 2018 MMA fan dance displayed in 2019 at his 'Fun & Fan' exhibition, at the Insa Art Plaza; James Jean's imaginative, colorful 'Champignon' piece which is displayed at the HYBE building; Lee K. whose exquisite illustrations have made it into major galleries in Europe as well as Korea. These are joined by countless other talented artists like Argentine Alejandro Vigilante, Kildren, Alexander Ivanchamu, Hajer, Wezt, and more.