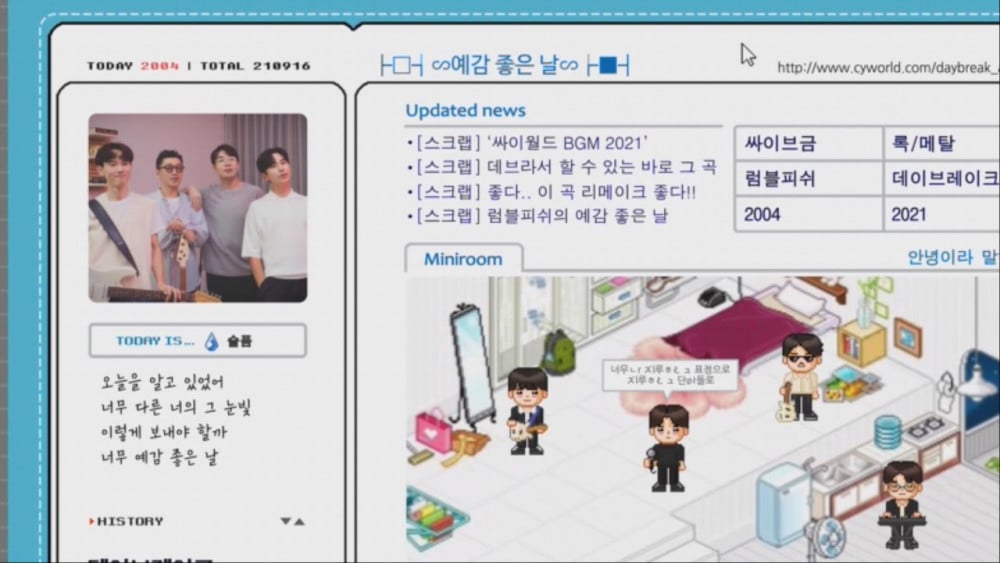 Cyworld was the most popular social media website in South Korea during the mid-2000s. This was the time when people were using Xanga and Myspace in the west and right before Facebook came along. Although now it seems that TikTok is the newest hot thing in social media, "lattes" can agree that Cyworld was a unique platform that many Koreans used.
The platform allowed users to decorate their own mini homepage with various features, such as photo albums, diaries. You could even customize your mini homepage by adding music -- with an additional fee, of course. Users would luxuriously decorate their mini homepages by using "acorns" to purchase skins, BGMs, and more.
Of course, users wanted to maintain some sort of theme with their mini homepage and would choose sentimental songs as their background music. Cyworld BGM's was ingrained in the Korean web culture, and playlists are still widely listened to because of the impact it had and the nostalgia it contains. Let's take a trip down memory lane and see what songs were exactly bopping in our Cyworld BGM's before modern-day social media took over! (TMI: Cyworld recently announced a reboot from its defunct channel! As many Koreans are becoming nostalgic with the mid-2000s vibes, people have wanted to re-utilize the product. As for its success, many are unsure as there are so many powerhouses on the web, but it's still a great trip down memory lane!)
Freestyle - Y
This was one of the most heard songs on Cyworld 16 years ago.
S#arp - My Lips.. Like Warm Coffee
Despite its release in 2002 before the Cyworld craze, the song was widely loved for its sentimental vibes.
Humming Urban Stereo - Hawaiian Couple
We heard this on every female friend's mini homepage who was about to enter a relationship...
Turtles - Airplane
If you were a LIT person, you'd often hear this refreshing beat in their mini homepages.
K-Flow - Forest of Dreams
KISS - Because I'm a Girl
Basically, this song played on every girl's Cyworld mini-homepage who needed attention from their significant other or soon-to-be significant other.
Park Hyo Shin - Snow Flower
...And those ladies significant others trying to have this sentimental bop on there as well.
Wonder Girls - So Hot
To all the independent ladies who showed off their charismatic side on the mini homepages.
izi - Emergency Room
And to all the sad recent break-up pages.. :(
Brown Eyes - Already One Year
One year later.. and 2006 me still can't get over 2006 you.
Magolpi - A Delinquent Girl
Meanwhile, the break-up girl is starting to recover from that break-up. Onward with new dreams!
SG Wannabe - Timeless
It seems like the boy still can't get over the girl. :(
If you want to learn more about Cyworld and its relaunch, you can check out this video below.
Wow, and with way more than this, this playlist was definitely a trip down memory lane. Turning on PCs and opening Internet Explorer to go to Cyworld and "scrap" photos. This culture may be unfamiliar, but is there a song that was on this list that you already knew and was surprised to see on here? Or to the ones who lived through this journey -- which one was your favorite? The series is to be continued!