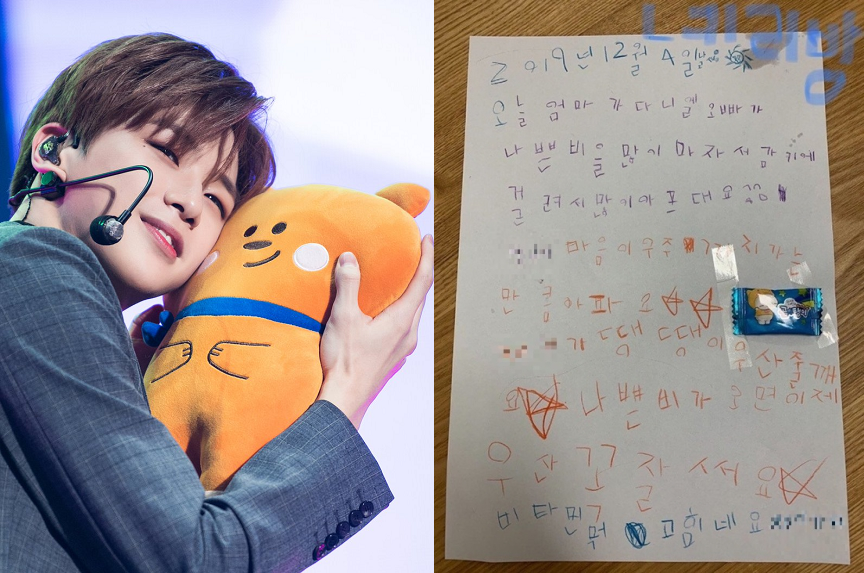 On December 4, after it was announced by Kang Daniel's company that he would be taking a temporary hiatus due to his mental health, a 6-year-old fan wrote the idol a letter:
2019 December 4, weather☀️
Today my mom told me that Daniel-oppa got sick from the bad rain.
My heart hurts a lot.
I will give you my favorite polka-dot umbrella to use when the bad rain comes again.
Take these vitamins and get well.

This young fan had previously met Daniel during his appearance on the SBS radio program 'Cultwo Show' on November 28, where she proclaimed him "cooler than her father."
Kang Daniel decided to take a break from activities following a series of alarming posts he made on his fan cafe on the night of December 3, pouring out the thoughts he has been struggling with due to malicious comments such as, "The fact that I am me is too difficult" "I am too tired now" and begging, "Someone. Please save me." His company later revealed that he had been diagnosed with depression and panic disorder in early 2019 and that his health had recently declined.
In an update, his company stated that Kang Daniel will be taking a temporary hiatus and is currently resting and regaining stability under the care of his family and staff.