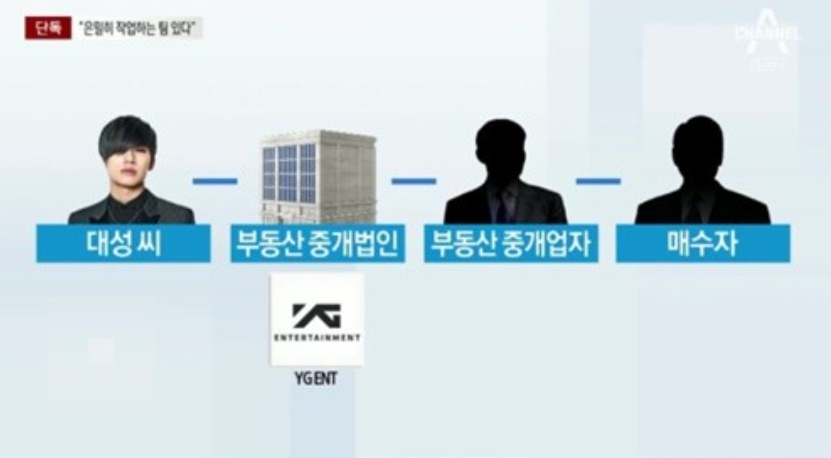 There is reportedly a "secret team" behind Daesung's controversial building sale.

'Channel A' previously reported that Daesung has put up his controversial building on the market asking for 40 billion won for a net profit of 5 billion won on the sale. Daesung announced his intention to sell the building back in June but once the negative coverage on the building began, he decided to sale the building after owning it for 2 years. According to real estate insiders, most owners normally don't sell their building so quickly as it takes time to build equity in the investment.

The broker behind the sale released a statement to potential buyers confirming that "It's true that Daesung is selling the building and that YG is involved in the sale process so buyers can trust the process and proceed." But YG Entertainment released a statement denying involvement.

When asked by reporters whether "it's true that YG Entertainment is behind Big Bang Daesung's building sale?" the broker stated, "Yes, they have a team working in secret."

On the 30th, the Gangnam Police Station in Seoul announced that they have began their full-scale investigations into the allegations of illegal activities at Daesung's building and have created a 12-police task force. The task force includes 6 investigators with (1 in economic affairs), 3 people from customs (life safety), and 3 people from the drug (criminal) department.

Police are considering whether to charge Daesung with aiding and abetting in the illegal business activities at his Gangnam building.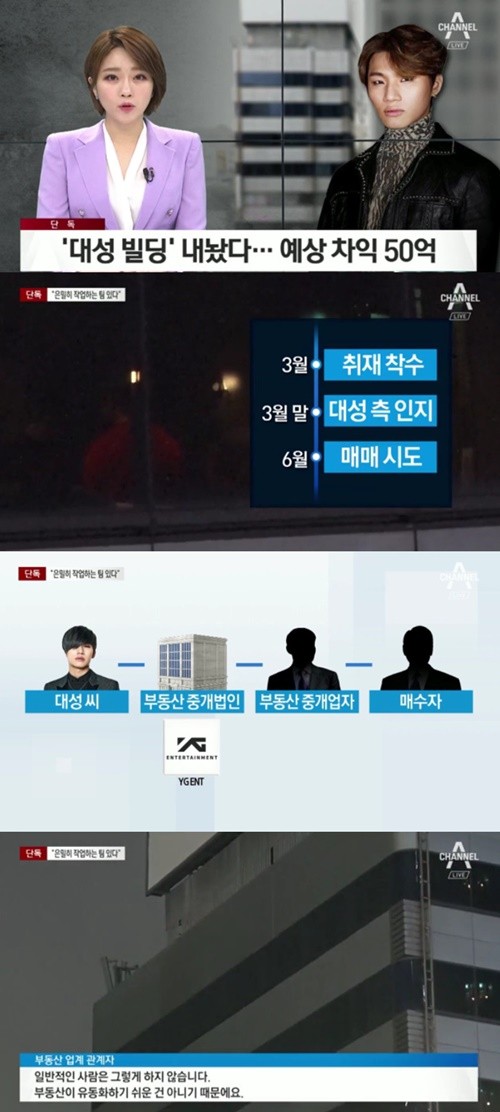 [+1,567, -274] All activities by YG are illegal and abnormal..
[+689, -270] Hyun Suk-ah what the hell did you do to these kids???!! You literally created a crime group!
[+416, -253] At this point the only thing YG hasn't done is murder...no?
[+255, -18] Just reveal it all ~
[+248, 38] If he sells it or doesn't sell it its a problem..he's only an owner why is he being criticized and punished for owning the building?? Aren't the tenants operating the illegal activities the problem?
[+214, -43] I get we all hate YG right now but isn't this blatant discrimination against Daesung?? He became a building owner right before military as a landlord for tenants that have been in the building for over 10 years?? Why is he being charged for the crimes..just stop~
[+197, 138] ㅋㅋㅋㅋthis whole situation is just hilarious! YG is trying to release a statement by themselves like this but their image itself is rock bottom so who's going to believe them? Just stop with the media play..
[+192, -8] Just wait...he'll be canceling the sale soon..ㅋㅋ
[+187, -15] Why isn't there any articles about the Burning Sun scam by Kim Sang Kyo...this video is daebak! https://youtu.be/2PyuxHAhWyk
[+73, -15] Anyone looking at this will think Daesung is the one doing the prostitution and illegal business..Why is there a special team dedicated to investigating the landlord and not the illegal tenants..is this normal?