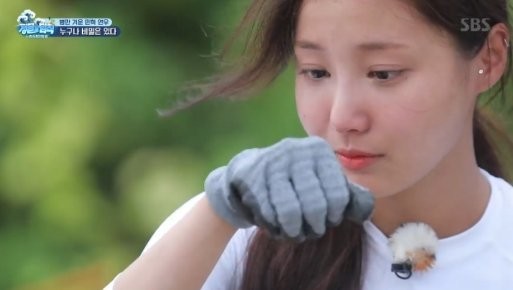 Yeonwoo opened up about her position in Momoland.

On the December 7 airing of SBS' 'Law of the Jungle,' Yeonwoo had a sincere talk with captain Kim Byung Man.
When asked how long it has been since she debuted, Yenwoo answered, "It will be exactly 2 years in 3 months." She added, "I was in an acting agency but I somehow got recruited by my current company. I wasn't good at dancing and singing so I was scared, but I wanted to do it. I wanted to do it even more because I'm not good at it and I felt more responsible..."
Kim Byung Man inquired about how many members are in Momoland and then asked, "Where do you think you rank in Momoland?" Yeonwoo choked up and said, "I think I'm last. Not because I'm bad but..." She showed tears and continued, "(I need to think this way) In order to do better. So I've set myself as the last."
Kim Byung Man provided encouragement, saying, "Everyone is chosen for different charms. I believe you have a weapon of your own. I also started last as a comedian."