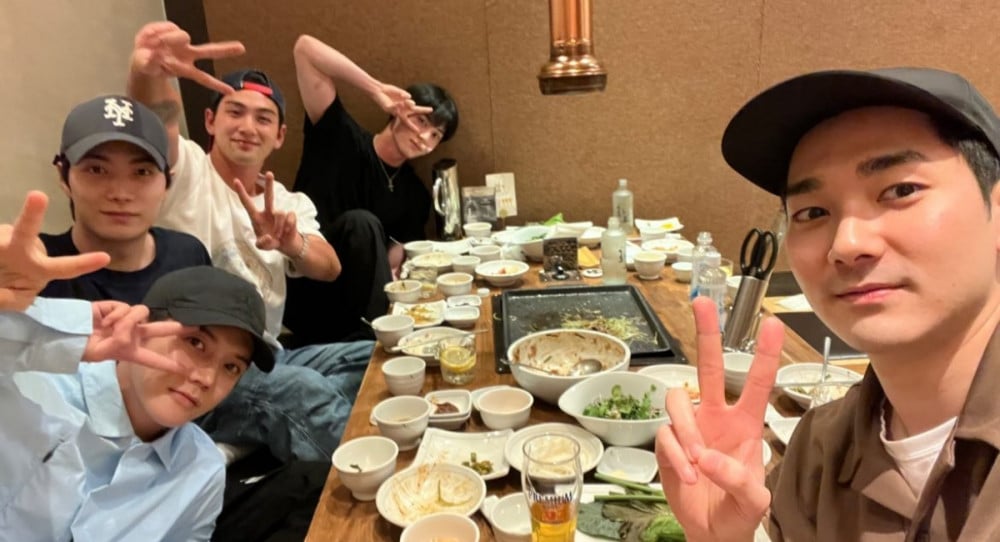 The NU'EST members casually reunited for a meal this weekend.
On September 23 KST, all five members – Aron, Kim Jong Hyeon (JR), Baekho, Ren, and Hwang Min Hyun – met up for an evening of dinner and drinking, posing for a photo together to share through their respective social media accounts. The photo became a big hit with fans as it was the first time the five members have been seen together since their disbandment in March 2022.
"The NU'EST members seem to have gathered together for the first time in a long while," one netizen wrote, posting screen captures of the members' Instagram stories featuring the photo above. "They uploaded their Instagram stories at the same time!"
Fans who saw the aforementioned post were quick to react to the reunion, leaving comments like, "I love you guys ❤️," "I miss my NU'EST so much 😭❤," "This situation where all of my loves who'd been hiding hang out is so funny yet makes me cry...❤️," and "This is what I've wanted to see, guys... I love you, NU'EST 💖."


Meanwhile, all five members have moved on with solo activities, with only Baekho and Hwang Min Hyun remaining at Pledis Entertainment.