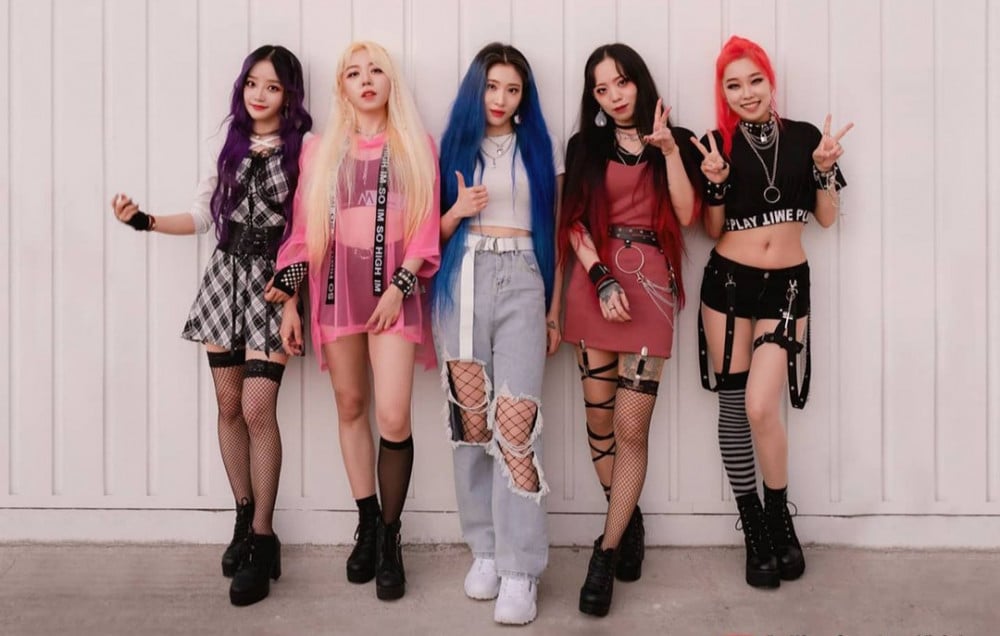 Amongst the biggest and underrated names of the main K-Pop scene, there has been an increase in the number of boy rock bands formed in the past decade. However, we can barely see any girl rock bands. Of the few that exist, Rolling Quartz is one that stands out. As we go deeper into this writing, you'll soon latch onto what this female rock band has to offer.
As we hand over our warmth support and devotion to some of the most prominent bands in the industry, including DAY6, The Rose, N.Flying, and CNBLUE, who have made a name for themselves, it's about time to show beyond doubt that this female rock band deserves compliments and support from the general public, and potential listeners.
The five-member South Korean female rock band that officially made their debut—and started to mark the start of their journey in the long run—on December 30, 2020. Rolling Quartz consists of members: Areum (Bassist), Iree (Lead Guitarist), Yeongeun (Drummer), Jayoung (Main Vocalist), and Hyunjung (Rhythm Guitarist) under Rolling Star Entertainment, the rock girl band kicked off their career with the headbanging edgy rock single 'Blaze.'
Just over one year in the Korean music industry, the girl band are already rocking the stage with their earworm-y tunes. As rock isn't as popular as the other genres in South Korea, being overshadowed by the main scene of K-Pop, still, it isn't an excuse for Rolling Quartz to continue to make waves in the industry and solidify their name as one of the K-rock bands with the undeniable unique identity.
The rising female band started as a duo band as Jayoung and Yeongeun attempted to create their own K-rock band before debuting, thereafter was joined by Hyunjung, the three-member band had 'Rose Quartz' as their first-ever official name. Later on, the band was joined by Iree and Areum, subsequently changing their name to 'Rolling Quartz.' Before the band officially debuted, they've been uploading jaw-dropping covers, hosting live events, and performing numerous songs in front of the public.
Rolling Quartz have showcased demo versions of some of their original songs, including the hard-hitting rock tune 'Rock And Roll Paradise,' the garage band sound 'Delight,' the serotonin-booster track 'Holler,' and the energy-packed original soundtrack 'Higher,' they're all banger you don't want to miss.

I know you think you never knew how much you needed a female rock band like Rolling Quartz until you came across this article. Their music will give you '90s grunge rock vibes with their deep, fire, and swag vocals. The amount of their overflowing talents screams perfection. You'll need to see them perform live soonest!



As we wait for Rolling Quartz's next release, let's binge-watch from 'Blaze' music video to their show-stopping covers of some pop music for the meantime, the girl band literally rocked the rock version of BTS's megahit 'Dynamite,' plus the band's cover of Lady Gaga's 'Bad Romance,' Ed Sheeran's 'Shape Of You,' and the iconic Rolling Quartz's cover of Dreamcatcher's 'Good Night' just proved they can totally slay almost all K-rock genre to pop music and beyond.



In this male-dominated genre, a K-rock girl band like Rolling Quartz is what we need more of in the industry. You must check out Rolling Quartz—a girl band full of attractiveness, talent, near-perfect instrumentals, and vocals. Once you check them out, you won't be disappointed with yourself. Rolling Quartz will hopefully stand out in the music industry and achieve the fame they deserve.