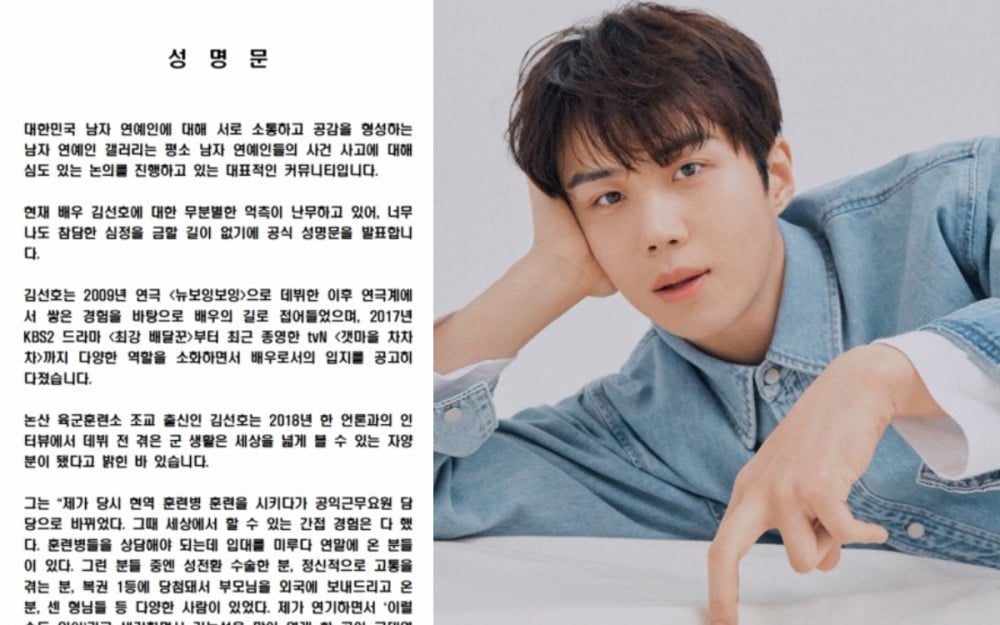 Kim Seon Ho's fans said they will take legal action in response to growing claims that he is the 'Actor K' that allegedly forced his ex-girlfriend to have an abortion.

On October 18 KST, a post was added to the DC Inside male celebrity gallery, stating, "There is currently a lot of speculation about actor Kim Sunho, and there is no way we can help but feel miserable, so we are issuing an official statement."

"Kim Sunho has emphasized that he needs to take care of himself not only in acting, but also in terms of personality and disposition," the writer continued. "He stood in front of the public in a consistent manner, keeping his promise unchanged until now."

"His fans will not tolerate serious criminal acts that cause indescribable pain to the victim by spreading groundless facts through videos, posts, or comments in an online space that anyone can see or damaging a person's reputation, such as abusive language and insults," they stressed.

"The fans of Kim Seon Ho announce that they will take all possible legal measures, including criminal charges and civil damages, without any leniency or tolerance, with those spreading false facts to the end and are continuously monitoring those who demean his personality with serious swear words and insulting remarks," they added. "Please immediately stop any act that damages actor Kim Seon Ho's reputation by creating or distributing false facts, and furthermore, and delete all existing defamation posts."

Meanwhile, Kim Seon Ho's agency Salt Entertainment has not released a statement, while their official homepage is currently inaccessible due to excessive traffic.