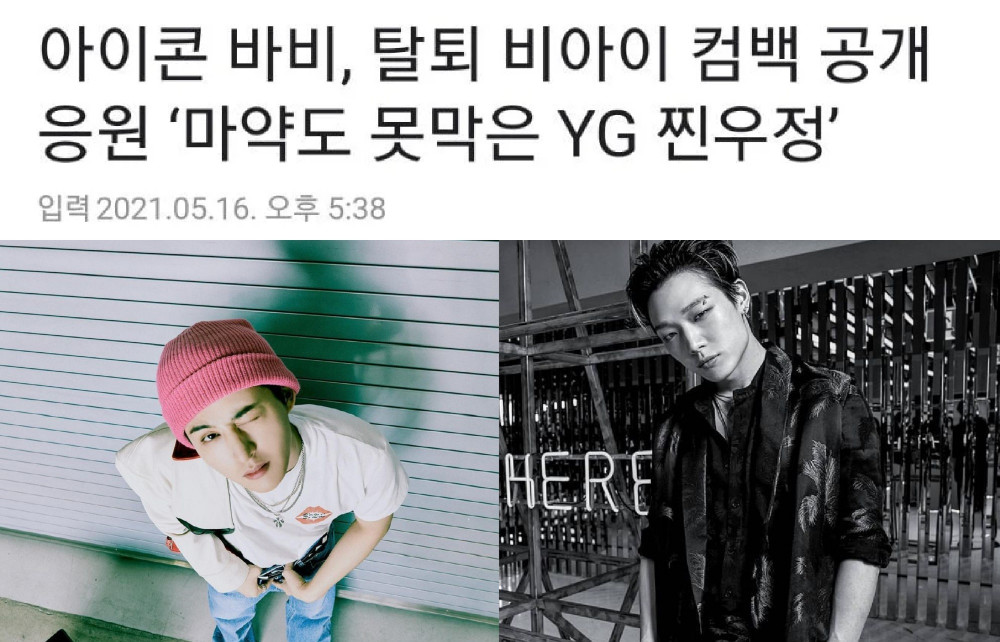 Netizens are scratching their heads in front of a rather 'bizarre' headline.
On an online community forum, a netizen shared a screenshot of an article from a Korean media outlet titled, "iKON's Bobby supports ex-member B.I, 'drugs could not ward off true YG friendship'". In the article, the journalist covered the story of Bobby's recent Instagram comment supporting B.I's new song.

After seeing this headline, netizens could not hold back their laughter as they reacted in the comments:
"LOLLLLL I am dying because of the headline"
"Is the headline crazy or am I?!"
"LOL, it's hilarious because the same journalist made this headline for a different article in the past: 'Joo Ji Hoon x Ha Jung Woo, laidback beach selfie, 'Aloha'":
"These headlines and this journalist, I am dying of laughter"
"Wait, Joo Ji Hoon was also involved in a drug scandal -- how come the journalist is being harsh on just the idols?"
"lol...please just leave the boy alone, he's trying to support his friend. Maybe he doesn't have B.I's number"
"Please don't harm iKON by bringing drugs into this!"
"LOL, does this journalist go to a special school for coming up with crack headlines like these?!"
"Beautiful friendship"
"I actually don't think this journalist was trying to criticize Bobby...?"
In related news, B.I was previously suspected of buying marijuana and LSD through an acquaintance back in 2016 and recently returned to the entertainment scene. Meanwhile, Bobby is currently promoting with iKON as a contestant on Mnet's survival program, 'Kingdom'.