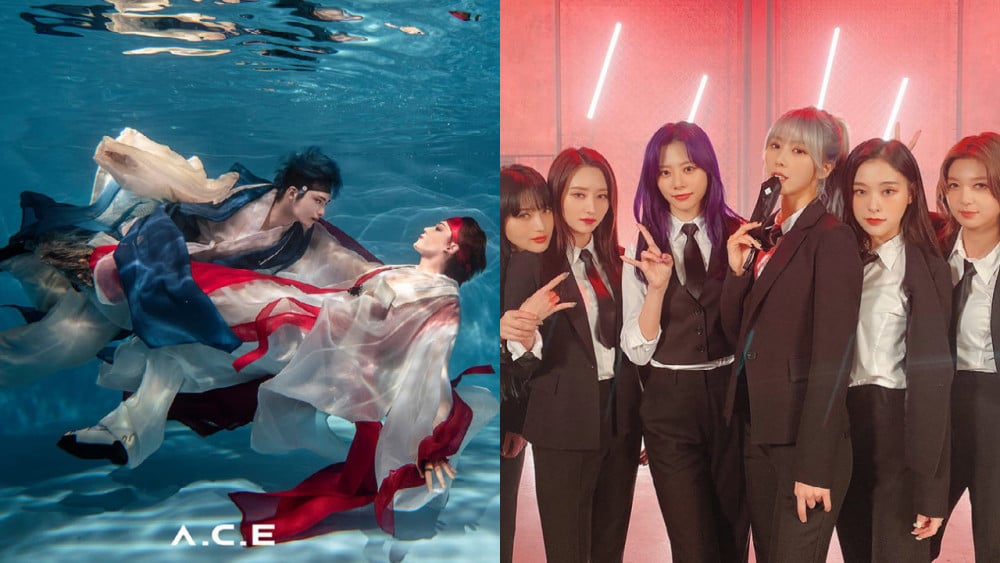 Something that separates K-Pop from the rest of the global music industry is the predominance of a particular theme, surrounding which, a group's music is based. These themes are popularly known as concepts, and with each comeback, comes a different concept. This "concept" is inherently present in all songs by K-Pop groups, whether that be a girl crush concept or a supernatural one. It helps to further promote the image of a group or an idol, keeping it fresh and unpredictable so that their popularity continues to be on the rise even after years, just when people might think that their artistic arsenal is all used up. It sure is a smart marketing strategy and it works!
Which K-Pop group do you think absolutely owned these concepts? Vote in our polls, and let's find out!
Girl Crush
The "girl crush" concept can be identified by fierce female energy in the performances and the overall mood of the song. Very plainly, this concept portrays such an undeniable charm that regardless of gender preferences, one is bound to fall for these girls. MAMAMOO even has a song by the name of "Girl Crush," and the group has been increasingly focusing on this concept, especially with some of their latest music. On the other hand, BLACKPINK, especially the rap line, is the very definition of "girl crush" and their empowering music lives up to its name.
Fantasy/Supernatural Concept
When it comes to imaginative concepts in K-Pop, the sky is the limit. Idols have very often experimented with supernatural concepts owing to its cinematic value, which automatically takes any song to another dimension, sometimes quite literally. While many groups have dabbled in this genre, VIXX and A.C.E definitely stand out. Besides these, EXO, ONEUS, and TWICE have also brought us some unforgettable fantasy moments with songs like 'Wolf,' 'Twilight,' and 'Signal' respectively. However, VIXX and EXO remain the most iconic.
The Cute Concept
One of the most overused K-Pop concepts that has still somehow maintained its original popularity is definitely the cute one. Aegyo, as hair-raising cringy as it might be at times, still gets the audience going and as such, it is only natural that it is such a popular choice. TWICE are undeniably the queens of this concept, with NCT DREAM's initial career as direct competition.
The School Concept
The school concept is much like a rite of passage for K-Pop groups that establishes their position among the youth. This is also the reason why a majority of rookie K-Pop groups take on this concept for their debut. From BTS' 'Boy In Luv' to GOT7's 'Stop Stop It' and PENTAGON's 'Humph,' this concept will always be close to fans' hearts.
The Fierce Concept
Quite similar to the "girl crush" concept and often intersecting with the same is the fierce concept. OG K-Pop groups who paved the way for the future and the present as we know it today, also were the pioneers of the fierce concept. Bold, intense, and powerful, these are some characteristics of this concept, and some prime examples include BIGBANG's 'Bang Bang Bang,' 2NE1's 'I Am The Best' and almost the entire discography of B.A.P.
The Sexy Concept
The sexy concept is something that a majority of soloists like Sunmi, Hyolyn, Wonho and I.M could fully embrace only after they went solo. However, some idol groups, too, can pull off sexy like it's nobody's business. From EXO's 'The Eve' to Girl's Day's 'Something' and MONSTA X and WAYV in recent days, the sexy concept is on the rise.
The Retro Concept
This concept was popularised by groups like SHINee and TVXQ and is making a comeback lately, especially with more and more groups attempting the genre. As a matter of fact, the competition in this concept is perhaps the toughest at the moment. From BTS' 'Dynamite' to T-ARA's 'Roly Poly', retro is back in!
The Futuristic/Sci-Fi Concept
While BIGBANG originally brought this concept into vogue, it has been reworked multiple times by multiple groups. One might even say that besides the cute concept, the sci-fi one has been the most sought after and overdone concept at the same time. In the present time, with the trend of creating alternate musical universes, the futuristic concept is all the more popular.
The Dark Concept
When idols' images need to be refreshed from the typical cutesy personas, they turn to the edgier dark concept. Not only does this allow groups to showcase a different side to themselves, but it also sets them free from the cloyingly sweet concept. It's a win-win for all parties involved. While the dark concept is also one that has been done by almost every idol group ever, DREAMCATCHER and Red Velvet stand out for their bravery in treading into genres one wouldn't really expect from them. While this dark concept is a signature style for DREAMCATCHER, Red Velvet too proved their mettle with songs like 'Psycho' and 'Bad Boy.'
The Fairy Tale Concept
The fairy tale concept is quite different from the fantasy concept, although they do fall under the same category. This concept is characterized by ethereal visuals, otherworldly symbolism, dreamy tropes, and more. Oh My Girl's YooA's solo debut is a perfect example of this genre, but Oh My Girl as a whole has dabbled in this concept, much like TWICE and ASTRO.
The Angsty Concept
Depicting the youth's rage and dissatisfaction, the angsty concept has always been a go-to, especially for boy groups. Stray Kids' overall concept as a group is heavily inspired by this concept, under which they experiment with different genres and sub-genres. ATEEZ, on the other hand, has a more varied range but their most popular songs still seem to fall under the angsty concept. TXT and VICTON have also fully owned these concepts fairly early in their careers.
The Suit Concept
The suit concept has always been a popular choice for boy groups to signal their transformation from boys to men. However, in the recent past, girl groups have completely taken over this concept, owning it better than anyone else. From NCT 127's 'Regular' to IZ*ONE's 'Fiesta,' the suit concept will never get old.