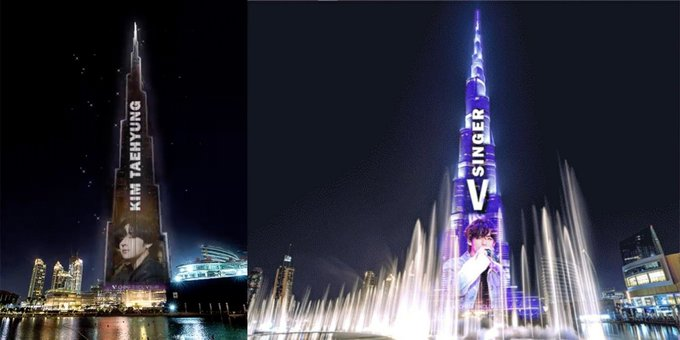 Its December, a month which Armys anticipate every year to witness most unique and extravagant Birthday projects for BTS V from his fanbases for his birthday!Although all BTS members have received some pretty lavish gifts from fans over the years, V's chinese fanbase @KIMTAEHYUNGBAR_ is known to have a knack for going a mile extra with most unique and "first of its kind" Birthday projects! The fanbase outdid itself this year by putting him on Burj Khalifa, world's one of the tallest building which holds a total of eight world records!
It takes almost 68K USD for a single 3 minute display on the skyscraper, and to make V "First idol with individual ad on Burj Khalifa", the fanbase collected a total of 7 million rmb (1M USD) in just 80 days, a fund raising world record, all for V's birthday, which blew armys mind all around the world, since this humongous project also covers "Water Fountain show" with "winter bear" as background music, a school! and many more one of its kind lavish projects.

The interest in Burj Khalifa increased drastically among general population in past hours with high volume of searches associated with V and trended on twitter.

V's fanbases keep on raising the bar of displaying their love on such a mamoth scale for the idol every year, its always a sweet torture of exictement and awe after witnessing them outdoing themself every year. Such is the impact and influence of "talent powerhouse V" who loves his fans on equal scale.