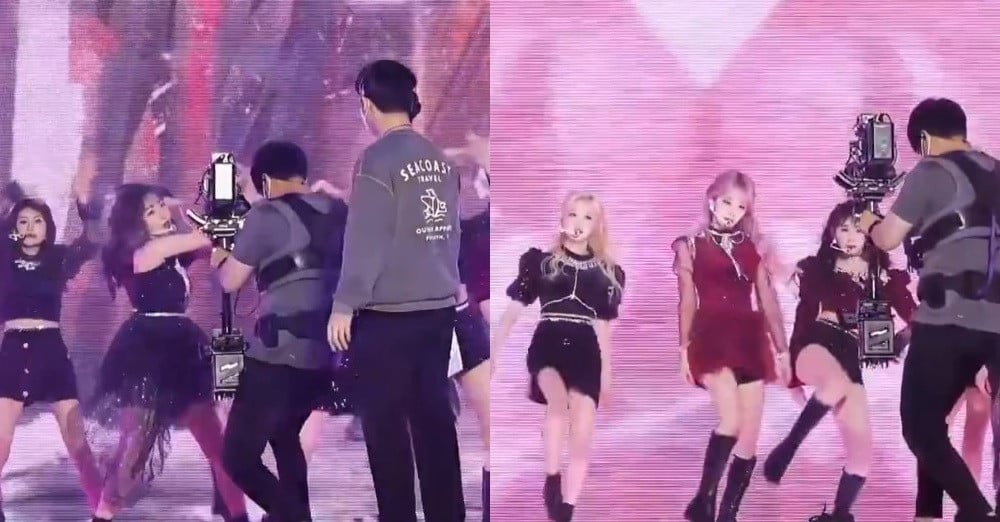 An SBS cameraman is getting applauded by netizens for his professionalism.
On December 25 KST, IZ*ONE performed at the '2020 SBS Gayo Daejeon'. During their live performance, Jo Yu Ri accidentally stepped on the foot of the cameraman whose shoe eventually came off.
Instead of panicking, however, the cameraman stayed calm and continued to film without his shoe. What happened afterwards was to everyone's surprise -- as his one shoe started to become a potential hazard, the cameraman swiftly kicked it off the stage!
On Twitter, a fan who captured this moment wrote: "Due to Jo Yu Ri's powerful dance move, our cameraman's shoe even came off."
Netizens who saw this moment commented:

"WOW, now that's what I call professionalism"
"He's so cool omg LOLLLL"
"Look at his footwork *applause*"
"I never laughed so hard today on Christmas"
"They should give him compensation for working extra hard today lolol"
According to the Twitter user, Lee Chae Yeon also witnessed the moment and burst into laughter while performing. What a hilarious moment!