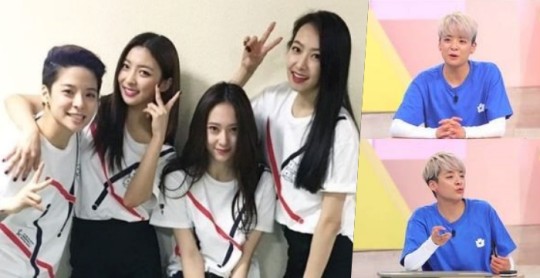 Amber shares about f(x)'s next schedule on "Hunmanjungeum"
Amber (f(x)) revealed that recently she met up with all group's members.
Danny Ahn (god) and Amber (f(x)) will attend ''Hunmanjungeum'' (MBN) broadcast on July 6 as special guests.
​
At the time of recording, MC Kim Sung Joo began, "f(x) is a veteran idol group who has been active for 10 years. Recently, it is hard to see you on TV broadcasts, so I'm really curious. I heard that all f(x) members reunited.''
​
Amber said, "We appeared at Luna's concert and delivered a surprise performance. The three members gathered after a long time, so we were happy." After that, Kim Sung Joo asked, "It seems like lots of fans are waiting for the group. Do you have any plan for holding a concert in the future?". Amber mentioned the working plan, "In early August, we're going to perform a concert with other singers from the same agency in Japan."
​
Besides, Amber also drew attention when revealing a special affinity with Austin Kang, "Austin Kang and I used to be teacher and student." Kim Sung Joo asked, "Who was the teacher?", Amber made everyone surprised when replying, "Austin Kang was my teacher." Next, she shared, "Austin Kang is the chef at a friend's restaurant. Every day I went to that restaurant to learn cooking from Austin Kang and also once had the chance to directly cook during business time."
​
Then, Austin Kang added, ''Amber said 'Since I will wash the dishes and other difficult things so please show me how to cook.' When coming to the restaurant, she changed her expression into serious. Amber learnt really hard and cooked well too.'' The show will be broadcast at 8:20 pm (KST) July 6.
​
Credit Source:
Newsen = Reporter Lee Min Ji oing@