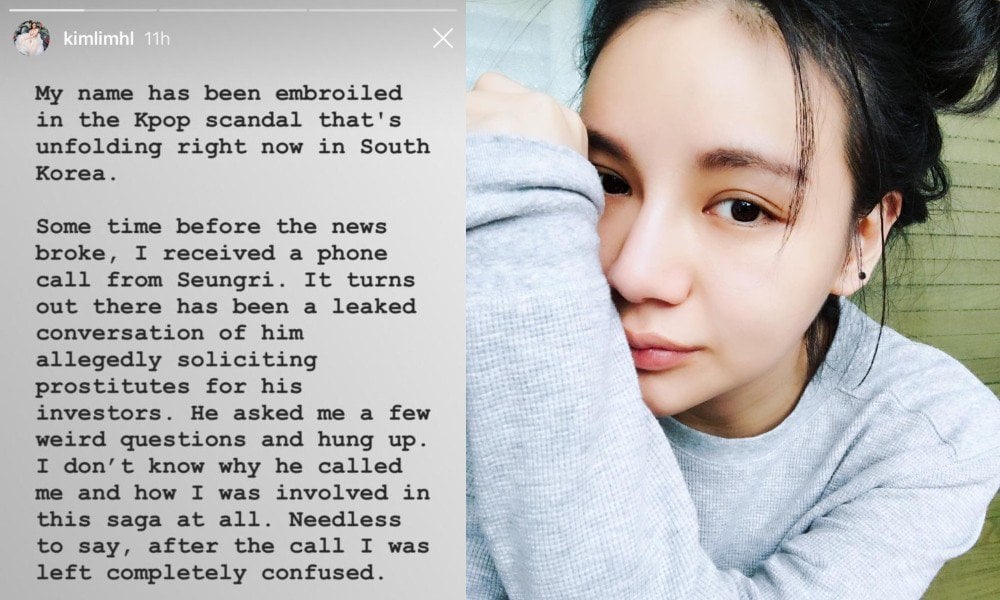 Kim Lim, daughter of Singaporean billionaire and La Liga football club Valencia FC, is denying that she was involved in helping Seungri provide prostitutes for his business partners.
Rumors of her involvement began earlier this week when Seungri sat for an interview with Korean press outlet Chosun Ilbo. During the interview, he was asked about a particular night at Seoul's Club Arena where he told Mr. Kim to "look after" 'A' by sending them female companionship.
Seungri responded by stating that 'A' was actually Kim Lim, a long-time friend of Seungri, and he was sending her travel companions so she could have other females to shop and travel with, as Seungri was currently in Nagoya for work.
However, on March 24, the heiress took to her personal Instagram account to publicly give her side to the story, slamming Seungri's claims by reporting that, while she did travel to Korea and go to Club Arena around that time, there were no female travel companions sent to her, nor did she ever request any, adding: "This can be vouched for by the group of four people who were part of our group that night."
In the statement, she also recalled that Seungri had contacted her shortly before the news broke out, telling her what he was being accused of and asking her unusual questions.
"When the news broke out, Seungri said the chat is entirely fabricated and that it's fake news," she added. "However, the police later [said] it isn't."
Kim Lim closed her message by threatening to take legal action against media outlets continuing to imply that she is somehow involved in the Burning Sun case.
Her full Instagram statement can be read below: