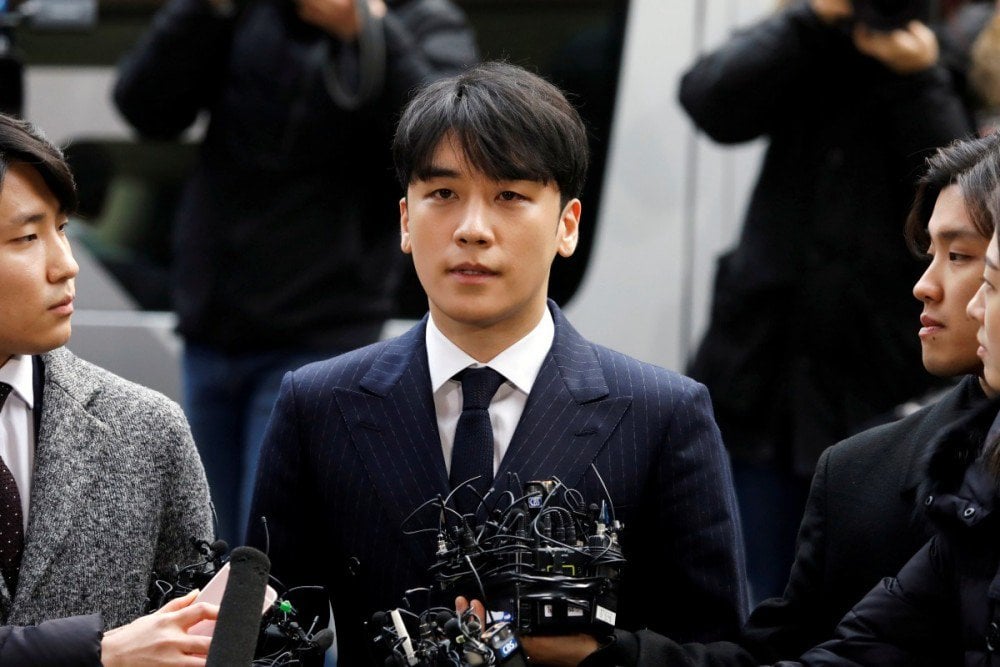 Seungri sat down for an interview with newspaper Chosun Ilbo on March 22 and discussed his recent legal issues and numerous controversies.

The former Big Bang member has faced accusations revolving around drug use, the 'Burning Sun' club, procurement of prostitution, and police cover-ups connected to he and Jung Joon Young's controversial chatroom. On his intention for the interview, Seungri stated, "Honestly, I don't think I'm in a position to stand with a strong stance or express how I'm suffering from unfair treatment. I've acted in a way that's inappropriate for a public figure, and I was tied to unlawful businesses. However, I feel like what is being reported right now is far from the truth. I want to talk about the truth I'm aware of and better the situation."

He was also asked about his connection to 'Burning Sun', where prostitution, date rape, and other forms of assault were reported to take place. Seungri commented, "I think it's because I said on 'I Live Alone' and other programs that I run all my businesses, and I constantly have my feet on the ground. The club and hotel (Le Meridien) wanted to attract a younger crowd and foreigners, so my name was used in the promotions, which worsened misunderstandings. I enjoy being a DJ, so I didn't think it was a bad idea when it started. It's because the club was run at a hotel, I assumed nothing bad would happen."

Seungri further claimed CEOs Lee Sung Hyun and Lee Moon Ho ran the club's finances and employees, and he himself had never dealt with meetings, employees, or paychecks, saying, "I was just the face of the club. All I did was let them use my name and invest 10 million Won (~$8,800 USD) through Yuri Holdings." He also denied he'd been aware of drug use, minors entering the club, or any assault, explaining, "If they did do that, I'm also a victim as an investor. I didn't know anything. All I did was promote for them."

On why he claimed his messages in the KakaoTalk chatroom with Jung Joon Young, former Yuri Holdings CEO Yoo In Suk, and more weren't factual, he replied, "It was 2015. How can someone remember text messages from 3 years ago? I really couldn't remember them. I couldn't believe I would say something like those things. The conversations had no timestamps, and there was no context. I really believed they were fabricated."

As for the accusations he was behind sex escort services, Seungri denied inviting prostitutes to Club Arena and stated he was simply helping out a friend. On the alleged prostitution involving a trip to Indonesia, Seungri pointed the finger back at him, stating, "I'd invested 2 billion Won (~$1.8 million USD) through him, and I never got it back. I had to be on his good side. He wanted me to introduce someone to accompany him to see the king of Indonesia. He wanted to set aside spending money for the companion and asked if 10 million Won was okay. I repeated the amount to be clear, and that was all. He later told me he would figure it out himself and canceled. I never got my investment back. I pressed charges against him in 2015, but he threatened to take it to the media and I canceled my charges."

On his connection to Senior Superintendent Yoon, who is alleged to have covered up tax issues at club Monkey Museum and helped former F.T. Island member Jonghun cover up his DUI in 2016, Seungri claimed he was introduced to him through Yoo In Suk. Seungri stated, "Yoo In Suk introduced him as a good person. I was told he worked at the Blue House, and we had a meal together. We met 4 times since after that until this past winter. We never talked about clubs, and he liked to talk about history. I didn't even know he was a police officer. He didn't know about Big Bang, but he started listening to the songs after meeting me. Jonghun golfed with him, but I never did. There was no bribery going on. When Yoo In Suk tried to pay for meals together, [Yoon] would get angry and say he'd get in trouble, so he paid for everything himself," denying the rumors of bribery.

As for why he never stopped his friend Jung Joon Young from distributing hidden camera sex tapes, Seungri expressed, "Those messages aren't my whole life. Of course, I asked him to stop. When we met in person, I told him to stop and warned him he'd get in big trouble. I said that to everyone, not just Jung Joon Young. I just never said it through text."

The former Big Bang member concluded, "My only hope is the investigation and results are seen with a fair eye. These days, people are tying everything together from YG Entertainment to Choi Soon Sil, Big Bang, Kim Hak Ui, Hwang Kyo Ahn, and more. I'm just a celebrity. I don't know those people. This was a situation that occurred at a club, but people are tying it to politics and making a completely new narrative. That's scary. I'm confused. I'm telling the truth, and I'm helping the investigation as mush as possible. I want things to calm down until the investigation is over, and people can see what's going on in an objective light. I'm very apologetic to the fans and public, my former agency YG, and my groupmates, who've been with me for over 10 years. No matter what the outcome of the investigation, I believe I will carry this for the rest of my life. I'll reflect. Seeing how my wrong actions from a few years ago caused such a situation, I feel so pathetic and ashamed. I hope everything is resolved soon, so the public will no longer be inconvenienced by this."