Photo studio '
A
' has announced its plans to seek legal action against the government petition participants who mistakenly involved the studio in the
ongoing YouTuber Yang Ye Won case.

[SEEALSO]https://www.allkpop.com/article/2018/05/popular-youtuber-yang-ye-won-shocks-korea-by-revealing-she-was-sexually-harassed-by-20-men[/SEEALSO]
Previously, netizens started a government petition for a fair police investigation for YouTube Yang Ye Won, who recently came forward about
her past sexual harassment
experience.
Suzy
, as well as other celebrities like
AOA
's
Seolhyun
and
Lee Hi
, took part in the petition.
However, it was discovered that the government petition listed the name and address of a photo studio 'A', which was not involved in the Yang Ye Won case. The owner of studio 'A' underwent legal investigation to prove that the Yang Ye Won case took place in the same building that the current studio 'A' stands in, but the building was remodeled and studio 'A' obtained ownership of the location long after the incident occurred, proving studio 'A' has nothing to do with the case.
After the above reports, Suzy posted a public apology toward studio 'A' on her Instagram, due to the fact that studio 'A' refused to accept a meeting and personal apology from Suzy herself.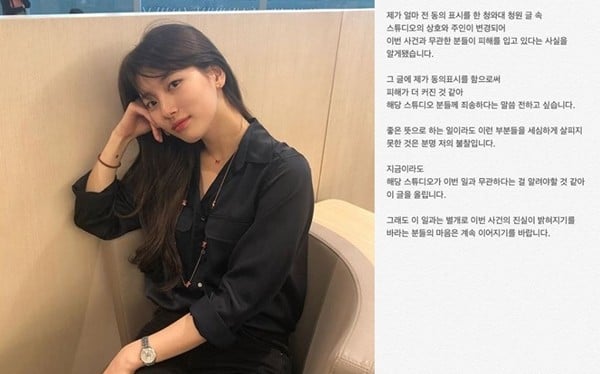 Even after Suzy's apology post, studio 'A' said, "We believe that if one were to sign a petition which blatantly reveals a studio's location and name and accuses it of illegal activity, and if one were to want to share one's signature on the petition via their public SNS, then they should at least act after confirming at least some truths... [You] must have never thought about how much damage and pain a celebrity's influence can have on an innocent, normal person..." The studio continued, "We hope that this incident will be a lesson to all celebrities, for them to learn how much damage a sudden influential act can cause." The studio plans on consulting legal officials to determine if the issue will require legal action.