The
#MeToo
 movement is bringing shocking revelations in the Korean entertainment industry.
The movement started with a netizen's accusations on Jo Min Ki. The woman claimed the 52-year-old actor, who was also a professor at Cheongju University, used his authority to sexually harass students; inviting them to his house, offering drinks, and even requesting a student to live with him. His inappropriate sexual activities ultimately got him suspended from the institute. His agency denied the accusation, however, more and more victims continue to rise to the surface. Currently, Jo Min Ki has deactivated his social media accounts and canceled all of his schedules.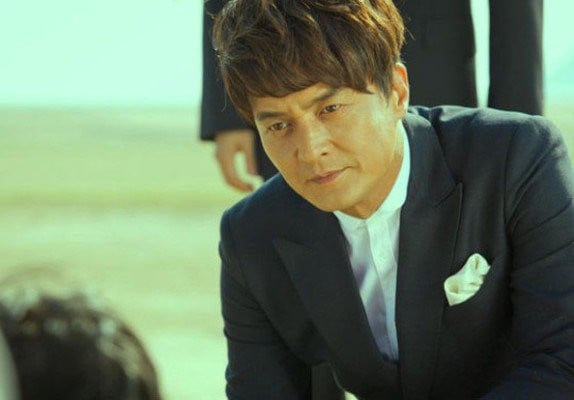 In midst of Jo Min Ki's controversy, another netizen revealed that famous comedic actor with the last name Oh is also a sexual harasser. The netizen stated, "In the 90s at Busan theater, he was a play-actor that constantly harassed young hoobaes. Currently, he's a famous comedic supporting actor. To me, he's a pervert, the devil, and a psychopath. I have been receiving mental treatment for the past 20 years due to the shock of the disgusting incident. I hope he gets punished."
Based on the clues provided in the shocking post, Oh Dal Soo, who has starred in numerous hit films including 'Along With the Gods: The Two Worlds', 'The Thieves', 'Ode To My Father', 'The Attorney', 'Miracle in Cell No. 7', and more, was rumored to be the sexual harasser. He has not provided any official statements on the issue yet. Meanwhile, on February 23, it was announced that Oh Dal Soo and actress Chae Kook Hee have broken up.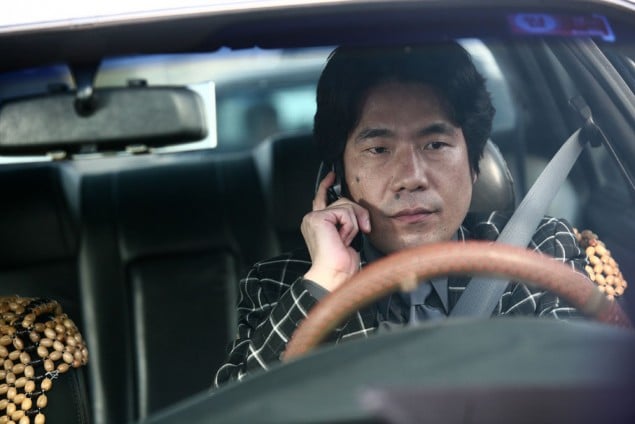 Following Oh Dal Soo, accusations arose against famous actor '
J
'. An alleged victim claimed 'J' forcefully kissed a staff member and touched her breast. When the news made headlines, actress
Choi Yul
 shared a photo of
Jo Jae Hyun
on her Instagram and revealed,
"I was wondering when this would bust. Happened earlier than I thought. It's now just the beginning. There are still many more trash out there. I can't say much because I have a lot to lose but till the day where there are no perverts #metoo #withyou."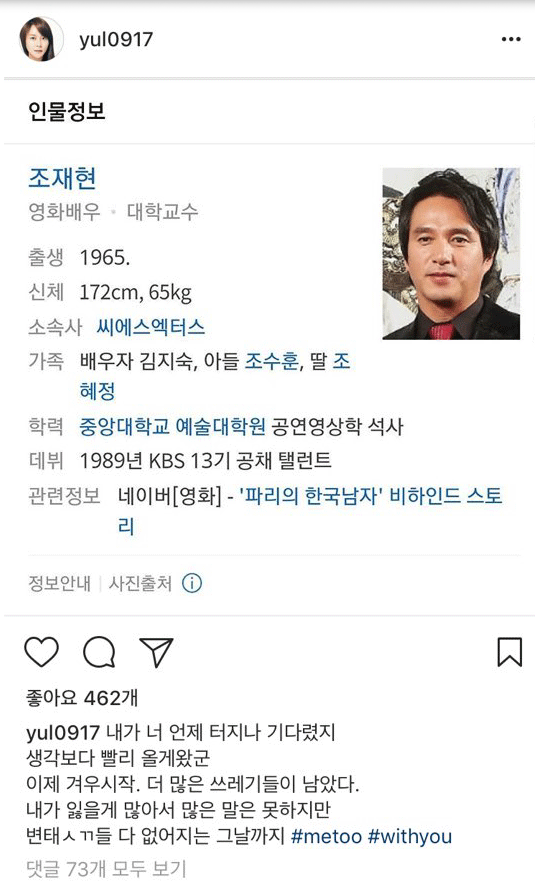 In an interview with JTBC, an alleged victim revealed Jo Jae Hyun would come to her from behind and put his hand underneath her clothes, and later, gave her money, saying to forget everything. 
In response to the accusations, his agency stated they're currently checking with the actor and will make an official statement after discussion. Meanwhile, his daughter Jo Hae Jung, also an actress who has starred in the drama 'Weightlifting Fairy Kim Book Joo', has disabled comments on her Instagram.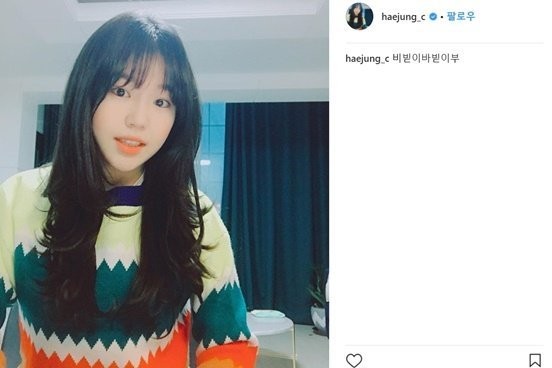 #MeToo has also pointed several directors as sexual harassers. Many hope the movement will make a change to the industry and can ultimately help in shutting down the disgusting acts.