Actor
Jo Min Ki
is facing sexual harassment accusations. 
On February 20 KST, a netizen revealed in an online community that Jo Min Ki was investigated, and ultimately, removed from office for sexually harassing his students for years at Cheongju University. The writer also commented, "I'm questioning why there are no reports, and how this issue has not gone public yet."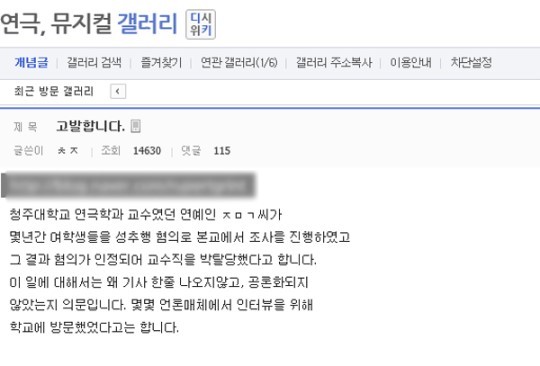 The post soon went viral, and on the same day, JTBC's 'News Room' provided further details on the issue. According to JTBC News, Jo Min Ki stopped lectures in November. A student from the Department of Theater stated in the interview, "He personally contacted me late night after drinking and told me to come to his room."
A rep from Cheongju University also revealed to 'News Room' that Jo Min Ki received a 3 months suspension as they believed there are sexually related issues. However, the actor ultimately decided to step down on his own as the issue grew. 
Jo Min Ki expressed frustration in a phone interview with 'News Room' and stated, "I just lightly hit (the students with my hands) while telling them to act with their hearts but some used that to say I have touched their breasts. After karaoke, I gave them a hug, saying 'Good work guys'. It was just a sign of encouragement."
In an official statement, Jo Min Ki's agency WILL Entertainment denied all accusations and claimed the reports stemmed from rumors. The label emphasized, "It's not true that he has lost his teaching position for sexually harassing students." 
Meanwhile, more students are coming forward and revealing how they were sexually harassed by the actor at Cheongju University.