With Chinese actress
Fan Bingbing
's brother making his official idol debut in China, media outlets are scrambling to get exclusive news on the rising star.
Fan Chengcheng, who's currently taking part in 'Idol Producer' (the Chinese version of 'Produce 101'), is receiving much attention for his stunning flower boy visuals. However, Chinese media outlets are claiming the rookie star has gone through a drastic transformation with cosmetic surgery in South Korea. The reports came along with a set of before and after photos.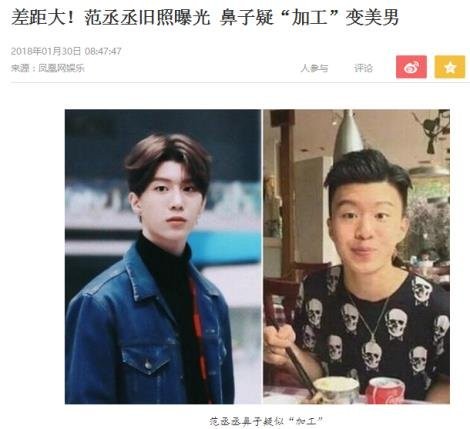 The media reported, "In the past, he sported an average look without any double eye-lids and a flat nose. Though dressed in normal fashion attire, recent photos illustrated the rookie star with sharper facial features, especially his eyes, nose, and eyebrows, causing many to speculate if he had gotten cosmetic surgery done in Korea."
In response to Fen Chengcheng's cosmetic surgery rumors, Korean netizens are commenting, "If this is true, I'm truly amazed at Korea's cosmetic surgery skills!! Wow, this is spectacular!", "He's a totally different person", "Wow, so different. Definitely surgery...", "Cosmetic surgery with no doubt."
What are your thoughts on Fen Chengcheng's transformation?