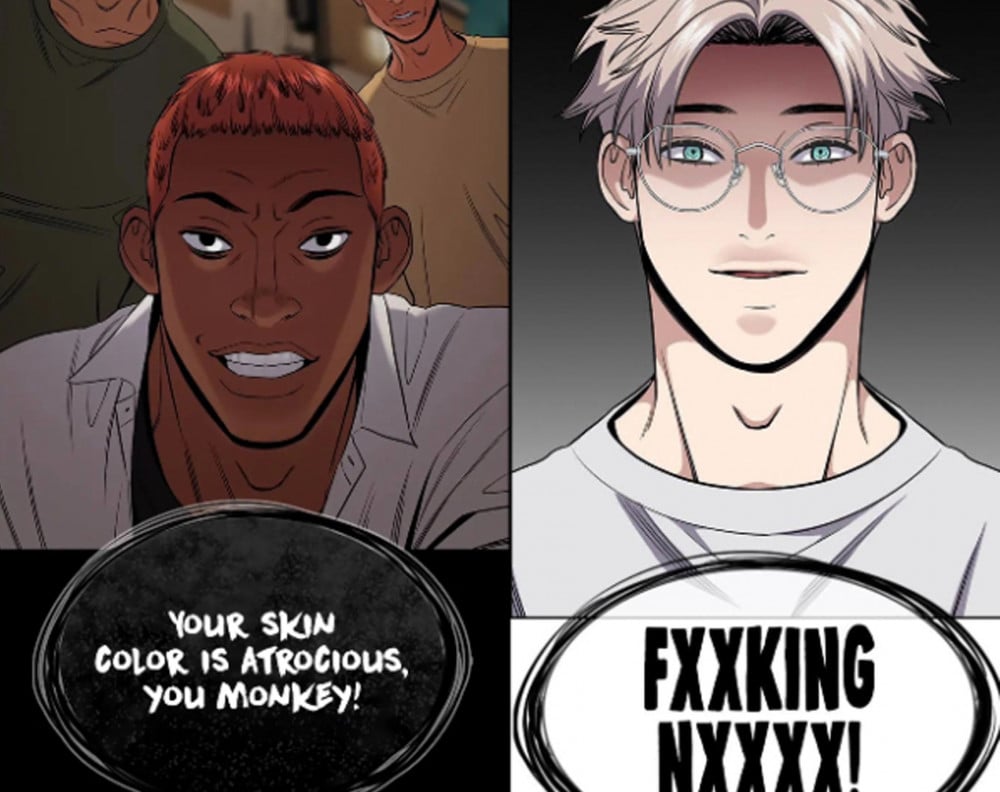 [T/W - Trigger Warning]
Naver Webtoon's 'Get Schooled,' which faced criticism from international readers for its explicit portrayal of racial discrimination, has ultimately decided to discontinue its serialization in North America.

On September 16, Naver Webtoon announced the discontinuation of the 'Get Schooled' service on its North American platform and also mentioned that it would delete the relevant episodes in South Korea, along with a decision to go on an extended hiatus.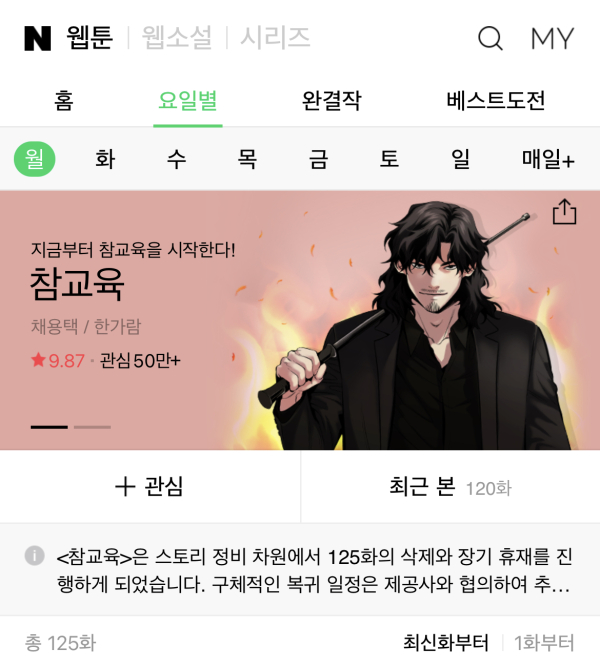 The original creators, Chae Yong Taek (writer) and Han Ga Ram (artist), also issued apologies. In an official English statement, they sincerely apologized for causing concern due to Episode 125's depiction.

They explained, "The episode aimed to depict the current societal challenges in South Korea, emphasizing the unique dynamics facing multicultural and immigrant families, which is sadly, fostering discrimination against these groups. This discrimination is fast becoming a critical societal concern. With 'Get Schooled,' our objective was to bring this issue to light."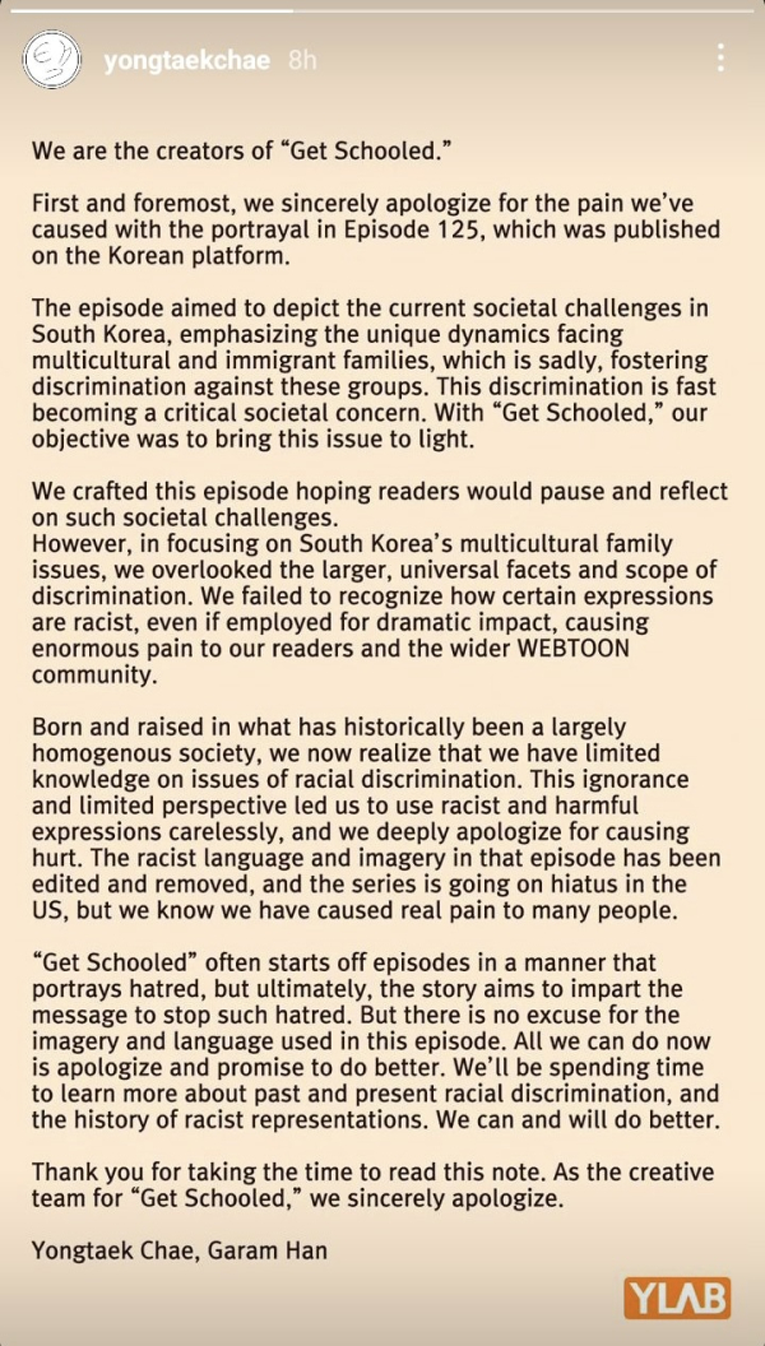 Continuing, they acknowledged, "We crafted this episode hoping readers would pause and reflect on such societal challenges. However, in focusing on South Korea's multicultural family issues, we overlooked the larger, universal facets and scope of discrimination. We failed to recognize how certain expressions are racist, even if employed for dramatic impact, causing enormous pain to our readers and the wider Webtoon community."

The original creators realized, "Born and raised in what has historically been a largely homogenous society, we now realize that we have limited knowledge on issues of racial discrimination. This ignorance and limited perspective led us to use racist and harmful expressions carelessly, and we deeply apologize for causing hurt. The racist language and imagery in that episode have been edited and removed, and the series is going on hiatus in the US, but we know we have caused real pain to many people."

Furthermore, they admitted, "'Get Schooled' often starts off episodes in a manner that portrays hatred, but ultimately, the story aims to impart the message to stop such hatred. But there is no excuse for the image and language used in this episode. "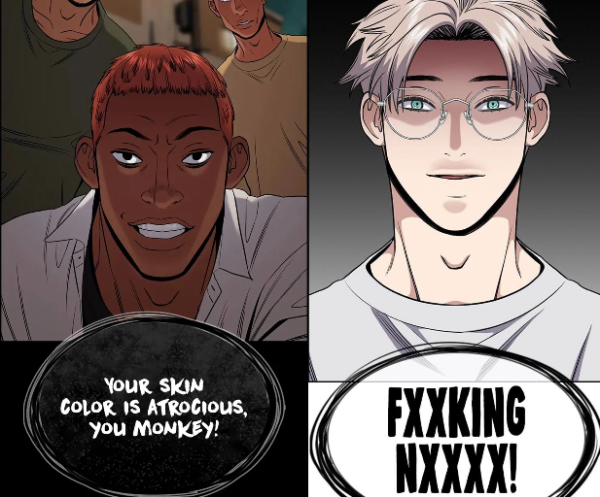 They concluded, "All we can do now is apologize and promise to do better. We'll be spending time to learn more about past and present racial discrimination, and the history of racist representations. We can and will do better."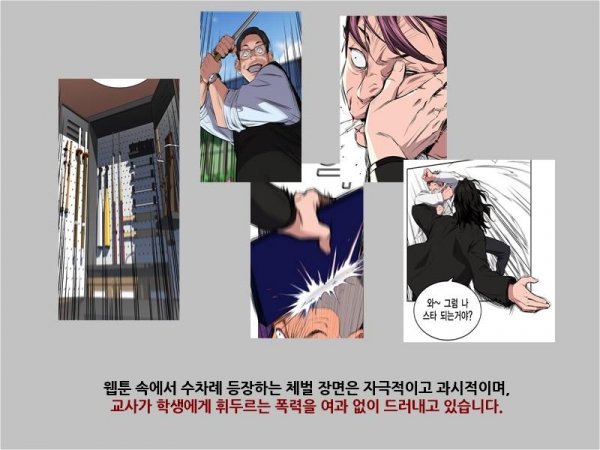 Launched in November 2020, 'Get Schooled' is set in a dystopian school where a virtual anti-corporal punishment law has resulted in extreme student violence and the collapse of school authority. To mitigate the issue, the government formed the 'School Authority Protection Agency' to handle problematic schools.
However, the webcomic has faced significant criticism, particularly from the youth human rights group 'ASUNARO: Action for Youth Rights of Korea,' for glorifying youth violence under the guise of 'education' rather than addressing it as a crime driven by power dynamics, potentially infringing human rights.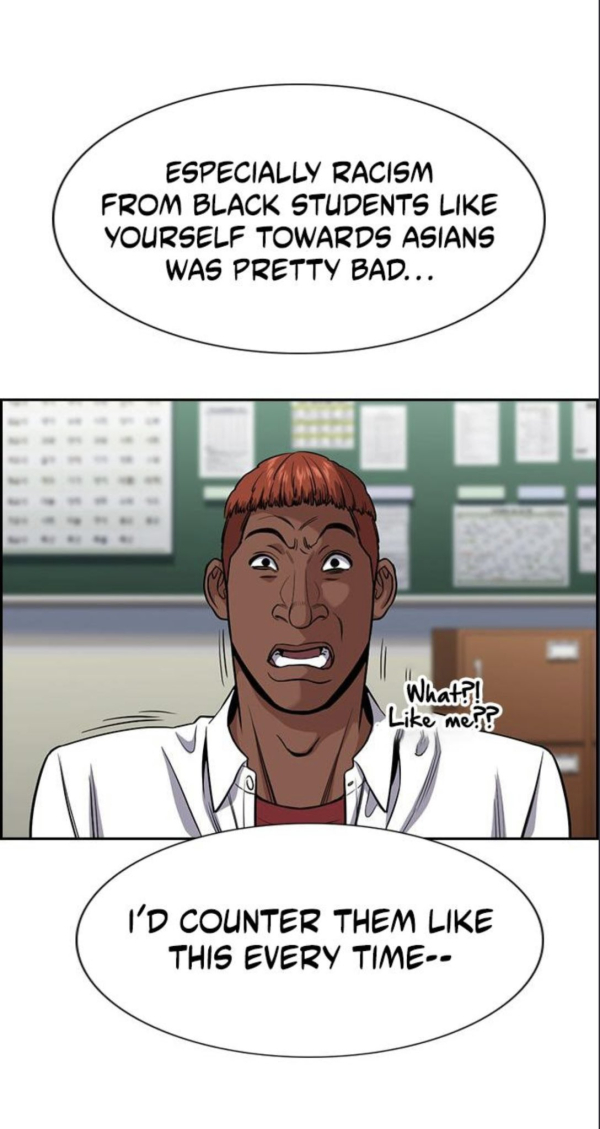 The contentious episode, episode 125, incited intense criticism for racial discrimination. This was primarily among English-speaking readers as it featured an Afro-Caribbean mixed-race male student as the tormentor of Korean students, using racially derogatory terms and expressions.
The episode also depicted rural Korean elementary and middle schools as environments wherein Korean students, who are minorities compared to mixed-race and foreign children, endured racial discrimination. Further criticism arose due to the portrayal of the mixed-race black student as unattractive and unsettling while the supervisor -a mixed-race caucasian- was depicted as attractive. These aspects added fuel to the already simmering controversy.