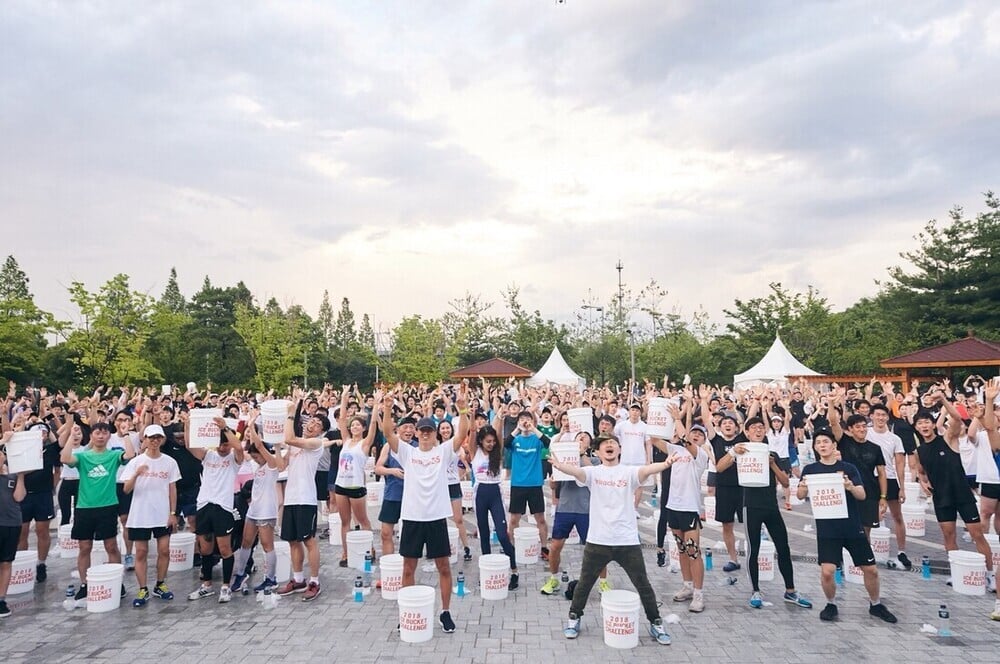 On June 6, Jinusean's Sean announced the successful completion of the '2023 Miracle 365 Ice Bucket Challenge Run' with the Seungil Hope Foundation. The foundation, co-represented by Sean and Park Seungil, has a mission to build Korea's first Lou Gehrig Nursing Center. The 'Ice Bucket Challenge Run' is an annual campaign that has been held since 2018 to support Lou Gehrig's disease patients and their families.

This year, the event took place on June 3 KST in Jeju, with 350 participants and volunteers running 3, 5, or 7km along the beautiful Jeju beach. The run ended with an ice bucket challenge. Additionally, a garbage pick-up was organized using eco-friendly products to protect the natural heritage of the Jeju sea.

Jeju Samdasoo and Kakao sponsored 10 million won each (about $7,694.97 USD), with various other sponsorships from Jeju Pass and Playce Camp Jeju, raising a total of 35 million won (about $26,932.40 USD). The money will go towards the construction of the Lou Gehrig Nursing Center.

Sean, co-representative of the Seungil Hope Foundation, expressed his joy at finally starting the construction of the nursing center, which has been a 12-year project. He said, "It took a long time, but I think that many people worked together to achieve a miracle, so the meaning is even greater." He also announced that the same campaign would take place at Nodeul Naru Park in Seoul on June 24 and encouraged people to participate through the Withice website.

Sean and Park Seungil joined forces to establish the Seungil Hope Foundation, donating over 500 million won (around $384,748.60 USD), with the vision of building the Lou Gehrig Convalescent Hospital. They have also been promoting various donation cultures, including 'kind running,' improving the homes of descendants of independence fighters, donating proceeds from pictorials, sponsoring children at home and abroad, and volunteering to deliver briquettes. Sean has also donated 5.7 billion won (around $4,386,134.04 USD) to places in need throughout society.