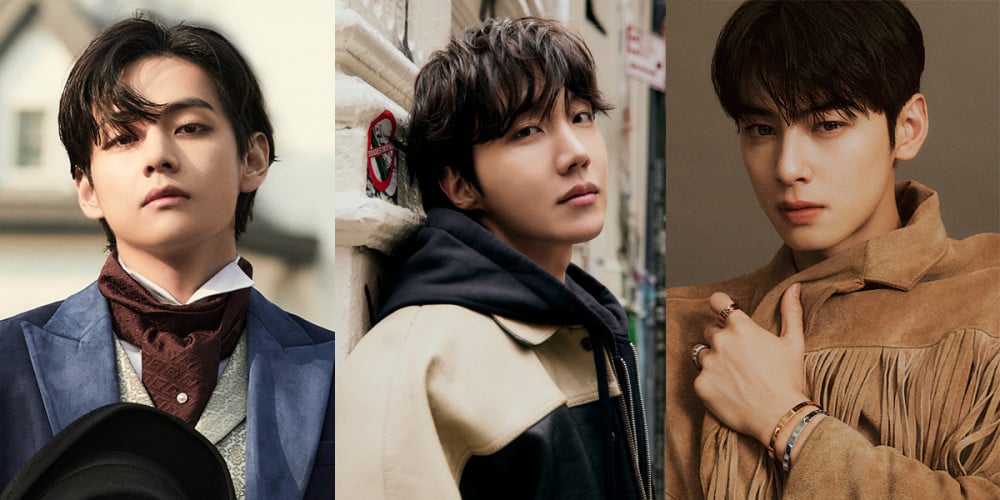 The Korea Brand Reputation Research Institute has published its brand value rankings for individual male K-Pop idols in the month of March, based on big data analysis.
From February 18 through March 18, the institute analyzed big data of 703 individual male K-Pop idols in areas including consumer participation, media activity, communication, community activity, and more to determine which idols demonstrated the highest brand value.
For the month of March, the rank of #1 went to BTS member V, currently starring in the tvN variety program 'Jinny's Kitchen'. V claimed the top spot for this month with a total of 4,875,543 points.

2nd place went to fellow BTS member j-hope for the month of March with a total of 4,288,670 brand value points. Next, ASTRO member/actor Cha Eun Woo took up 3rd place, earning 4,250,124 brand value points.

Here are the top 30 individual male K-Pop idols in terms of brand value rankings for March, in order: BTS's V, BTS's j-hope, ASTRO's Cha Eun Woo, BTS's Jimin, Kang Daniel, Hwang Min Hyun, EXO's Baekhyun, WINNER's Song Min Ho, Park Ji Hoon, Big Bang's G-Dragon, Big Bang's Taeyang, BTS's SUGA, BTS's RM, Seventeen's Hoshi, BTS's Jungkook, SHINee's Key, Seventeen's DK, Kim Jae Hwan, The Boyz's Juyeon, BTS's Jin, Super Junior's Kyuhyun, EXO's Suho, NCT's Mark, NCT's Jaehyun, Seventeen's Seungkwan, SHINee's Minho, Ong Seong Wu, TOMORROW x TOGETHER's Yeonjun, NCT's Jungwoo, and NCT's Doyoung.