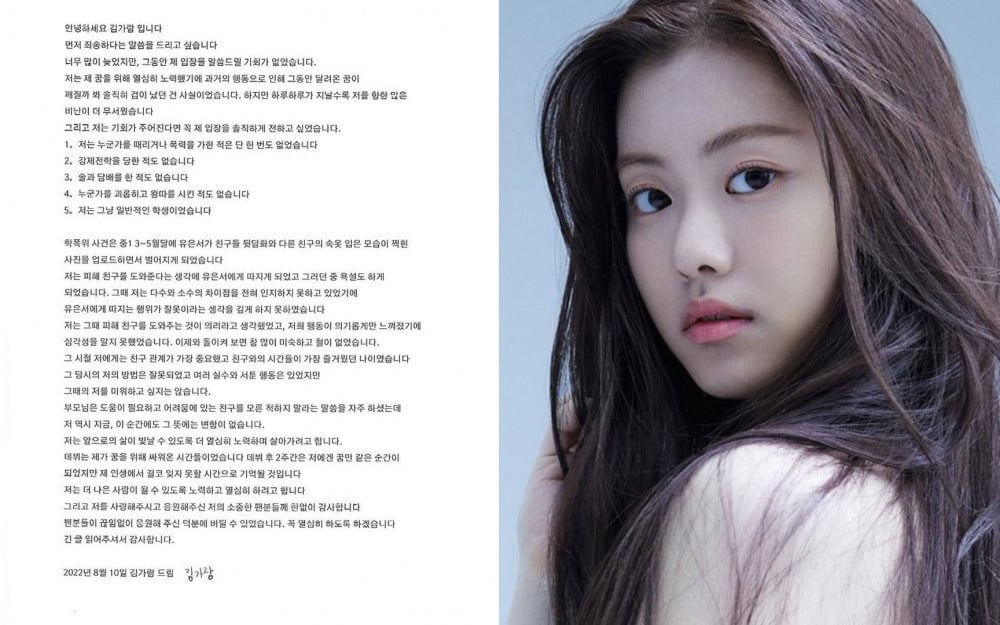 Last month, Source Music confirmed that Kim Garam will no longer continue promotions with the rookie girl group LE SSERAFIM.
Kim Garam has been at the center of controversy after being accused of being a school bully even before the group debuted. There were several online community posts that revealed photos and items claiming that the idol had been a school bully. Additionally, there was documentation that Kim Garam was even summoned to the Autonomous Committee for Countermeasures against School Violence.
Despite a few of Kim Garam's friends defending the idol, the controversy continued to heighten, even affecting the image of the group. After all the commotion, Source Music and HYBE ultimately decided to remove Kim Garam from the group as LE SSERAFIM will continue as a five-member group.
Kim Garam's friends continue to defend the former member and are still attempting to clear the air. On August 10, an individual claiming to be Kim Garam's friend posted a letter from Kim Garam and a few more documents regarding the Autonomous Committee for Countermeasures against School Violence. This Instagram account @y__urm has published numerous pieces of evidence supporting Kim Garam over the past few months.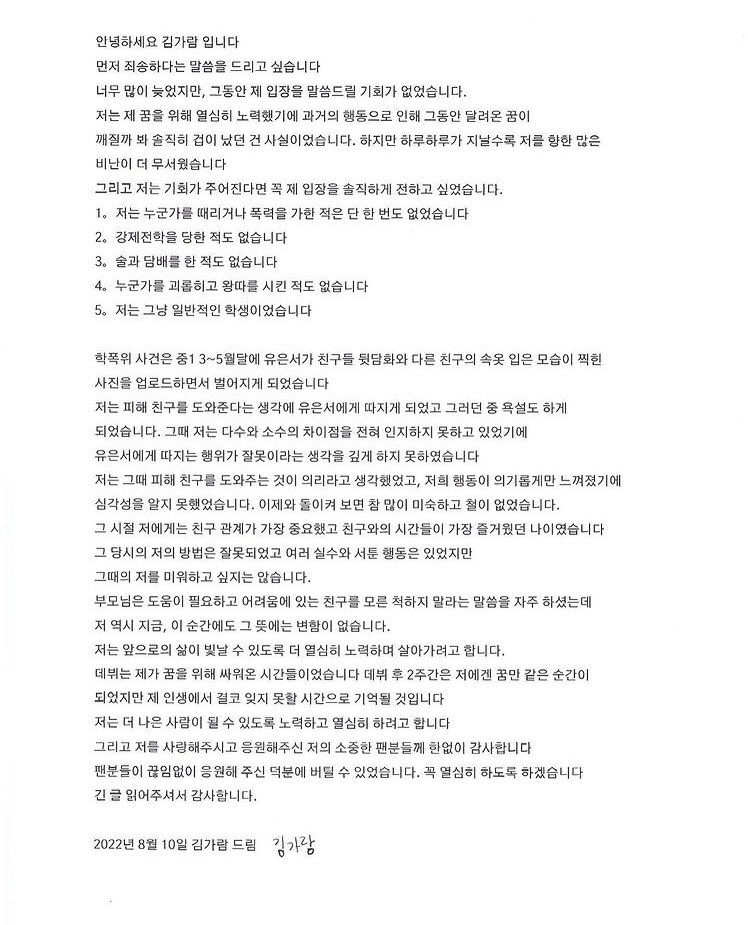 In the letter, the alleged Kim Garam wrote:
"Hello, this is Kim Garam.
First, I want to say I am sorry.

This is very late, but I didn't have the chance to speak my position.

Because I put much effort to achieve my dream, it is true that I was afraid that the dream that I ran toward would break to pieces because of my past actions. However, I was more afraid of the criticisms that increased as the days passed.

Also, I really wanted to share my position if I was given a chance."

1. I never hit anyone or inflicted violence on someone, not even once.

2. I was never forced to transfer schools.

3. I never smoked or drank.

4. I never bullied or ostracized anyone.

5. I was just an ordinary student.



The Autonomous Committee for Countermeasures against School Violence incident occurred between March and May of middle school when Yoo Eun Seo uploaded photos of my friend wearing only underwear and talking behind her back.
I started arguing with Yoo Eun Seo because I thought I was helping my friend who was the victim, and in the meantime, I started to curse. At that time, I was not aware of the difference in the size of the groups, so I did not deeply think that arguing with Yoo Eun Seo was wrong.

At that time, I thought it was the right thing to do to help the victim, and I didn't realize the seriousness of our actions because we felt proud (to help). Looking back now, I was very immature and childish.
At that time, friendship was the most important to me, and time with friends was the most enjoyable.
The method of my actions at that time was wrong. There were many mistakes that I made and I was clumsy, but I don't want to hate myself for that time.
My parents often told me not to ignore a friend who needs help and is in trouble. I hold on to that principle now and at this moment.
I am trying to live my life by working harder so that my life in the future can shine.
I fought for my dreams to debut. The two weeks after my debut were like a dream for me, but it will be remembered as a time I will never forget in my life.
I will try to work hard to become a better person.
And I am infinitely grateful to my precious fans who loved and supported me.
I was able to survive thanks to the constant support of the fans. I will definitely work hard. Thanks for reading this long post.

August 10, 2022, Kim Ga Ram."

With this explanation, the friend who is alleged to be Kim Garam's friend added additional documents in regards to the Autonomous Committee for Countermeasures against School Violence. The alleged friend explained she is posting these things on behalf of Kim Garam because she doesn't have a personal social media account.