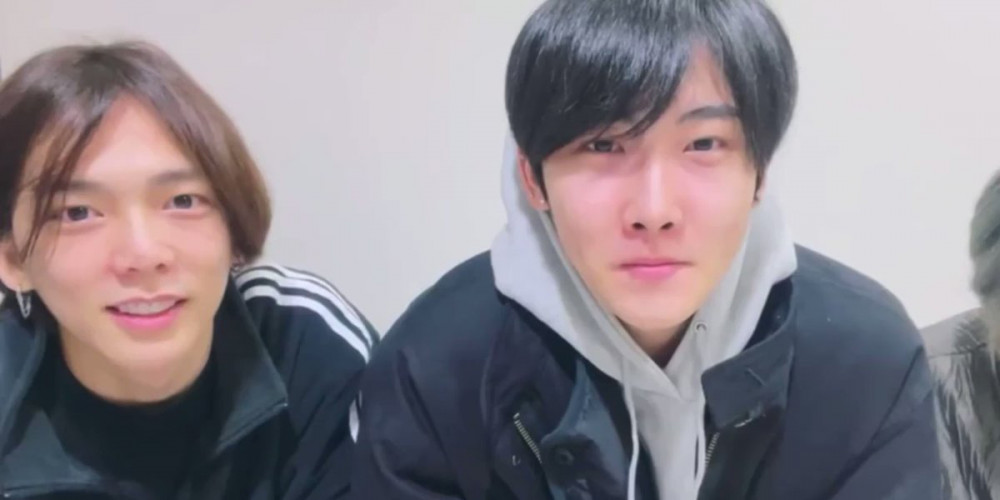 A member of VERIVERY is currently facing criticism from K-netizens for his comments on a recent 'V Live' broadcast.
On this particular 'V Live', VERIVERY members Minchan, Hoyoung, and Kangmin were seen chatting with fans casually.
Then, Minchan suddenly moved forward and started sharing a story from his middle school days. He said, "Oh, there was something when I was in school. That's right, when I was in my third year of middle school, someone transferred. And there was word that she was a celebrity."
Hearing this, fellow member Hoyoung asked, "Is this person also a celebrity now?" Minchan quickly answered, "I don't know." However, both Kangmin and Hoyoung stressed, "Either way, that means she is a sunbaenim."
Minchan continued, "Anyways, when you typed the name of the group that she was in on Naver, the group's profile came up." Hoyoung once again responded with, "That definitely means she is a sunbaenim." (But despite the other members' remarks, Minchan continued to address the person in his story as "that girl", without using honorifics.)
Minchan went on, "But it wasn't like they had released any albums or songs. There was only a Naver profile, and she was listed as a member of that team. So everyone was like, 'She is a celebrity'. But for me, I think that memory really cracked my fantasies about celebrities. Back then, I thought that all celebrities were gorgeous and handsome, and lived in a different world from us. But in actuality, she was really just another person like me. Because in school, you can't wear makeup and be dressed up. Everyone sees one another in their bare faces. And honestly, that person didn't exactly have visuals that stood out. So after meeting her, I realized that celebrities are also just people. But still, she usually came to school in one of those white vans, and that was pretty cool... The name of the group started with 'b', and it had four syllables."
When Minchan described this former classmate's team name, Hoyoung reacted by saying, "Why would you say that? That's too much detail." Kangmin also came to the aid by saying, "His memory could be flawed. In truth, or maybe now, she could be really beautiful."
But fans who were watching began to leave questioning comments regarding the identity of Minchan's former classmate and about his story overall. Eventually, Kangmin tried to change the mood by sharing, "But you know, hyung, for me, my fantasies about celebrities are ruined daily when I look at us in our natural states. My fantasy was first broken when I came in as a trainee and greeted the other hyungs (laughter)."
Currently, many netizens are finding Minchan's comments about his middle school classmate rude and problematic.
Some netizens commented,
"The other members told him to address her as sunbaenim, but he kept ignoring them. What a brainless idol."
"The most problematic part is that he kept trying to remember the group's name. If she had a public profile once upon a time, that means that a lot of people can now probably find out who she was."
"The member in the middle tried so many times to shut him up before things went out of hand, but the one on the left has no clue that what he's saying shouldn't be said in such a public setting."
"The member in the middle looks so distressed."
"He must be brainless. The fact that your members are telling you to address her as 'sunbaenim' means that they are trying to get you to realize that your comments have consequences."
"I wonder what she thought when she saw your face tho..."
"She didn't have visuals that stood out huh? Neither do you."
"What an immature idol."
"That girl, that girl? She is your sunbaenim you fool."
"Being in the same team with that moron must be so hard for those other two members."
"Talking about a girl's outer appearance without a second thought... that's probably what he thinks about his fans too."