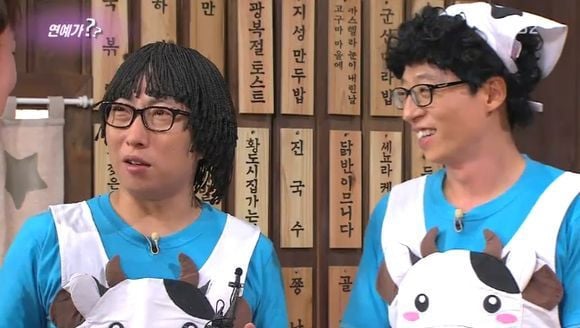 Who remembers watching Happy Together nearly a decade ago and trying to copy the recipes they used to make? This wonderful corner was when guests would bring their childhood easy-to-make nighttime recipes and compete in a "late-night restaurant" (since the show aired late-night) for the best recipe! Celebrities would bring in their stories of eating these recipes when they were young or trainees, so these recipes aren't only tasty, but they're also meaningful.

Let's bring it back and see some of the stuff that we can make in our own kitchen! Easy and delicious recipes that anyone can make at their home! Let's take a trip down memory lane these next few weeks and see some of the delicious recipes that we can whip up easily in our own kitchen! (Drop the "Happy Together~~ OST! #iykyk)
Alert: You may notice that there aren't exact numbers when it comes to these ingredients. The whole concept was to make it easy and not complicated -- while there aren't exact numbers, you can refer to the videos to see how approximate it is when they are measuring ingredients.
1) SPICA Yang Ji Won's "KimBuRa" (Kimchi Butter Ramen)
Ingredients: 1 Neoguri, Half Bowl of Kimchi, 1 Spoon of Butter
1) Melt the butter and stir fry the kimchi in a frying pan
2) Cook the ramen in a separate pot but put ONLY HALF the bag of ramen soup powder.
3) When the noodles are HALF cooked, move the noodles into the frypan and stir fry with the kimchi.
4) If noodles seem too dry, add a few spoons of the ramen soup.
5) When the water evaporates, and the noodles are fully cooked, enjoy!
2) Jisung's Jisung Dumpling Rice
Ingredients: Haetban (Instant Rice), Instant Dumplings, Soy Sauce, Sesame Oil
1) Microwave the instant dumplings for 3 minutes & the haetban for 2 minutes.
2) Put the cooked rice & dumplings in a big bowl.
3) Season with soy sauce to your liking! (Sesame oil will add more flavor!)
3) IU's IUshik (Potato Soup)
Ingredients: Potatoes, Milk, Sliced Cheese, Salt, Butter
1) Thinly slice the potatoes and stir fry with butter.
2) Add a good cup of milk into the potatoes and boil.
3) Add two slices of cheese and let it simmer down. Season with a pinch of salt!
4) Hong Seok Chun's Hongguri
Ingredients: Neoguri, Sliced Cheese, 1 Egg, Washed Kimchi, Korean Hot Peppers (Jalapeno), Water, Milk 300mL
1) Pour 300 mL of water and the Neoguri soup. When boiling, add in Korean Hot Peppers.
2) Thinly slice the washed kimchi, and add the ramen and sliced kimchi into the pot.
3) Crack an egg and whisk it in a small bowl.
4) Add the milk into the pot, and once the soup boils, add the whisked egg into a circular shape.
5) Once the noodles are cooked, add a slice of cheese and cook with the lid closed for approximately 20 seconds!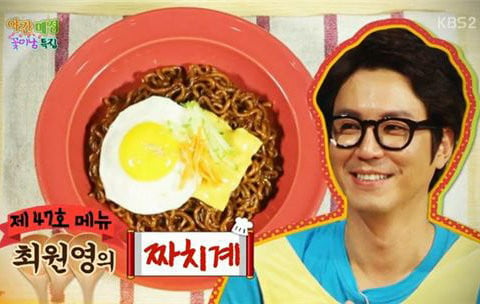 Ingredients: Jjapaghetti, 1 Sliced Cheese, 1 Egg
1) Cook the Jjapaghetti noodles as usual. Leave about two spoonfuls of the water when draining.
2) While the noodles are cooking, fry an egg sunny side up.
3) Add the Jjapaghetti soup powder, olive oil, and two spoons of water to cook the Jjapaghetti.
4) Add the fried egg and sliced cheese on top.
Ingredients: Bibimmyun(Instant), Canned Whelks, Cucumber, Perilla Leaves, Cabbage, Jjolmyun Seasoning (or Cho Gochujang), Sesame Oil
1) Wash the whelks and cut them into eatable portions.
2) Cut all vegetables into eatable portions.
3) Cook the noodles and rinse with cold water to add chewiness.
4) Add vegetables, whelks, noodles, noodle sauce & jjolmyun seasoning.
5) Complete with sesame oil and top with chopped perilla leaves.
Did we help solve your nighttime recipes this week? If not, stay tuned next week for some more easy-to-follow recipes that Happy Together presented in the years past. Even now, these are great recipes to follow that aren't on a cookbook - it has meaning and history to these celebrities. And most importantly, they are easy to follow! Which one was your favorite recipe to try? Let us know in the comments below!