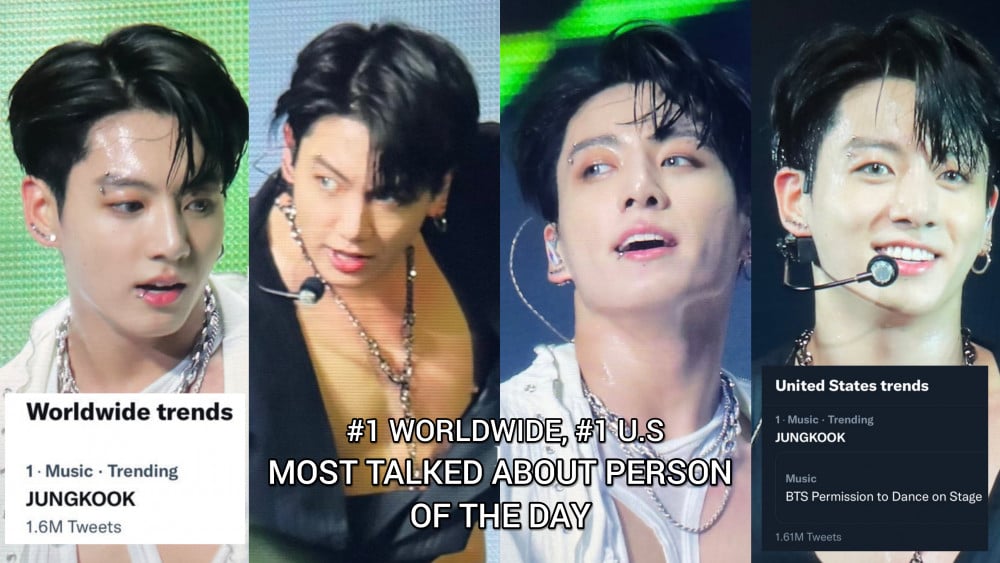 BTS won ARMYs hearts with their performances on the first day of their 'Permission To Dance On Stage' LA Concert in SoFi Stadium. The setlist included their new titles as well as their old nostalgic songs, i.e., Permission To Dance, Life Goes On, Fake Love, Blood Sweat & Tears, Fire, WAB: The Eternal, and Love Myself: Answer.


Jungkook became the highlight of the concert as he stole hearts with his brilliant vocals, stunning visuals, and power-packed performances. He also showed off his unmatched stage presence proving he's rightly named as the 'Stage God' and 'Stage Genius.'

Leaving fans breathless with his dazzling performance of Fake Love with his crop top being the cherry on top, he trended at #1 Worldwide, #1 in the U.S, #1 in 34 countries, with a total trend in 76 countries.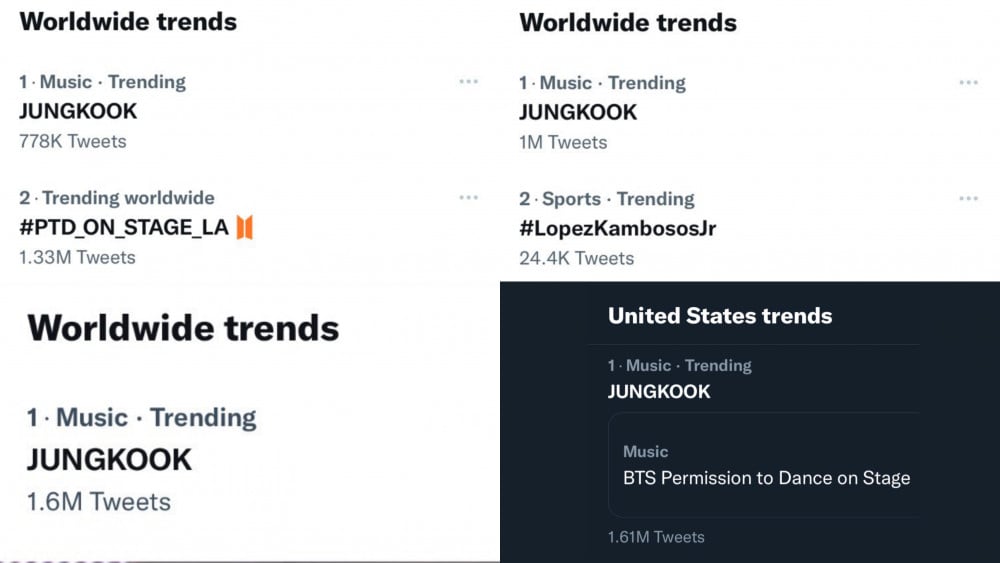 Jungkook became the Most Talked About Person on Twitter for the whole day Worldwide and in the U.S on 'PTD On Stage' LA Concert D-1. He's also the #2 Most Tweeted Topic after the hashtag #PTD_ON_STAGE_LA
Living up to his title as 'Stan Attractor,' Jungkook drove non-fans crazy and made them fall in love with him due to his visuals, divine proportions, and stunning performance, which left them in awe.
Fancams of Jungkook from the concert D-1 are also going viral on Tiktok and Twitter, garnering millions of views in just a few hours.
After delivering power-packed amazing performances, Jungkook mentioned in his ending meant that:
"I just feel so grateful. I've really missed you and this dreamy moment being w/ you, Army. It's just amazing to feel this once again in my life. I hope you to know that I've given you my best today.And I promise I'll do my best for the upcoming shows as well. Army, love you guys always all so much. Thank you."
Jungkook was glowing in the whole concert, and whenever he appeared on the camera, the screams for him doubled as compared to before, showing how much he's loved by the fans.
Fans made my time themed outfit and held Bam's signboards to capture Jungkook's attention, and luckily, he saw the Army holding the sign which said 'Bamie's dad, I love you' and gave a wide bright smile.
Media outlets all over the globe couldn't stop raving about Jungkook being the highlight of the concert.
Fans and Many fansites of Jungkook who attended the concert shared his beautiful moments from the stage. Let's take a look at a few of the tweets from the fans for Jungkook.