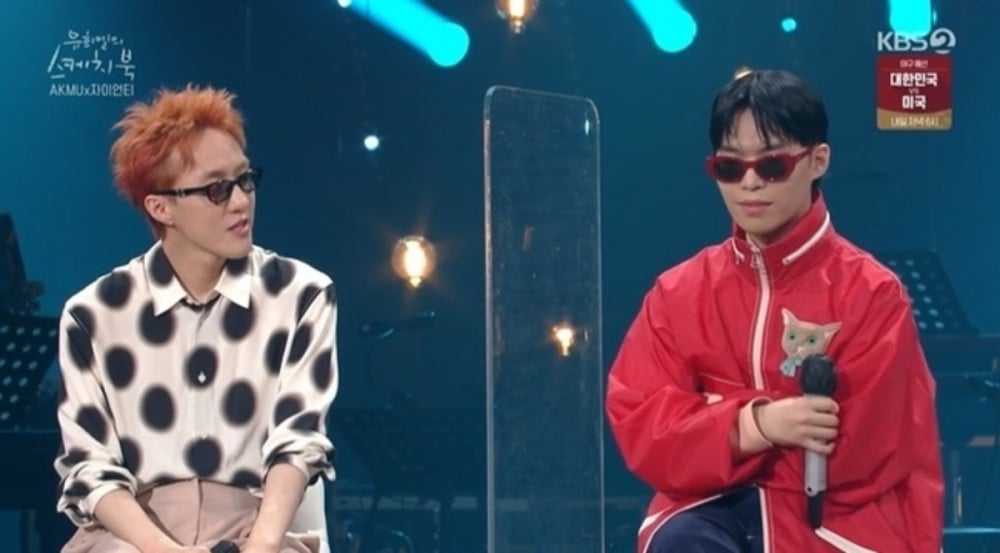 On the July 30 broadcast of KBS 2TV's 'Yoo Hee Yeol's Sketchbook', AKMU performed their song "Bench" from their new album 'NEXT EPISODE'. Zion.T, who collaborated with AKMU for their song "Bench" also made a guest appearance.

MC Yoo Hee Yeol asked, "What did Zion.T think of the lyrics for 'Bench' that Chanhyuk wrote?" Zion.T replied, "I felt the emotions of the character who was determined to live on the bench wanting to be free, but still had lingering attachments to the finite things they used to have. These days, it's difficult to own a house and I think it's a song that people from recent generations can relate to." Chanhyuk also commented, "It fits perfectly. These days people use the expression that they feel like they are living in a paid parking lot. As soon as I heard that, I thought of a bench. The idea worked right away."

Suhyun then revealed her thoughts on working with Chanhyuk and Zion.T. She said, "It was hard because there were the three of us. When there was just me and my brother, he tried to match up to me so it wasn't that bad. But when my brother was with Zion.T, who is of the same 'breed' with my brother, he didn't control himself."

Yoo Hee Yeol then supported Chanhyuk and Zion.T by saying, "Shouldn't you guys form a team of your own?" To this, Zion.T replied, "We just didn't officially register it, but our team is already formed. The team name is 'Funny Friend'. But that doesn't mean I am from the same 'breed' [as Chanhyuk]. I don't think we are the same at all."