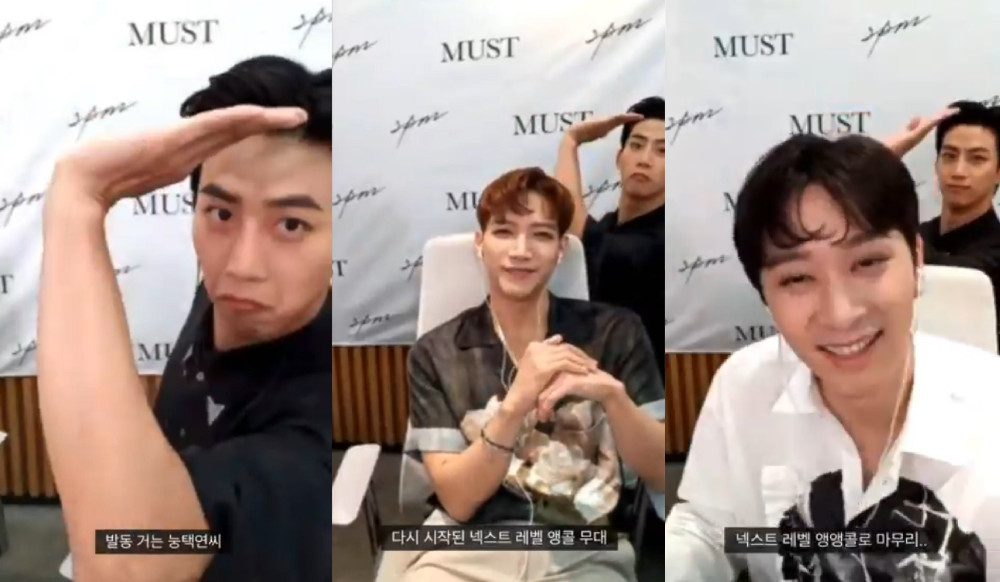 2PM's Taecyeon and his members are making fans and netizens burst into laughter.
On July 4 KST, a fan asked Taecyeon to do the iconic move from aespa's "Next Level" during an online fansign. Following the fan's request, Taecyeon put his arms up and started dancing to the best of his knowledge, as he told the fan: "Sorry...I don't watch TV a lot these so I don't know it very well...".
But he continued to do the 'arm dance' even after his turn, and Jun.K followed suit by doing the same dance for the fan. After Jun.K's turn, Taecyeon came back during Chansung's slot, 'trolling' behind his members throughout the fansign!
The fan titled the hilarious clip as "I came back from watching the oppas dancing to 'Next Level' with no regrets" and shared it with netizens who reacted with comments such as:
"I cannot LOLOL"
"Why is Taecyeon trolling in the back lolol"
"Of course this is 2PM"
"Can somebody turn off this video for me? I just can't seem to stop watching it..."

"I'm like getting hilariously annoyed LOL why is he using his muscles like that lol"
"I lost it when he came back for Chansung's slot"
"Anything 2PM-related these days makes me laugh"
"Why are you making that face, Taecyeon? LOL"
"Why is Taecyeon following everyone's camera lol"
"Jun.K is funny too"
"This is hilarious...Taecyeon looks like a fish moving his gills"