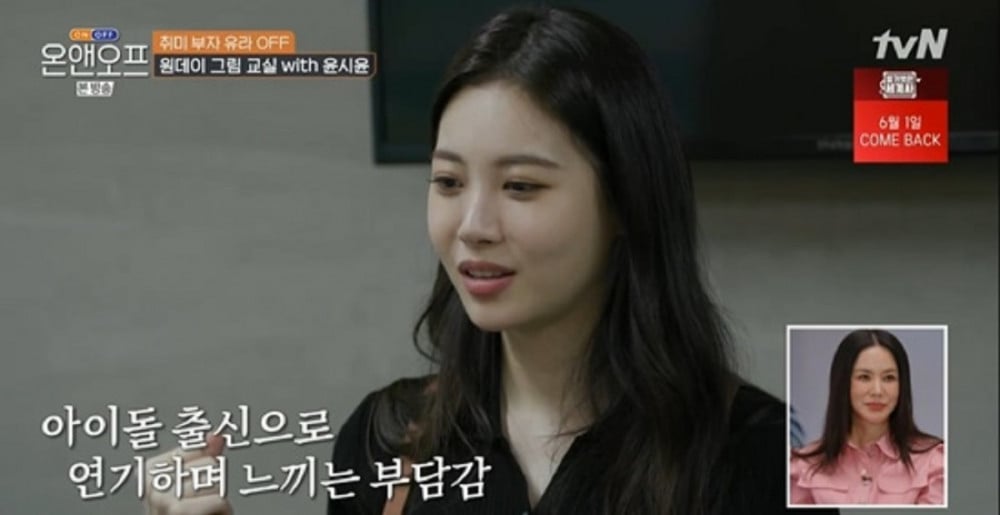 Girl's Day member Yura showed her daily life on tvN's variety show, 'On and Off '.

The camera first cut to the scene of Yura enjoying some time on a massage chair. She stated, "I used to not enjoy massage chairs too much, but lately I have been using this for two hours everyday". On the massage chair, she was seen reading her lines for an upcoming filming of her new drama, where she will be working with actress Song Hye Kyo and actor Jang Ki Yong. Yura stated, "My role in the drama is a very uptight influencer. I have the role of someone who is very fussy with how she works."

Yura is currently living with a friend, and drew the eyes of the panelists with the many different drawings placed around her house. The MCs who were on the panel expressed their awe by saying, "It's not even that she is 'good at drawing' or 'she has talent'. Her drawing skills are just out of this world".
Yura was then seen drinking some tea made from dried lotus roots and said, "My acting teacher loves tea. Whenever we practiced acting, my teacher would always give me tea that she herself prepared, and this led me to also fall in love with tea". She went on to show her tea collection which included lotus root tea, artichoke tea, and pumpkin-red bean tea.

Yura showed very interesting moments in the show, from having an entire mukbang of spicy Korean chicken stew, riding her motorcycle in a leather jacket to go meet a friend, to opening up a "art class for one day" pop up shop where she conversed with actor Yoon Si Yoon. The two friends explained that they became close after becoming game partners on the TV variety show '1 Night, 2 Days'.

Yoon Si Yoon told Yura, who had recently held an art exhibit, "I actually really love taking photos. People tell me to try holding a photo exhibit with my work, but I'm afraid of receiving negative feedback so I can't bring up the courage to try". To this, Yura replied, "I drew these with the mindset that if I work hard, I won't be criticized negatively. For me, those fears apply to acting. If an idol causes an NG to happen during filming they would freeze, and I fear that if I don't do well I will be negatively criticized by a lot of people".
Yoon Si Yoon then said, "In the drama 'Psychopath Diary', I remember you came out as a cameo. I thought you would come to the set with your bright personality, but you were visibly really nervous and pressured".
Yura stated, "When the red light on the camera turns on, idols make sure to look directly at the camera. But for actors, they are not supposed to look at the camera. At first, that was really awkward and the most difficult part for me to get used to."
After sharing a conversation about their worries, Yoon Si Yoon then went on to draw Yura with confidence, but the results shocked all the members of the panel.