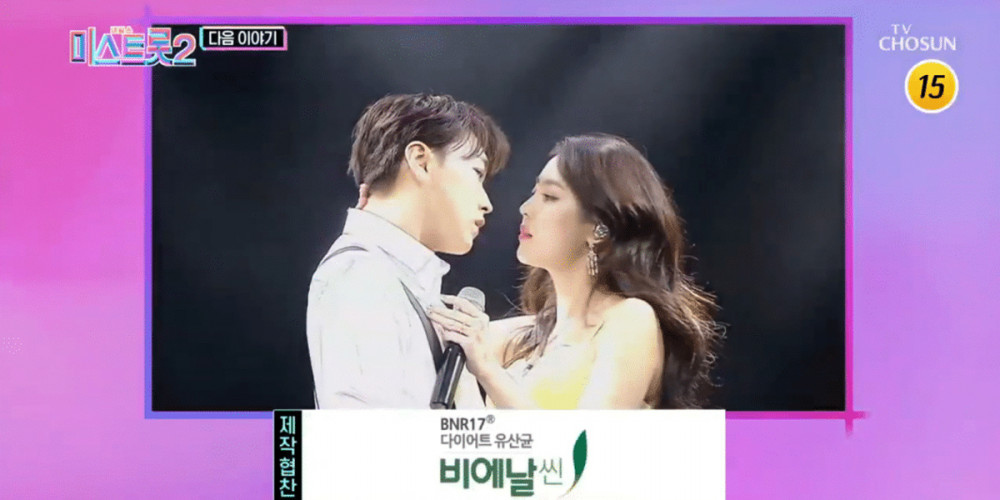 Netizens are furious after seeing a preview for next week's episode of TV Chosun's ongoing trot survival series 'Miss Trot 2', which showed a brief glimpse of Kim Sa Eun performing on stage with her husband, Super Junior's Sungmin.
Kim Sa Eun is currently competition on 'Miss Trot 2' as a contestant in the "former idol" category. Next week, the contestants of 'Miss Trot 2' will be getting into 1:1 death matches, and it seems that for her solo stage, Kim Sa Eun has decided to enlist the help of her husband for a dramatic kiss performance.
Since the couple's marriage back in late 2014, many Korean netizens have strongly boycotted Sungmin's decision to remain in Super Junior. Korean netizens claim that Sungmin and Kim Sa Eun disrespected the Super Junior members as well as fans in their decision to marry, interfering with Super Junior's promotions and concert plans, etc. Due to fans' severe disapproval, Sungmin has been unable to promote as a member of Super Junior in recent years; however, he is still identified as a member of the group.
Now, seeing the couple appearing on a TV broadcast together for the first time in years, many netizens furiously commented:
"Crazy b******. Why can't you just live quietly and out of sight."
"I can't stand this."
"Please leave Super Junior."
"Wait, what is he still doing in the group anyway??"
"If you want to live doing whatever you want, you need to leave Super Junior and not cause any more harm to the members and the fans."
"Do you need a job now? Why do this after all those years?"
"I feel bad for Kim Sa Eun too... She studied opera and was a famous musical actress before she met Sungmin, but now the only title she's going by on this show is 'Sungmin's wife'. Did she really want to throw her own career away just for all this?"
"You've done nothing to deserve the name Super Junior."
"This is one of the most disgraceful controversies in the history of K-Pop."

You can check out the full preview for next week's 'Miss Trot 2', below.