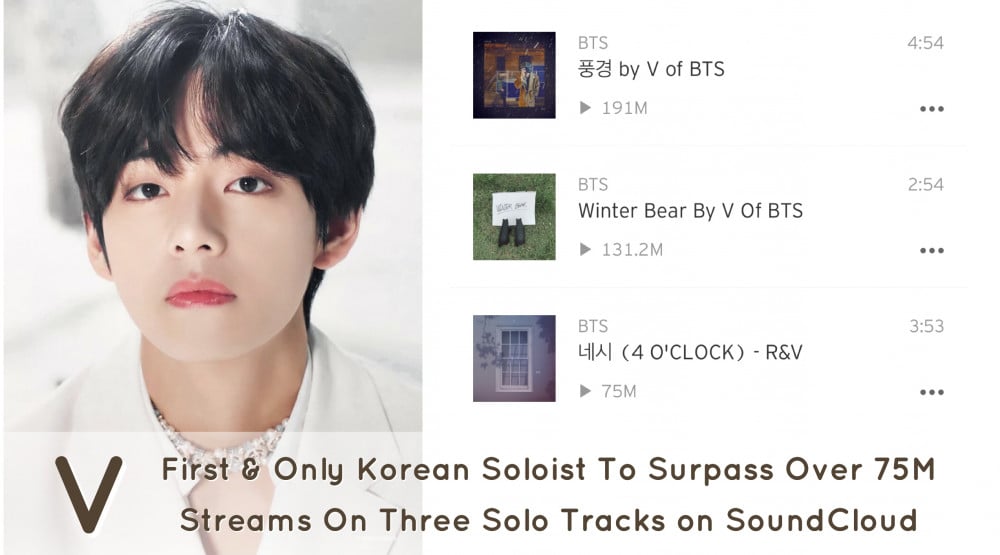 While the admirably gifted V of the global pop group BTS is proudly recognized as one of the most popular members of the septet, his solo music has taken him to incredible heights of success dubbing him as one of the most acclaimed Korean soloists on every platform.
As V mainly releases his solo music as gifts for the fans on SoundCloud, his ever-growing reign often headlines across the globe. Most recently, V was named as the most-streamed Korean soloist on the platform for the second consecutive year. Several media outlets reported that he amassed roughly half a billion streams, contributing 31% to the total streams of the group. He is also the first Korean soloist to score three No.1 hits on the Global chart and to rank two solo songs in the prestigious 100 million streams club.
Adding on to the ever-growing list of records, V has become the first and only Korean soloist to surpass over 75 million streams on three of his solo songs on the platform. Earlier this week, his self-composed track "4 o'clock" featuring fellow bandmate RM garnered 75 million streams joining his 2019 releases "Scenery" and "Winter Bear" with 191 million and 131 million streams respectively. Similar to every solo track by the star, the beautiful ballad released as a part of their fourth-anniversary in 2017 is also a popular BGM on Korean variety shows and often receives positive acclaims from the general public as well.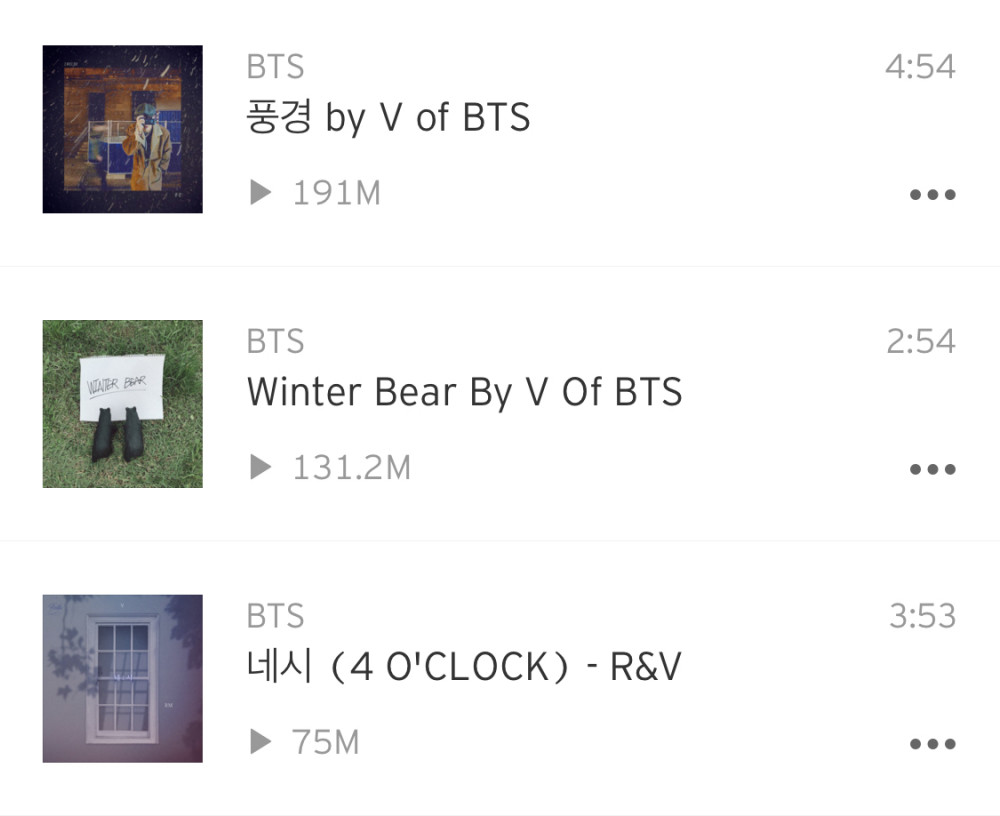 As a composer and producer, V is oftentimes praised for his unapologetic honesty, authenticity, and his attention-to-detail. His lyricism is generally highlighted as refreshing and one that evokes deep emotions. Meanwhile, his compositions are remarked for the variety of genres he dabbles into, the subtlety, his use of instruments, and the little easter eggs he adds that paints a beautiful picture and takes the listeners on a journey.
V who revealed his wish to debut his first solo mixtape sometime this year has been noted by several media, critics, and fans as one of the most-anticipated releases of 2021. The excitement for his mixtape continues to soar as the multi-talented star is known to surprise with his out-of-the-box creativity, his love for various genres, and the sincerity and raw emotions that seep through his music.