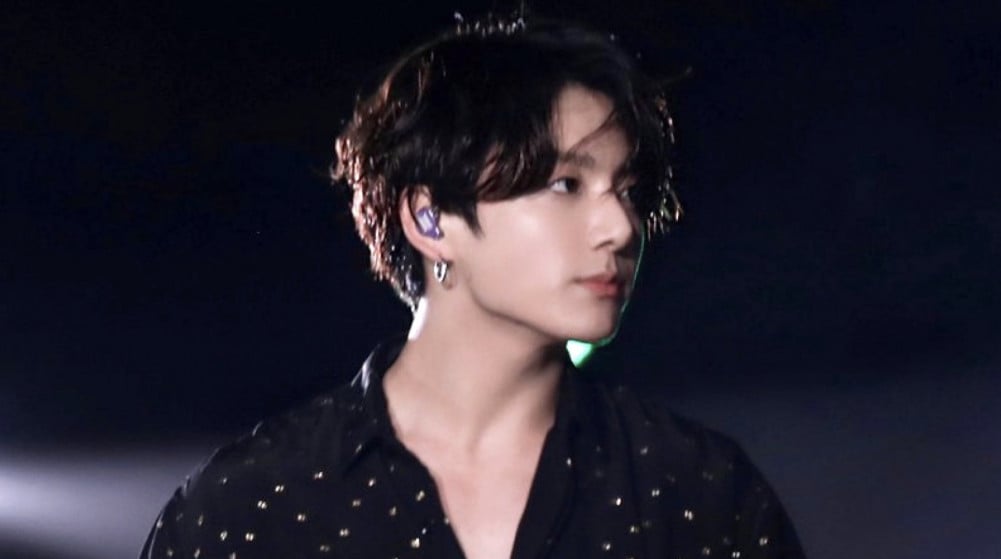 BTS's popularity in the United States has been growing rapidly throughout the years, it is obvious by way of their music topping the charts and their sold-out stadium concerts in the country. All Bangtan boys are popular in the US, but one can't help but notice that the youngest member, Jungkook, seems to garner extra attention and public recognition. He easily trends in the US. Even his Google search volume in the country is exceptionally high by comparison with other K-pop idols.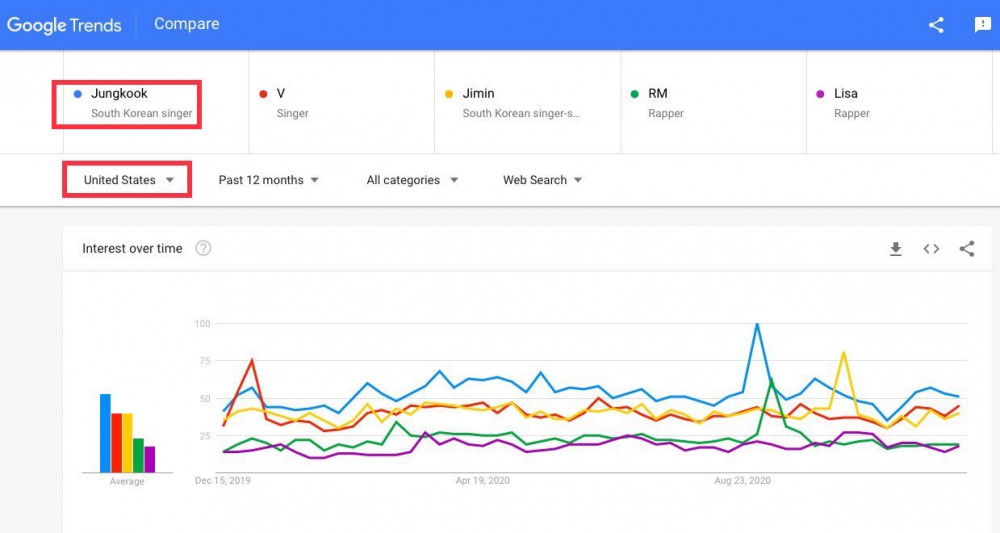 Source: Google Trends. Click here for more info.
Jungkook is a household name in the United States.
The 23-year-old global superstar has had his fair share of individually appearing in US local media, and the fact that it is not only limited to music and entertainment-related proves his solid presence among the locals.
John Oliver mentioned Jungkook on HBO's Last Week Tonight, appreciating how K-pop had produced him while American pop doesn't have someone like him.
Spectator USA, an online magazine focusing on America's politics, culture, and society, mentioned Jungkook in their political article: "Both inspire a special kind of crazy in their devotees, slightly more political iterations of schoolgirls who stab each other with compasses over which one Jungkook would marry."
American cartoonist Jim Meddick mentioned Jungkook and BTS in his comic strip 'Monty' which was published in New Jersey's local newspaper: "They probably scurried home to swoon over Jungkook in a BTS video."
The Cut - New York Magazine, which focuses on fashion, beauty, celebrities, and more, gave a special mention to Jungkook and his immense selling power in their article: "Once fans discovered that BTS' Jungkook likes these lip tints, they bought up pretty much all of them."
Jungkook was the only Korean artist nominated in renowned American weekly magazine People for their prestigious annual event "Sexiest Man Alive 2020". He won his category as 'Sexiest International Man.' He then landed in People's November 20 issue with other winners slash famous celebrities like Michael B. Jordan, Brad Pitt, Harry Styles, among many others.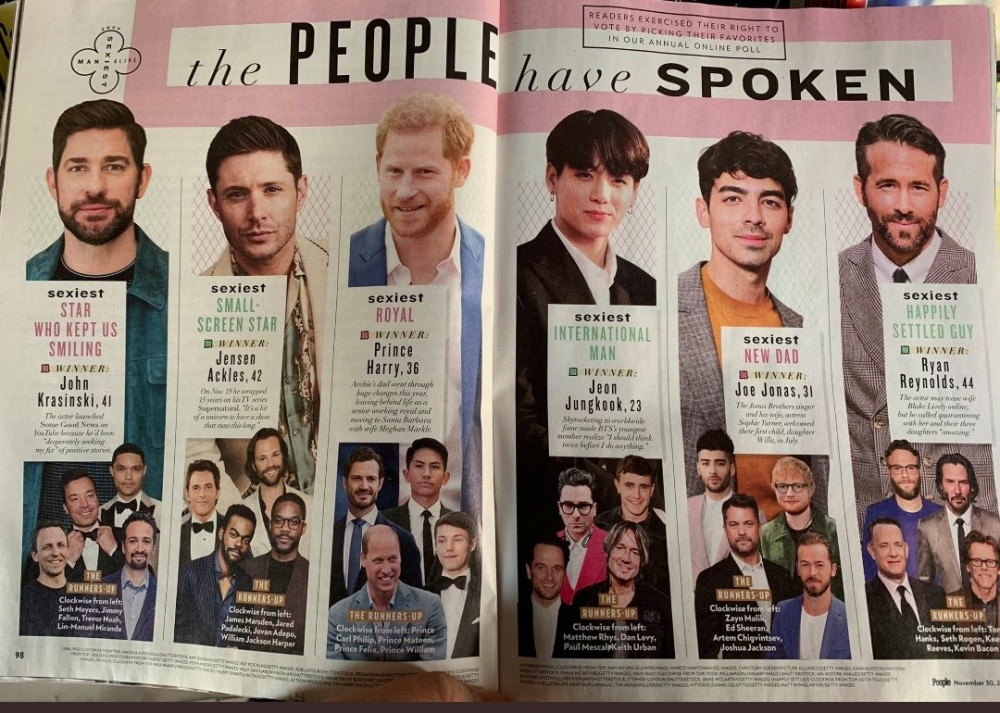 Image credit: @aquagirl15151
Jungkook was included in renowned American magazine Esquire as one of "Most Memorable Personalities 2020" in their article, alongside other big names like Brad Pitt, Taylor Swift, and The Weeknd. Jungkook is the only K-pop idol included in the list.
Stacker, an American website specializing in collecting experts' analysis in various fields such as sports, entertainment, lifestyle, and more, had published an article titled "Most Famous Musician Born the Same Year as You," which listed the most famous musicians born each year from 1920 up to 2001. Jungkook is the only Korean on the entire list, and he is named the most famous musician born in 1997, surpassing Camila Cabello and Kodak Black.
Jungkook was mentioned by famous USA celebrities.
Everyone might have remembered Ariana Grande and Justin Bieber mentioning Jungkook on their official social media accounts with the warmest captions and broke the internet.
Lauv highly-praised Jungkook for the "Never Not" cover, with the caption "THIS IS CRAZY ILY" and added in an interview that he was mind blown by massive Twitter records Jungkook had set, "I heard it was the 8th most retweeted tweet ever on Twitter. It was the most commented tweet ever. It's insane."


James Corden mentioned on his show 'The Late Late Show with James Corden' that he is a "Jungkook Guy"...twice!
American actress and former Miss Alabama Jesica Ahlberg is a well-known Jungkook-biased ARMY, having multiple times shown her admiration on her Twitter and Youtube channel. She even went to a BTS concert and uploaded Jungkook's focus-cams on her social media.
Video credit: Jesica Ahlberg
Jungkook's songs are doing well in the USA.

Jungkook's solo song 'Euphoria' debuted at #5 on Billboard, bubbling under Hot 100 even without an official MV, the highest-charting BTS solo song from Love Yourself era.
His other solo song, 'My Time,' is the highest-charting BTS solo song on Billboard Hot 100 of all time, at #84. 'My Time' is also the first-ever BTS solo song to chart at #1 on US iTunes and the fastest to sell over 100,000 units in the USA in just 57 days. 'My Time' also debuted at #2 on Billboard Digital Song Sales below title track 'ON' and gave BTS its record as the first group in history to debut Top2 songs on the chart.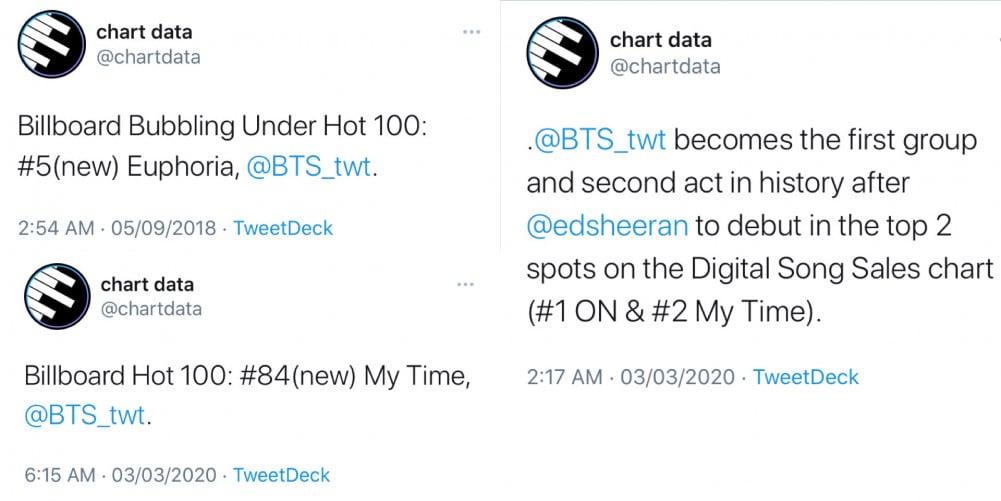 Image credit: @jeonfolders
Both 'My Time' and 'Euphoria' had sold over 200,000 units in the USA. 'Magic Shop' in which Jungkook is the main producer had sold over 200,000 units too, while 'Stay,' a Jungkook-Jin-RM subunit song which Jungkook composed originally for his mixtape, had sold over 100,000 units in the USA. Sold Out King, indeed!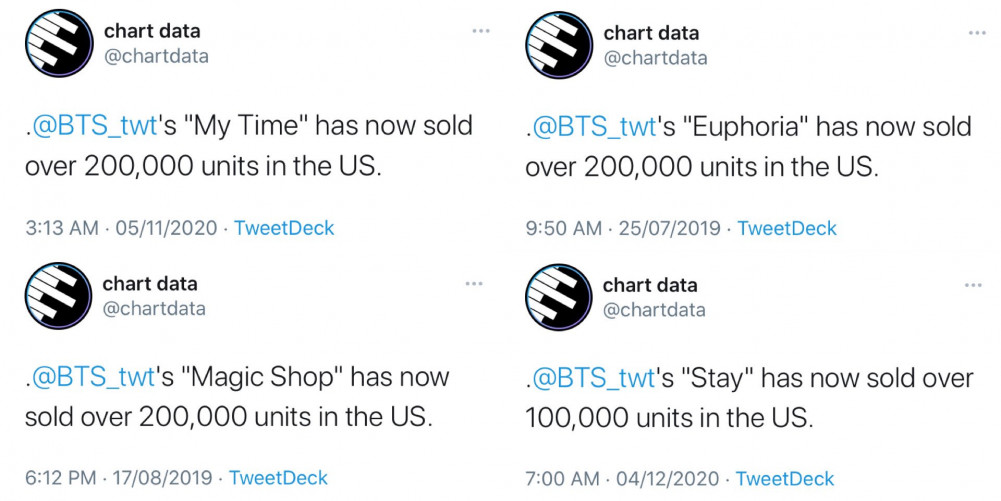 Last but not least, 'Euphoria' and 'My Time' remains the longest and second-longest charting K-pop solo song on Billboard World Digital Song Sales with 42 weeks and 39 weeks (ties with 'Filter' as second-longest charting) respectively. Jungkook secures his throne as the longest-charting K-pop idol on Billboard World Digital Song Sales.
It is safe to say that Jungkook has been making a name for himself in the US as the most popular K-pop idol and one of the biggest celebrities in the country today.