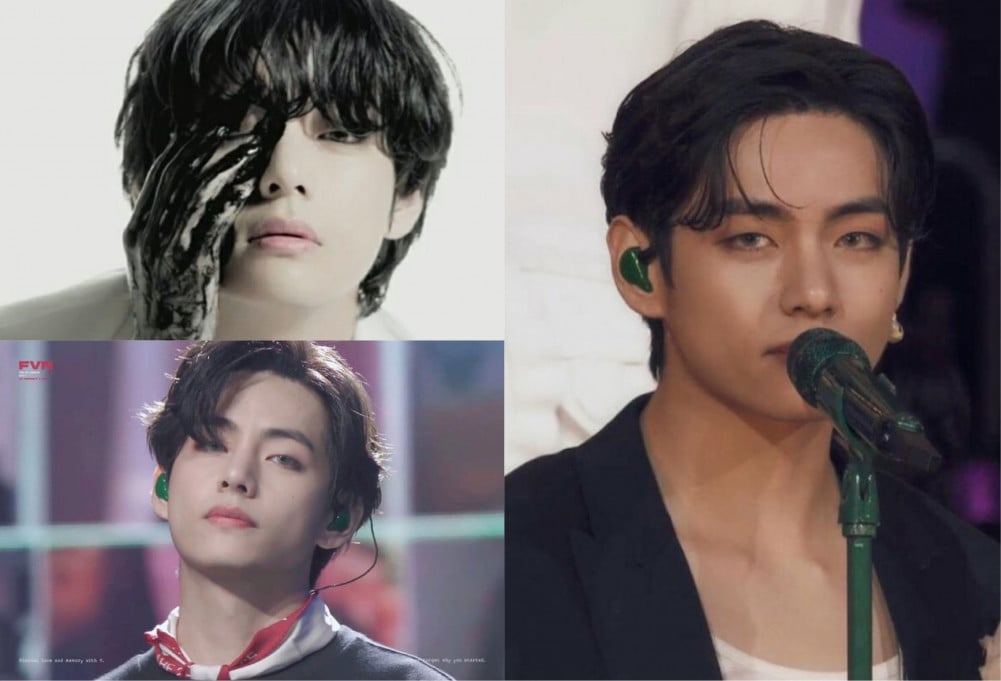 The much-anticipated virtual concert of the global superstar BTS titled 'Map of the Soul ON: E" was held earlier today.
With an incredible setlist of units and solo songs from their latest record-breaking album 'Map of The Soul: 7' along with some of their previous hits such as "DNA" "No More Dream" and "Dope" to name a few, BTS took the world by storm.
In particular, member V who is popularly known for his charismatic stage presence, left the fans gawking at their screen with his deep and silky vocals, sultry expression, and power-packed dance moves. In songs such as "ON" and "No More Dream", V amazed the fans especially during the dance break proving why he is known as one of the finest performers of this generation.
In addition, V also beautifully showcased his deep vocals during "Boy In Luv" causing a joyful uproar among the fans. He also warmed the hearts of the fans with his heavenly voice in "Butterfly" and "00:00" as tweets praising the star for his versatility and skills as a singer and performer skyrocketed to the top of the trends.
However, the most-talked-about and most-anticipated performance by V was none other than the first live performance of his solo song "Inner Child." In complete contrast to his previous solo song "Intro: Singularity" V's performance-focused solely on his divine voice. As the song itself is known as one of the most heart-warming songs by the star, fans were already prepared with tissues and as predicted, V delivered a tear-jerking performance that resonated with his fans worldwide.
In a beautiful merry-go-round, V sang his heart out to a little boy portraying his younger self. The uplifting lyrics along with his soulful voice created such a beautiful moment that fans could not help but be moved to tears.
V himself was seen teary-eyed as fans sang along with the star enhancing the beauty of the anthemic track. V ended the performance with one mesmerizing note after the other, proving his power and capabilities as a soul-soothing singer.
V also entertained the fans with his cute antics during their performance of "RUN" and "Dynamite" while his speech and lyric change in the song "We Are Bulletproof: The Eternal" left fans overwhelmed with love and admiration for the star.
One of the highlights from V's speech that resonated with the fans was when he said: "There are seven of us here and ARMYs are not here with us. It really feels as though you are here. Like this, through the screens, I could hear your voice, (feel) the passion, and by seeing you, it really seems as though you ARMYS are here. Next time, I really am hoping that you will be here for real." Needless to say, his speech had fans reaching for tissues while screaming "I love yous" at the screen.
In addition, many fans noted that during their last performance of "We Are Bulletproof: The Eternals" V changed the lyrics from "We have you all now" to "We have you ARMY" proving his endless love for the fans.
To no surprise, V hit the trending list of several countries as soon as the concert kicked off. He even maintained multiple tags such as "TAES" "TAEHYUNGS" and "INNER CHILD" throughout the concert. Many fans noted how impressive it was for him to trend not one but three keywords as his real name "TAEHYUNG" and stage name "V" is blocked by Twitter.
Furthermore, V received major appreciation from musicians worldwide, most notably from the co-creators of "Inner Child" who had nothing but praise for the star.
In addition, record producers who had worked on a few tracks of "MOTS:7" as well as renowned artists such as the Broadway queen Lea Salonga, noted V as someone who entrances the audience with his voice and performance. Lea said: "Even if V does two lines in a song, the two lines matter so much as everything he does has purpose and intention.. he knows how to fill up a space."
Moreover, V's solo songs "Inner Child'" and "Sweet Night" also experienced a surge in sales on Amazon post the concert.
Fans are excited to see what more V has up his sleeves for the second day of the virtual concert as the "All-Rounder Star" of BTS is known to add something unique to his every performance.