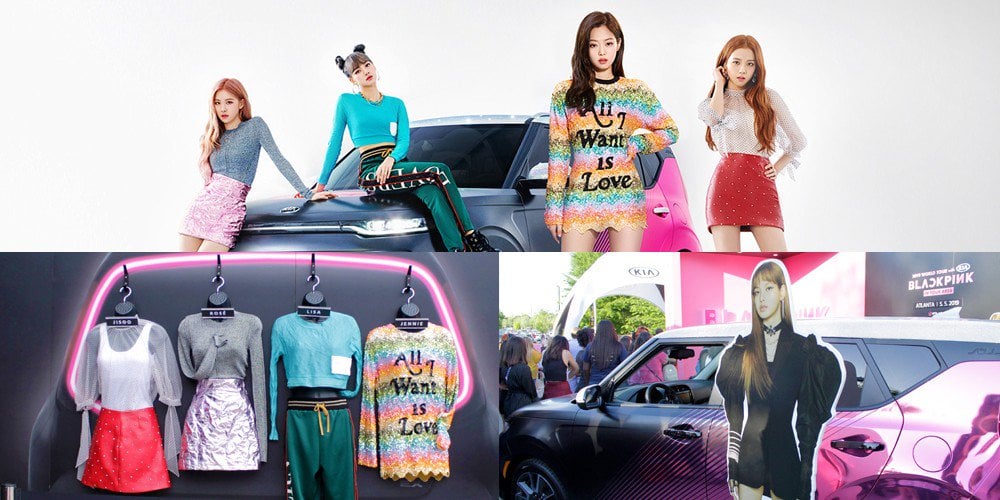 Back on May 5, the ladies of BLACKPINK lit up the American South's very own Atlanta, Georgia during the U.S. leg of their 'BLACKPINK 2019 World Tour With KIA'!
Ahead of the exciting, nearly 2-hour concert at Infinite Energy Center (capacity of 13,000), BLACKPINK partnered up with KIA to introduce their fans to the all-new, '2020 Soul'!
You can check out some of the all-new '2020 Soul's bling bling specs and features, below:
Now, for a tour of the sleek 'KIA on BEAT' station set up just outside the entrance to the Infinite Energy Center!
First up is an exclusive, close-up look at BLACKPINK's very own wardrobe that they wore while posing with their favorite car, the all-new '2020 Soul'. You can easily recognize the rainbow-colored, "All I Want is Love" dress worn by Jennie, the sporty, turquoise set worn by Lisa, the simple, yet elegant gray top and shiny pink skirt set worn by Rosé, and finally, the classy white blouse and pearl red skirt set worn by Jisoo.
Next up - the fans' very own, SOUL x BLACKPINK Singing Zone! Very similar to South Korea's extremely popular 'coin noraebang', fans could hop into the Singing Zone booth and sing any of their favorite BLACKPINK songs with the instrumentals on full blast! Rosé says, "Step right in!"
After a round of karaoke at the SOUL x BLACKPINK Singing Zone, checking out the super fabulous, all-new '2020 Soul' in black & pink is a MUST! Lisa says, "Wanna go for a ride?"
For Blinks looking for a ride to school or work, rather than a ride to the party, there's also a clean, white version of KIA x BLACKPINK's '2020 Soul', located right in the middle of a Dance Zone dedicated for cover artists of all ages!
But wait, there's more! While allkpop was taking a tour of the 'KIA on BEAT' station, YG Entertainment's hip mascot Krunk came by to say hello!
Check out all the Blinks lined up to snap a photo with Krunk himself, below!
Look at this humongous crowd of Blinks enjoying their time at the 'KIA on BEAT' station right outside the Infinite Energy Center, less than an hour before doors opened at 6:30 PM EST!
For even more information on KIA x BLACKPINK, visit the official website here!
This article is sponsored by KIA.