Idols are, well — pretty adorable, no doubt. To add to their cute persona, they have fluffy puppies that ooze with charm. Check out these idols who are almost as cute as their furry doggos.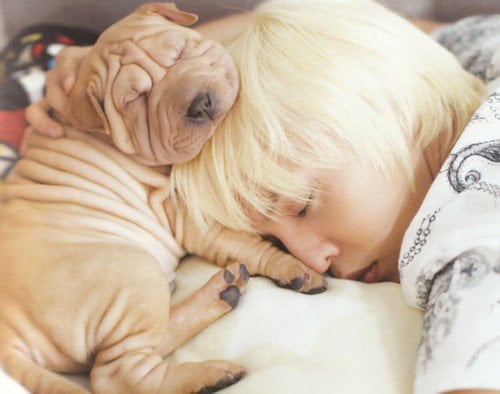 Big Bang's G-Dragon and Gaho
The King of K-Pop has a furry friend that's just as adorable as G-Dragon himself.
Chungha and Bambi
If Chungha were not already cute enough for you, check out her adorable dog Bambi!
Girls' Generation Taeyeon and Zero
Talk about cute. Taeyeon and her dog Zero make the perfect adorable combo!
BTS V and Yeontan
BTS V's dog Yeontan is the perfect fluffy match for this adorable BTS member.
SHINee's Key and Commes des Garcons
SHINee's Key has a fluffy puppy that simply adds to his charming self.
GOT7 Mark, Youngjae, and Coco
GOT7's Mark and Youngjae share a dog, Coco, who resembles the duo's adorable antics.
TWICE's Tzuyu and Gucci
If Tzuyu's aegyo is not enough for you, check out her super cute furry friend!


WINNER's Seunghoon and Haute
Seunghoon is arguably full of charm on his own, but on top of that, he has a dog that's just as adorable as him.
Zelo and Mochi
Zelo's adorable dog Mochi makes fans hearts flutter just as much as Zelo.
EXO's Baekhyun and Mongryong
If you're in need of some extra sprinkles of cute in your life, check out Baekhyun and his dog Mongryong.
BTS' Suga and Holly
What's better than a BTS member? A BTS member and his adorable dog.
f(x)'s Amber and Jack Jack

Amber may be known for her charisma, but she's actually full of aegyo and charm as well!
EXO's Sehun and Vivi
In case you needed any additional sweetness in your life, check out this iconic duo.
Seolhyun and Dungchee
Seolhyun's dog Dungchee is a fan favorite. Just look at how fluffy and cute he is!
BTS' J-Hope and Mickey
Cute doesn't end with J-Hope's goofiness and adorable moments. Just check out his dog Mickey!