Various K-Pop artists were listed on
Billboard
's '
World Albums
' chart for the week of January 20.

First up were the boys of BTS who are still going strong with 'Love Yourself: Her'.  Rolling in second place was JYP rookie group Stray Kids' 'Mixtape'.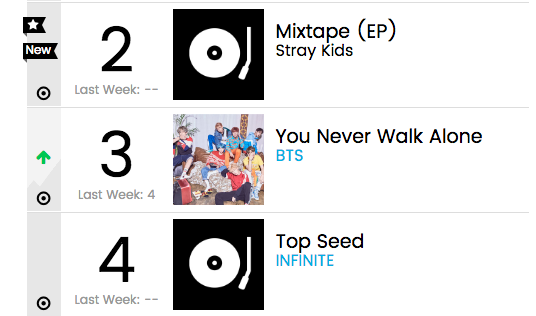 Another BTS album, 'You Never Walk Alone' was in third place, followed by INFINITE's latest album 'Top Seed' at fourth place respectively.


Meanwhile, BTS' 'Wings' settled in at sixth place.  Jumping two slots down was EXO's winter album 'Universe' at eighth place.

Seventeen's second album 'Teen, Age' landed in 11th place as Oh My Girl ranked 12th place with their 'Secret Garden' comeback.
Last but not least, MONSTA X's 'The Code' completed the list at 15th place.

Congratulations!