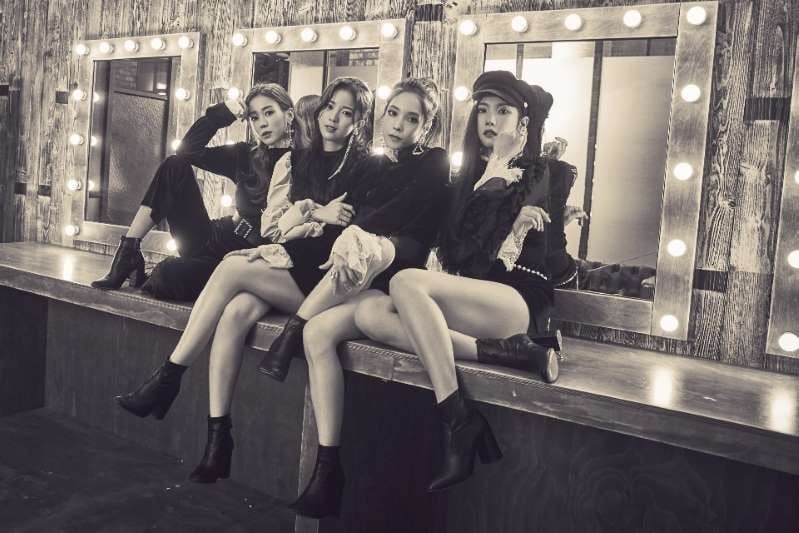 VINE Entertainment's new 4 member girl group S#aFLA (pronounced Shapla/Shafla) made their debut on the 18th of October.
The group consists of the members Jin (Jung Yoojin), Kee (Seulgi), Soo (Soohyeon) and Sun (Hwang Jisun). The latter recently gained some attention.
Leader and lead vocal Jisun was part of the original line-up for Girl's Day as their main dancer. The company announced in September 2010 that she had been removed from the group at her own will and that she would go back to training dancing and singing so she could re-debut later. An official from Global Arts (one of New F.O's companies) stated she had decided to leave Girl's Day as she felt the music she wanted to make and the music New F.O was supposed to make matched better. This was later confirmed by Jisun herself in an interview from 2012.
In 2011, she debuted as JN in New F.O as the leader and a vocalist. The group did create some buzz after the main vocalist performed a song on Time Square in New York and with revelation of Danah being the sister of Tagoon from BoM (Mino from Winner), but unfortunately the group did not manage to make enough of an impact for the companies to want to continue with the group. They disbanded in 2012.

Jisun also tried out for The Unit, but was eliminated during the auditions.
What many people most likely don't know is that prior to her debuts, Jisun had won several dancing competitions and had participated in national ones as well. She won, for example, the Grand Prize for Creative Choreography at the 19th Annuel Arts Festival in 2006.
Jisun isn't the only one with previous idol experience. Main rapper and sub-vocal Yoojin, a former YG Entertainment trainee who trained to be in their new girl group but left in February 2012, used to be part of D-UNIT under the name UJin. D-UNIT was a three member hiphop girl group who made their debut with I'm Missin' You under D-Bussiness Entertainment in 2012. She left the group in 2013 after her contract ended and she for personal reasons did not want a renewal. However, the company did not reveal that her contract had ended, but instead stated she had been rude towards the company and her fellow members and had said she didn't want to promote with them anymore. This caused many fights within their fandom.
In 2016, she returned to the music scene as soloist HIA by uploading a cover of Justin Bieber's Sorry to her own Youtube channel. She also announced a solo debut, but never followed up on it.
In 2017, she appeared on YG Entertainment trainee survival show MIXNINE, but did not make it past the audition.
Main vocal Soohyeon used to be a member of Maroo Entertainment's vocal girl group 1PS as Yena, the leader, vocalist and dancer. As the leader and the longest trainee at the Maroo at the time, she helped pick out the members for the group. All 4 members showed capability of being a main vocal and she once stated that the group would switch main vocal for every song, so everyone got to shine and 1PS could show different images of themselves. The group, however, disbanded after one promotional single and one OST.
In February 2015, it was revelaed by Maroo that Soohyeon had been casted for the musical '해를 품은 달'.
She graduated from Seoul National University of Fine Arts and Music majored on the gayageum, a traditonal Korean instrument.
And finally, maknae and sub-vocal Seulgi appeared on Superstar K in 2009, where she was confirmed to join the top 10, but left the show. She joined Brand New Stardom (later to be named Stardom Entertainment and currently Hunus) and announced her solo debut with the song After Place in 2010. She released some albums under the company, but left or was let go in 2011. She then did not release any music until she joined AARON Entertainment in 2016. Her career under this company did not last that long either as she only released the promotional single U&I under the company. The company stopped promoting her in 2017.
Interested in this group? Check out their social media!