It was previously revealed that Kakao Entertainment and SM Entertainment had entered into a partnership with Kakao now being the second largest shareholder at SM. Following that, was news of Lee Soo Man, founder of SM Entertainment, suing his former company for violating business laws.
As SM is one of the largest entertainment companies in Korea, the general public had a lot of thoughts on the issue, but none more so than the actual workers at SM. On an anonymous app Blind, alleged SM employees discussed the internal chaos of the company.
The first post reads:
"What do they expect us to do...
They ignored us while the employees were in a clamor
We get paid next to nothing, and they throw us parties based on merit,
and now they're saying it's unfair, and for us to have courtesy...
How long have they been talking about bringing about change, and they're saying we can now start making change together...
From the position of an employee, we like companies that treat employees well and listen to our opinions.
I understand the desperation of sending out an email staking your name on it, but for employees who never really received proper treatment from this company, it's hard to empathize."
The responses were as follows:
"If they were able to communicate, they would have already. The entire company moves (into action) with one word (from Lee Soo Man), do you think this was communicated?"
"Anyway, our company needs change, and as long as he stays, I don't think that will happen."
"I feel suffocated at the 'change together' part."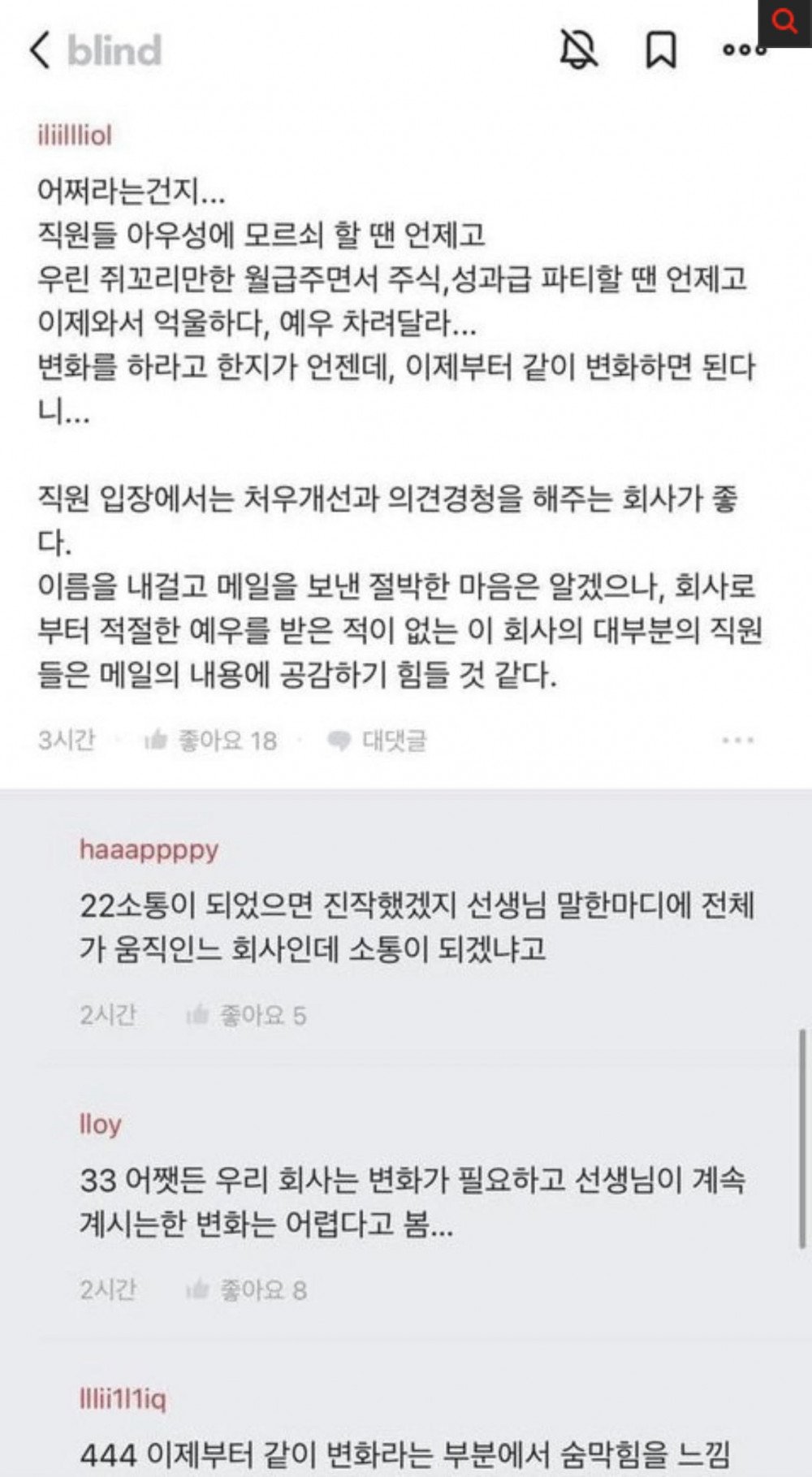 As seen in the above post, there was a lot of discussions about a mysterious email sent from an actor/singer from within the company.
"Why did they send an email like this?
An actor singer from the company to send an email like this.
And on a weekend in the middle of the night (through their manager).
I just don't understand and am not convinced.
I only just found out that they're from our company,
and for them to say things like 'SM family' was unbelivable hahaha
I guess (Lee Soo Man's) secretaries' salaries didn't go up.
But isn't it weird that they were paid in the first place?
So what if you don't agree with the dual CEO?
I don't understand what they're saying or what they want hahaha
Employees are just trying to survive working in their own lane, don't send emails like this making things complicated for us.
I'll just pretend I didn't see it.
(To the manager who sent the email, you worked hard, take care of yourself)."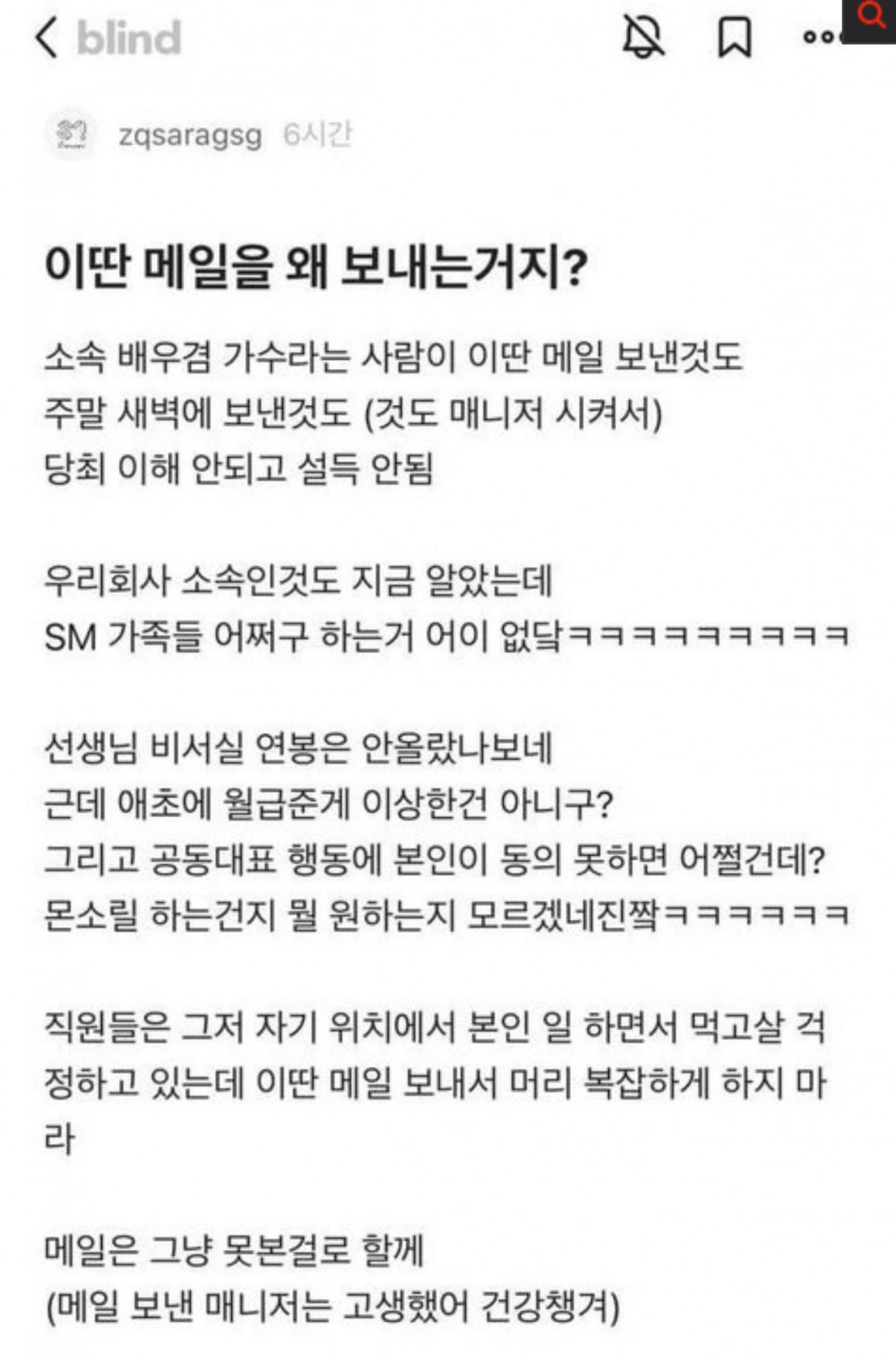 Netizens expressed their thoughts on ongoing situation:
"When Lee Soo Man goes out, it seems that Kim Min Jong, BoA, and Kangta are the three people who get the most damage. If you want to do this, Kangta, BoA, and U-Know Yunho would look good together."
"I thought he withdrew because of his age, but there must have been an internal problem... "
"When will the idol market go bankrupt? There is no song to listen to because idols dominate the charts."
"I'm curious, what kind of mail did Kim Min Jong send to the staff?"
"This time, it exploded because Kim Min Jong sent an entire email, but before that, there was a lot of talk inside without anyone knowing about it."

"The office workers must know how careless that action is. No matter how much you are in the entertainment industry, you are wrong in sending all those emails in the middle of the night. Even if it's a power struggle, there's no union in SM, so how can they incite them like that? You have to go and meet the current representatives."

"As you can see, it's an internal fight within SM, but there are aggressive comments taking advantage of the chaos of who's coming or going. SM executives say that it is good to make a profit and sell, so it seems like they are trying to sell it at a good price, not using it as a stepping stone to go in a better direction... Would you deliberately give Kakao shares to develop? If development is needed, they will organize it while fighting inside. Are you going to leak everything to the outside like this and leave it unanswered?"