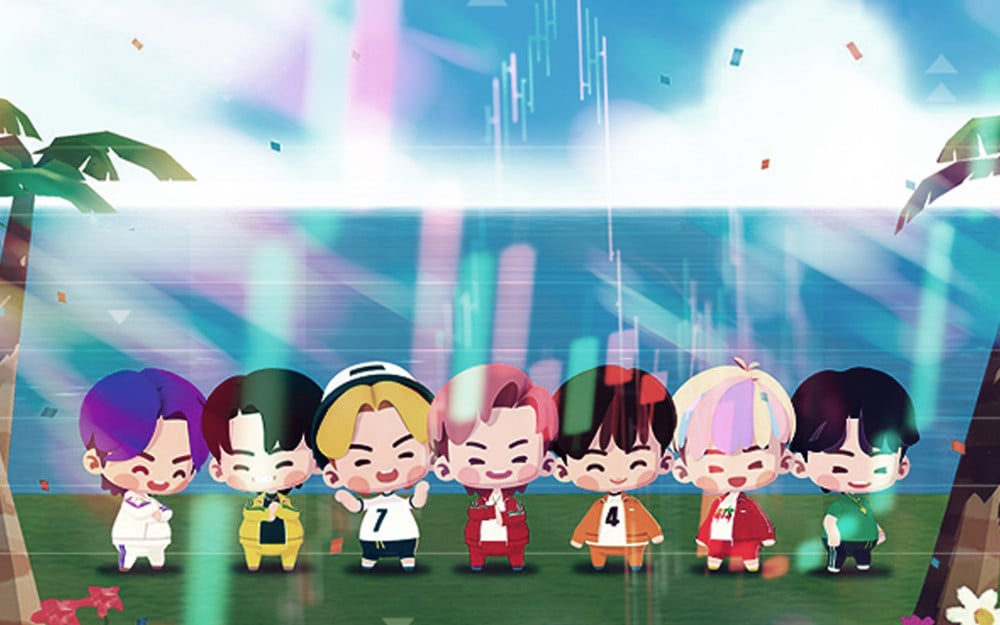 In a global market downtown, there has been an analysis that business competitiveness must be proven and growth potential must be secured in order to boose stock prices. Therefore, entertainment companies are turning to establishing their subsidiaries rather than waiting for the endemic.
Recently, all major South Korean entertainment company stock prices have seen major drops, with the New York Stock Exchange, Bitcoin, and international oil prices plummeting at the same time.
Additionally, the expectation for the 'Re-opening' has been somewhat dampened as the re-spreading of COVID-19 in the second half of this year in the United States is anticipated. The Washington Post reported on May 9th that the U.S. government is concerned about the possibility that there may be 100 million new confirmed cases in the fall and winter of this year due to a sub-mutation of Omicron. However, Korean entertainment companies are already scheduling overseas activities, such as full-scale tours, starting from the second of the year.
HYBE, which announced its first-quarter earnings, fell short of the market's expectation, which is said to have been 'too high' in the market, such as securities companies.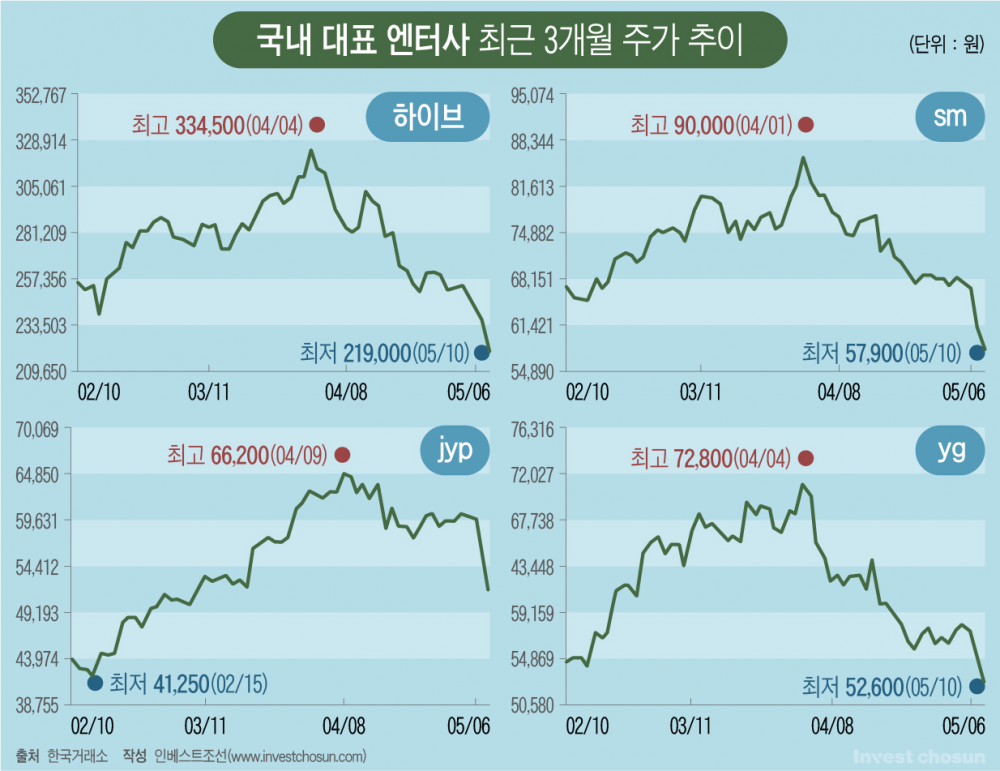 In the case of HYBE, the uncertainty about the military enlistment of BTS has been a big effect on the first quarter data as they are the biggest source of the company's income. In an interview with Invest Chosun, according to a HYBE official, the company has already prepared an expected plan for the scenario in which BTS members are enlisted.
The financial report for SM Entertainment and JYP Entertainment are also soon be released. For SM Entertainment, the biggest variable is the sale of executive producer Lee Soo Man's company stake. The shareholders' meeting ended, and it is analyzed that the issue with the management of the company rather than the performance is the biggest factor affecting the market's expectations. Following the first dividend since its inception at the beginning of this year, SM Entertainment also started a 10 billion KRW (7.8 Million USD) treasury stock buyback on the 9th to stimulate stock prices and enhance shareholder profits.
Negotiations over the acquisition with Kakao Entertainment are believed to be ongoing. It is known that Kakao Entertainment has recently decided to temporarily suspend the review of acquisitions of content-producing companies other than SM Entertainment for the time being. While Kakao recently entered 'cost control,' it seems to be a measure to control the speed of aggressive M&A (mergers and acquisitions).
In order to respond to the rapidly changing environment, entertainment companies are concentrating on business diversification. As internal and external conditions are rapidly changing, it is impossible to rely solely on artists.
As large corporations are also entering the entertainment business, market competition is intensifying. On May 10th, CJ Group announced that it would invest 22.4 billion KRW (17.5 Million USD) in fandom business startup 'B My Friends' and start strategic business cooperation to jointly promote fandom business.

HYBE recently spun off 'HYBE IM,' a game metaverse division, and established a separate subsidiary. A large number of people from game companies were recruited, including former Nexon director Jung Woo Young, but considering that HYBE CEO Park Ji Won used to be the CEO at Nexon, it is analyzed that HYBE is comprehensively entering the game industry.

At the beginning of the year, SM Entertainment established a home training content JV (joint company), 'Fitness Candy,' with a 5:5 investment with LG Electronics. They plan to provide content aimed at the Home training, and they plan to use idol choreography and songs. SM is also looking to grow the business by looking at the market situation.

An official from the financial investment industry said, "It is a turbulent time when entertainment companies need to break away from the profit structure of the past, which relied solely on the sales of simple artists and come up with a way to survive in new environments such as Web 3.0 and Metaverse. This is not the first time this has happened - expanding games and investment companies - so it remains to be seen whether it can become a long-term revenue source."