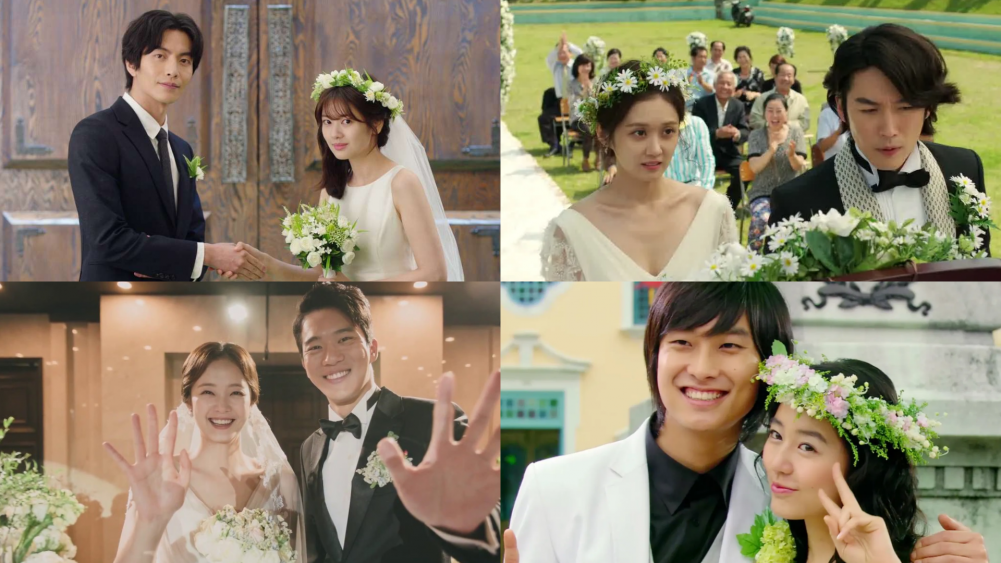 What drama could provide you with a mix of heart-fluttering scenes, some parts of heart-wrenching moments, and a whole lot of unresolved tension and pining? Arranged and contract marriage-themed dramas can surely satisfy what you look forward to in a drama!
No matter what the setup is, may it be mutually decided to be arranged, something they originally wanted to go against, or marriage out of convenience, the trope still hits hard for those who enjoy it. The trope isn't even limited to present-day and slice-of-life concepts. It is heavily influential and instrumental in sageuks as politically involved arranged marriages are much more frequent.
Here are some of these dramas that you will enjoy if you like arranged and contract marriages!
1. Because This is My First Life
Main Leads: Lee Min Ki as Nam Se Hee, Jung So Min as Yoon Ji Ho
Summary: Yoon Ji Ho, a struggling writer, had to move out of her own house due to her younger brother, while Nam Se Hee has an expensive townhouse and rents out his extra room to help with the mortgage. After a series of misunderstandings that led them to believe they were cohabiting with someone of the same gender, they eventually learned the truth, but their need remains- a housemate. This setup will lead to their contract marriage for convenience.
2. Something About 1 Percent

Main Leads: Ha Seok Jin as Lee Jae In, Jeon So Min as Kim Da Hyun
Summary: Due to an incident, Kim Da Hyun, a pre-school teacher, gets chosen by Lee Jae In's grandfather to be the woman his grandsons should marry if they want to inherit his company. However, both of them equally hate each other and instead engage in a six-month contract for a pretend relationship where they can both benefit.
3. Fated to Love You

Main Leads: Jang Hyuk as Lee Gun, Jang Na Ra as Kim Mi Young
Summary: Kim Mi Young and Lee Gun end up in an absurd situation due to multiple errors, and their mistake for one night led to Mi Young's pregnancy. Everything leads to a huge change and a shotgun marriage arranged by their elders due to the baby, but they discover things more than just trying to correct a night's mistake.
4. Princess Hours

Main Leads: Ju Ji Hoon as Crown Prince Lee Shin, Yoon Eun Hye as Shin Chae Kyeong
Summary: Set in an alternative universe where Korea maintains monarchy, Crown Prince Lee Shin is forced to marry Shin Chae Kyeong, a commoner to whom he was betrothed by his grandfather, the late Emperor Seongjo, in an agreement with the girl's grandfather. They face a series of struggles aside from their reluctance towards each other, including the fight for the throne and even each other's affection.
5. Prime Minister and I

Main Leads: Lee Beom Soo as Kwon Yu, Im Yoon Ah as Nam Da Jung
Summary: Nam Da Jung, an ambitious and passionate tabloid reporter, tries her best to find an expose about the youngest Prime Minister, Kwon Yu, a widower with three children who lack basic parenting skills. She ends up getting more than the exclusive scoop she wanted, leading to her contract marriage with the prime minister.
6. Sweet 18

Main Leads: Han Ji Hye as Yoon Jung Sook, Lee Dong Gun as Kwon Hyuk Joon
Summary: Yoon Jung Sook, a member of the ancient and noble Korean Clan, the Yun clan, has to marry Kwon Hyuk Joon, the heir of the Kwon clan. Jung Sook finds out that Hyuk Joon is the mysterious man whom she fell in love with and willingly marries him. However, she eventually realizes the hardships of being married to an older man and to a clan's firstborn son.
7. Marriage Contract
Main Leads: Lee Seo Jin as Han Ji Hoon, Uee as Kang Hye Soo
Summary: Kang Hye Soo is a single mother who struggles to raise her daughter while paying off her late husband's debts. Han Ji Hoon is the son of a chaebol who seeks a contract marriage in order to save his mother, who needs a liver transplant. When Hye Soo is diagnosed with an inoperable brain tumor, she agrees to marry Ji-hoon and donate part of her liver to his mother in exchange for enough money to provide for her daughter until she reaches adulthood.
8. Full House

Main Leads: Song Hye Kyo as Han Ji Eun, Rain as Lee Young Jae
Summary: Due to a misunderstanding where Han Ji Eun believed the Full House which her grandfather bought was still hers, she meets Lee Young Jae, a popular Korean actor who was the new owner of the house. Though they do not get along with each other due to their contrasting habits, they agree to live with each other, with Ji Eun working for Young Jae as a maid. However, they will eventually enter a contract marriage because Young Jae wants to make his crush jealous.
9. The King 2 Hearts

Main Leads: Ha Ji Won as Captain Kim Hang Ah, Lee Seung Gi as Prince Lee Jae Ha
Summary: Set in an alternate reality, modern-day South Korea is governed by a constitutional monarchy; Lee Jae Ha gets sent by the King, to a joint military collaboration with North Korea in an attempt to make him mature. He then meets North Korean Special Forces Captain Kim Hang Ah, who will teach him how to be responsible. Soon, an arranged marriage is set up between the two, and they eventually become engaged, figuring out how to set their differences aside and make their relationship work.
10. Lie to Me
Main Leads: Kang Ji Hwan as Hyun Ki Joon, Yoon Eun Hye as Gong Ah Jung
Summary: Gong Ah Jung, a government employee of the Ministry of Culture, Sports and Tourism, has faced multiple misfortunes, including a face-off with her former friend, leading to her lie regarding her marital status. The lie quickly snowballs due to several misunderstandings with people gossiping about her supposed secret marriage to Hyun Ki Joon, the very wealthy president of World Hotel. Due to various events, they agree to pretend to be married for a short which will be mutually beneficial for both of them.
11. Marriage Not Dating
Main Leads: Yeon Woo Jin as Gong Gi Tae, Han Groo as Joo Jang Mi
Summary: Wealthy plastic surgeon Gong Gi Tae has no interest in getting married, while marriage is all luxury brand employee Joo Jang Mi dreams about. In an effort to get his parents off his back about the constant string of blind dates and marriage prospects, Gi Tae purposely brings Jang Mi home to meet his parents, posing as his girlfriend, certain that they'll never approve of her.
12. Sassy Girl, Chun Hyang
Main Leads: Han Chae Young as Sung Chun Hyang, Jae Hee as Lee Mong Ryong
Summary: Chun Hyang is a responsible top student who perfectly balances her academics and her various part-time jobs and will encounter Lee Mong Ryong, a challenging but very simple-minded and hot-tempered guy. Due to a misunderstanding that will lead to rumors, they are forced by their families to marry each other despite Mong Ryong being in love with another girl.
13. Creating Destiny
Main Leads: Eugene as Han Sang Eun, Ki Tae Young as Kim Yeo Joon
Summary: Han Sang Eun immigrated to Australia with her family at a young age. After graduating from law school, she announces her plans to marry her boyfriend, but her father strongly opposed her because he has his heart set on her marrying Kim Yeo Joon, the son of his best friend who lives back in Korea. Sang Eun finds herself exiled to Korea, where she reluctantly teams up with Yeo Joon, who is focused on his career and equally uninterested in marriage, to devise a plan that will allow them to avoid their impending wedlock.
14. Bride of the Century
Main Leads: Lee Hong Gi as Choi Kang Joo, Yang Jin Sung as Na Doo Rim and Jang Yi Kyung
Summary: The Choi family who runs Taeyang has supposedly been under a curse for a hundred years that the first bride of the eldest son will always die. When the wealthy heiress Jang Yi Kyung disappears right before her wedding to chaebol heir Choi Kang Joo, Na Doo Rim, a lookalike impostor, is brought in to take her place.
15. Mr. Queen
Main Leads: Shin Hye Sun as Kim So Yong, Kim Jung Hyun as Yi Won Beom, King Cheoljong
Summary: Kim So Yong, future Queen Cheorin, is betrothed to Yi Won Beom, future King Cheoljong, due to a politically arranged marriage, particularly due to the fact that Cheoljong is under the control of Cheorin's Clan, despite Cheoljong being in love with another woman. Everything becomes complicated as she attempts to drown herself before the marriage, and as the queen physically comes back to life, she's now with the soul of a modern-day man inside her body.
16. 100 Days My Prince
Main Leads: D.O. as Lee Yul and Na Won Deuk, Nam Ji Hyun as Yeon Hong Shim and Yoon Yi Seo
Summary: Lee Yul, the crown prince, suffers amnesia due to a murder attempt and has lived with the name Na Won Deuk who was saved by Yeon Hong Shim's adoptive father. Hong Shim is currently suffering a predicament due to Lee Yul's order requiring every single person who is of age to get married, or else they'll suffer extreme consequences. Due to his lack of memories, he is now told that he is Hong Shim's betrothed, forcing marriage despite both of them not completely aware of the mysteries behind their identities.
17. The Accidental Couple/That Fool
Main Leads: Hwang Jung Min as Gu Dong Baek, Kim Ah Joong as Han Ji Soo
Summary: Top actress Han Ji-soo gets involved in a car accident with her secret boyfriend, who is the son of a famous politician. To cover up their relationship, Ji Soo lets her boyfriend escape the scene quickly and drags an innocent onlooker, Gu Dong Baek, into the car instead, asking him to pretend to have driven the car. To further dispel the rumors away, Ji Soo asks Dong Baek to continue acting as her boyfriend, whom the other readily accepts, and they agree to six-month contract marriage.
18. The Last Empress
Main Leads: Jang Na Ra as Oh Sunny, Shin Sung Rok as Emperor Lee Hyuk, Choi Jin Hyuk as Na Wang Sik and Chun Woo Bin
Summary: Set in an alternate universe, in which Korea is a constitutional monarchy in 2018, Oh Sunny is a bright musical actress who experiences a huge change after an arranged marriage with the Emperor of the Korean Empire, Emperor Lee Hyuk. Her life inside the palace turns unexpected as she realizes the corruption of the imperial family and the bitter truth that the emperor has been cheating on her
19. Marry Me, Mary
Main Leads: Moon Geun Young as Wi Mae Ri, Jang Keun Suk as Kang Mu Gyul, Kim Jae Wook as Byun Jung In

Summary: Wi Mae Ri is a stubborn young woman with no dating experience who struggles to juggle strange jobs. Mae Ri's deadbeat father proposes that she marry his rich friend's son Byun Jung In to pay off their debts, to which she refuses. To prevent the situation from happening, she pretends to have already married Kang Mu Gyul. Instead of accepting that, her father proposes a deal to spend 100 days with both of them and decide afterward who she wants to marry.
Here are only some of the many drama series with the theme of arranged and contract marriages. Which among the listed is your favorite, and which drama would you suggest to newbie viewers?