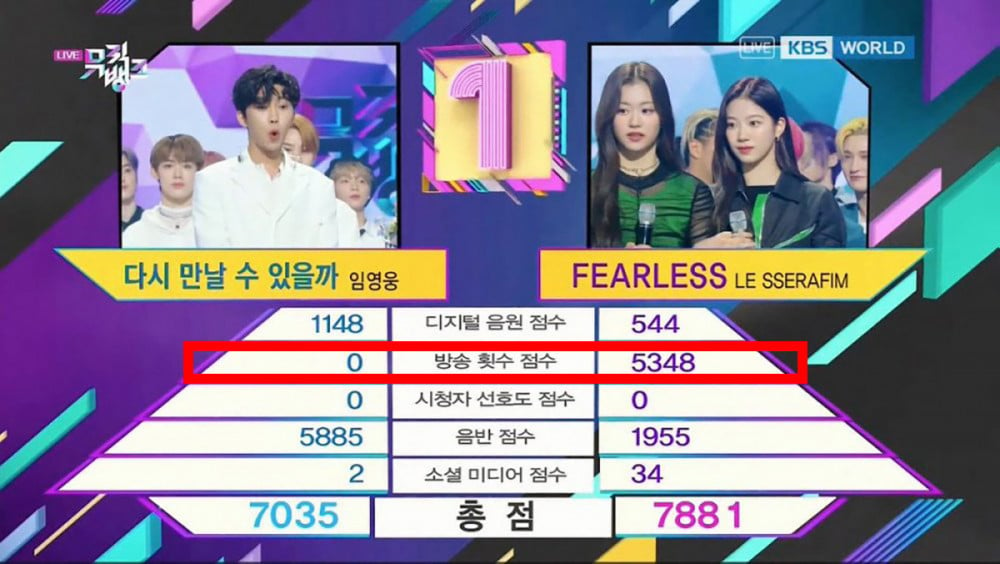 Earlier on May 18, KBS issued an official statement in response to the controversy surrounding 'Music Bank's 1st place scoring system from this past weekend.
Back on the May 13 broadcast of KBS2's 'Music Bank', the first place nominees Lim Young Woong and LE SSERAFIM went head to head for the top spot on the weekly K-chart. Based on the 'Music Bank' scores, the 1st place winners of the week were LE SSERAFIM, who beat Lim Young Woong by 846 points. But as soon as the results were announced, numerous viewers expressed their disbelief and directed heavy criticism toward 'Music Bank', claiming that the scoring system was rigged.
On May 18, KBS responded to viewers' complaints and criticism with, "The scoring system of 'Music Bank's K-Chart factors the following areas: digital streaming scores (60%), TV/radio broadcast scores (20%), viewer preference scores (10%), album sales (5%), and social media scores (5%). During the scoring period for last week's K-chart, which ran from 2022.5.2 ~ 2022.5.8, Lim Young Woong's title track 'If We Ever Meet Again' was not broadcast on any KBS TV programs, KBS radio programs, or any digital contents. On the other hand, Lim Young Woong's other songs including 'Trust In Me' and 'My Starry Love' earned response rates of 2.63% and 2.52% respectively. However, for the K-chart, the scoring only factored in plays for 'If We Ever Meet Again'."


According to KBS's explanation, Lim Young Woong's latest title track "If We Ever Meet Again", from his 1st full album 'IM HERO', received 0 radio plays during the scoring period from May 2 through May 8.
'Dispatch' begs to differ.
According to 'Dispatch', after searching through the list of songs played during each KBS radio program from May 2 through May 8, Lim Young Woong's "If We Ever Meet Again" was played on May 4 during the KBS radio program 'With Kim Hye Young', on May 7 during 'Lim Baek Chun's 100 Music', and on May 4 during 'Seol Bam with Park So Hyun'.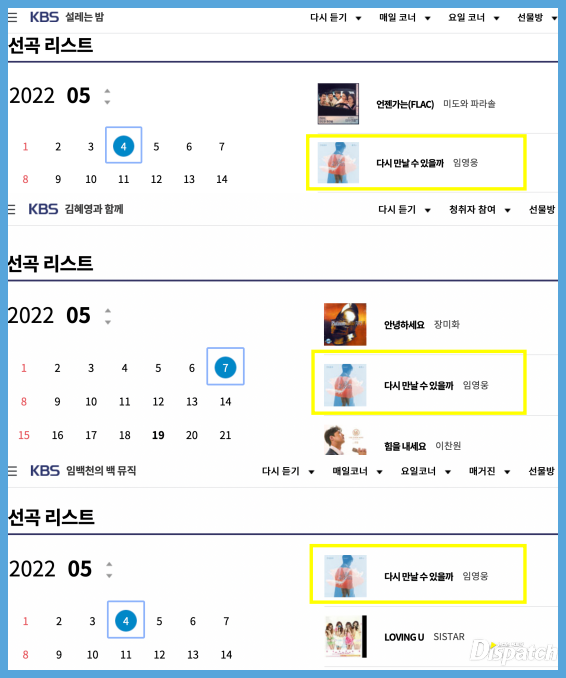 Finally, 'Dispatch' claimed that if 'Music Bank' were to factor in the radio plays found above into last week's K-chart scoring system, the point difference would be enough to overturn the results.
Meanwhile, Lim Young Woong recently became the first solo artist in approximately 20 years to sell over 1 million copies in physical albums with his latest album, 'IM HERO'. His title track "If We Ever Meet Again" was also ranked #1 on Gaon's weekly digital streaming chart for May 1 ~ May 7.