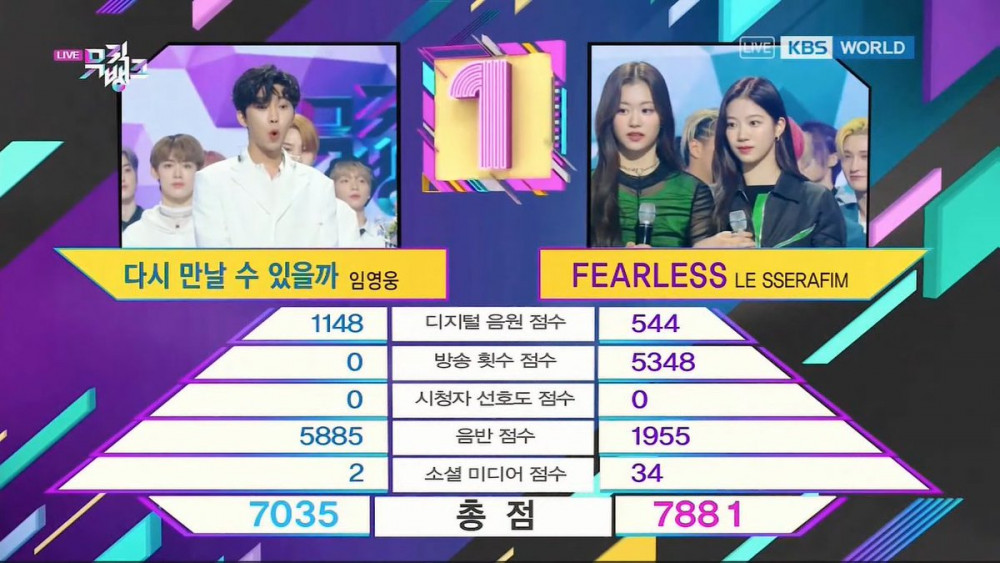 The "unfair" scoring system of KBS2's 'Music Bank' is facing heavy backlash, after the program's latest broadcast on May 13.
On this day, the first place nominees for 'Music Bank' included trot singer Lim Young Woong with "If We Ever Meet Again" and LE SSERAFIM with "FEARLESS".
According to the scoring shown above, Lim Young Woong earned a total of 7,035 points for the week of May 13, with 1,148 points in digital streaming scores, 0 points in TV broadcast appearances, 0 points in viewer preference scores, 5,882 points in album sales, and 2 points in social media scores. On the other hand, LE SSERAFIM earned a total of 7,881 points, with 544 digital streaming points, 5,348 TV broadcast appearance points, 0 viewer preference points, 1,955 points for album sales, and 34 social media points.
Soon after the winner of 'Music Bank' was announced, many viewers were left confused. What was this "TV broadcast appearance score", that even Lim Young Woong, who sold over 1 million physical albums in his first-week sales, and who also ranked #1 on Gaon chart's weekly digital streaming chart for the week of May 7, couldn't win 1st place?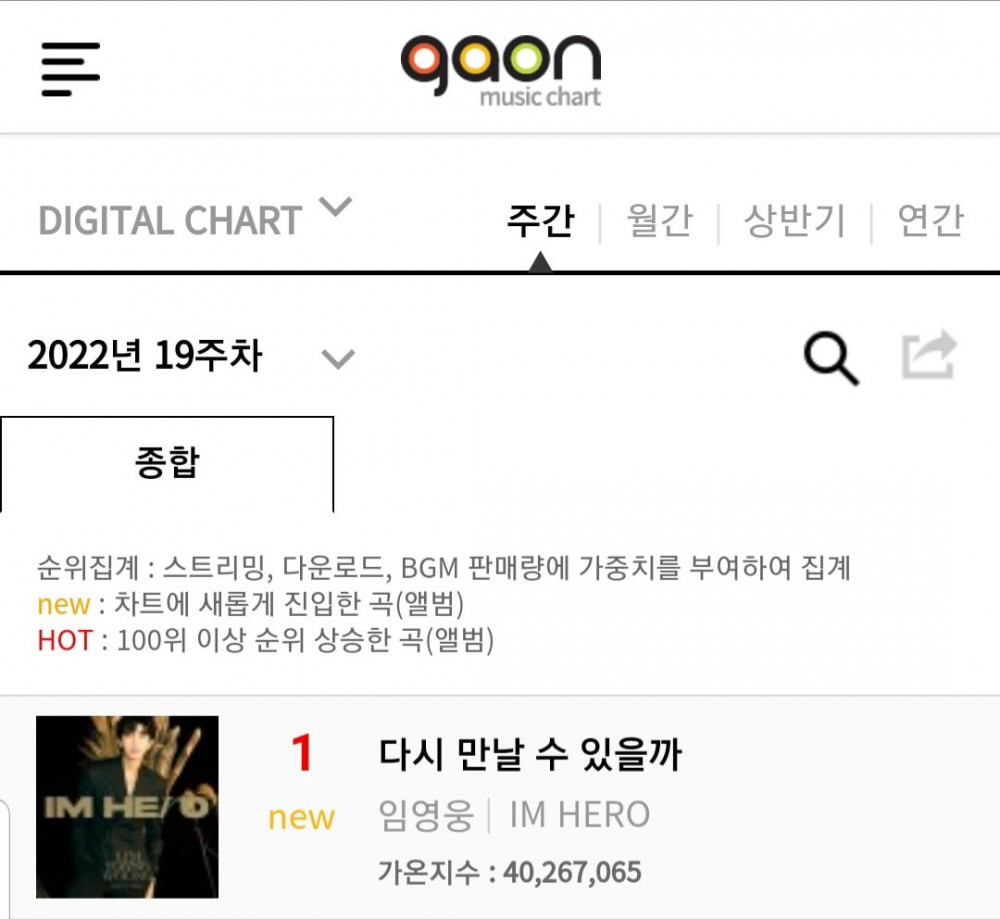 And exactly how did LE SSERAFIM earn 5,348 "TV broadcast appearance points"?
Even though 'Music Bank' has loosely described its "TV broadcast appearance score" criteria as "appearances or plays on TV or radio programs", in reality, it's believed that the most effective way to meet this criteria is by making guest appearances on KBS-affiliated TV shows, digital shows (such as YouTube content), or radio programs. In LE SSERAFIM's case, the girl group earned their points by performing on 'Music Bank' the week before, as well as appearing on the KBS YouTube contents 'Idol Human Theater' and 'Lee Mu Jin Service'. Lim Young Woong, who appeared on none of these programs and who was holding his comeback stage on this week's 'Music Bank', earned 0 points for the same category.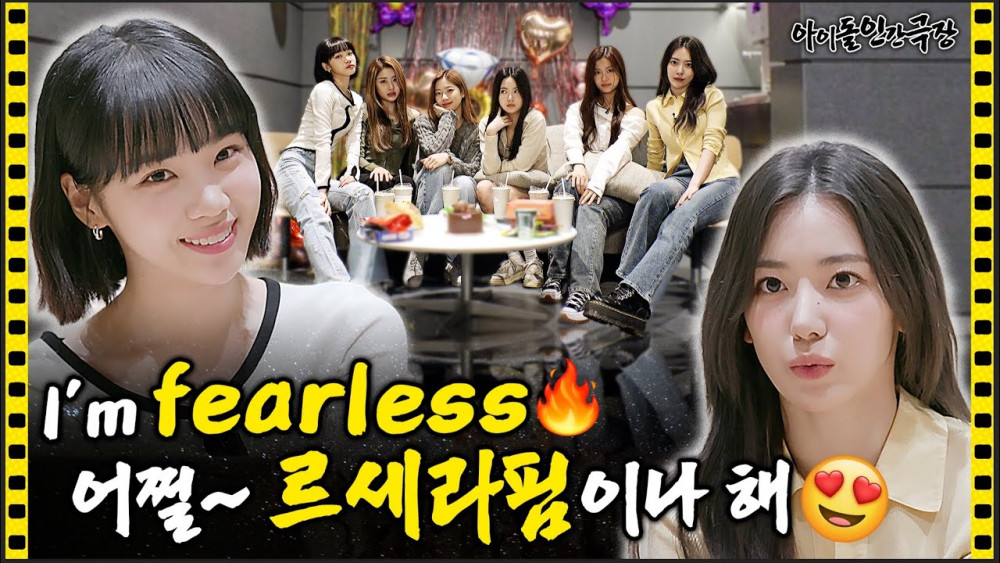 So, how are artists typically scheduled to appear on such programs?

Artists appear on most promotional programs through meetings and communication between their agency reps and broadcasting station PDs. Thus, this unique category known as the "TV broadcast appearance score" on 'Music Bank' is not something that fans or consumers can influence.
Now, many netizens are slamming 'Music Bank' for its "unfair" methods, commenting,
"So 'Music Bank' gives the #1 trophy to whichever company they like most."
"Those girls must be so embarrassed, getting that #1 trophy when Lim Young Woong is standing right there."
"Even with that random 'TV broadcast appearance' score, Lim Young Woong's digital streaming score is so low. Why does ranking #1 on the weekly streaming chart only give you that many points??"
"It wasn't that group who beat Lim Young Woong... It was HYBE."
"To accept that trophy kekekekeke. How shameless do you have to be."
"Wow. This is literally what it means to be a 'Gold spoon'."
"It's so obvious even for people who aren't fans of either artists, this score is just ridiculous."
"Get rid of that 'TV broadcast appearance' score and that group has nothing."
"I feel so bad for Lim Young Woong."
"So if you win a music show trophy without even ranking #1 on the charts or selling a lot albums, are you even considered a singer??"
"'Music Bank' literally picked with the wrong artist this time. Lim Young Woong has so many fans in every age group... What a rigged show.

What do you think of the ongoing issue?